Kitchen Mama Cafe and Bar – CLOSED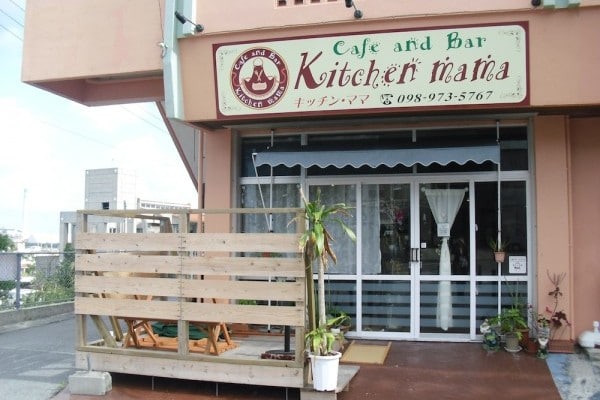 Editor's Note: We've been informed that this establishment has closed, but we're keeping the post in our archives for those of you who may be looking for it.
CONTRIBUTED BY DAPHNE SHAFER-REPASS
Every time we drive to Ikei Island or its environs, I always want to stop in for a bite at Kitchen Mama Café and Bar.  Its sign is so charming, but I'd never seen cars out front, so I was never sure it was open.  Today, my daughter and I went there directly and parked in back, easy as pie.  Or cheesecake, which we got at the end of our meal.
The café is decorated in sleek and pretty browns and pinks.  The menu waiting on the table is a photo album with pictures of their dishes, mostly Japanese and pasta.  Full sets run around Y1200, less for a la carte.  My daughter and I shared a set, and it was more than enough (we took some home, but somehow managed to eat our dessert there).  Our waitress seemed to keep returning to our table with something else!
First came the pumpkin soup, which was split between two bowls for us.  Then came the big square plate: pasta with hamburger glace, salad, chicken on shredded cabbage, fried egg, and roasted potatoes (sounds pretty American, but done the Okinawan/Japanese way).  And then the smaller plate with brown rice.  And then the dessert plate: slice of cheesecake, two meringue cookies, and three omochi.  And then, lastly, my coffee.  It was all very tasty.
The ladies were very pleasant as they prepared and served our meal.  And there was a cute little boy who kept peeking around the corner at my daughter.  It was a very friendly atmosphere!
Website:  It's a bit cryptic, unless you read kanji, but in case you do…. http://kitchenmama.ti-da.net/
Hours: Monday-Saturday 11:30-17:00, closed Sunday.
Phone:  098-973-5767
Payment:  Yen only.
Directions: From McT, take 8 towards White Beach or Ikei Island. Right before the split of 8 and 37, you'll see it at the stoplight on the left.