Kozy's Pizza

Contributed by Semibalancedmama.blogspot.com
Since moving to Okinawa we have really enjoyed finding new restaurants, especially those that are kid friendly. We recently came across Kozy's Pizza and were thrilled with the discovery. It is located in Kitanagusku, which is easy
to get to from both Foster and Kadena. It sits on a hill and the views are quite spectacular day and night!
The building appears to be an old house and has plenty of parking behind it. When you first walk in you enter into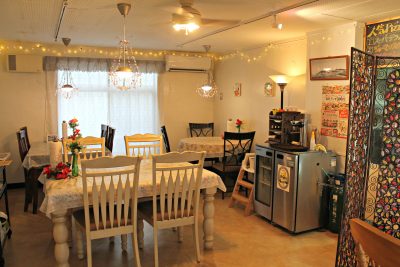 the main dining room and kitchen area. I really like that this area was separate from the "child friendly" area, so anyone would be able to eat and enjoy their meal, even without kids. If you have kids, they immediately take you back to one of the two bedrooms that have a play area and a few tables. The play areas have tents, tumbling mats, slides and a lot of toys for all ages. Everything was super clean and well taken care of. One of the rooms has a raised seating area with benches and the other room is floor tables, so be prepared for that. Both rooms have indoor shoes provided for guests. If you are going and want to take advantage of one of the kid's rooms, I would highly recommend calling ahead. Honestly, it was so nice to have an open space for our 4 year old to run around and be goofy.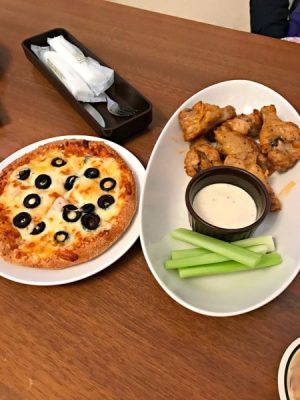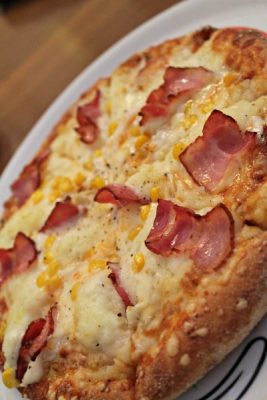 The menu has many different pizzas to choose from. They have specialty pizzas and just a cheese pizza option that you can add up to three toppings on for the included price. The menus are in English, but I noticed there were some items on the Japanese menu that were not listed on the English one. The specials are also listed in Japanese. So bring your google translate, and you are good to go! We were so happy with everything we ordered and the specialty pizzas are ones that are unique and fun to try.
The restaurant is average priced, but definitely one of the cheaper pizza places we have visited on the island. You can choose the size of pizza, ranging from a personal pizza to an XL pizza. We got one personal pizza for our son, two mediums pizzas (one specialty and one cheese with two toppings) and an order of wings and our bill was about ¥4,500.
If you are craving good pizza in a kid-friendly restaurant, Kozy's Pizza is definitely the place to go!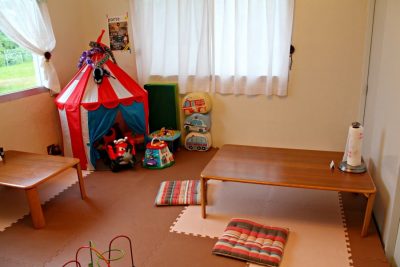 Address
沖縄県中頭郡北中城村字安谷屋638-1パークサイドテラス
#1808
GPS Coordinates
26°17'31.3″N 127°47'34.7″E
Hours
11:30AM – 9:00PM
Last order taken at 8:00PM
Phone –
098-923-0993
Website URL
https://www.facebook.com/KozysPizzamasando/
Payment types
Yen and Major Credit Card accepted