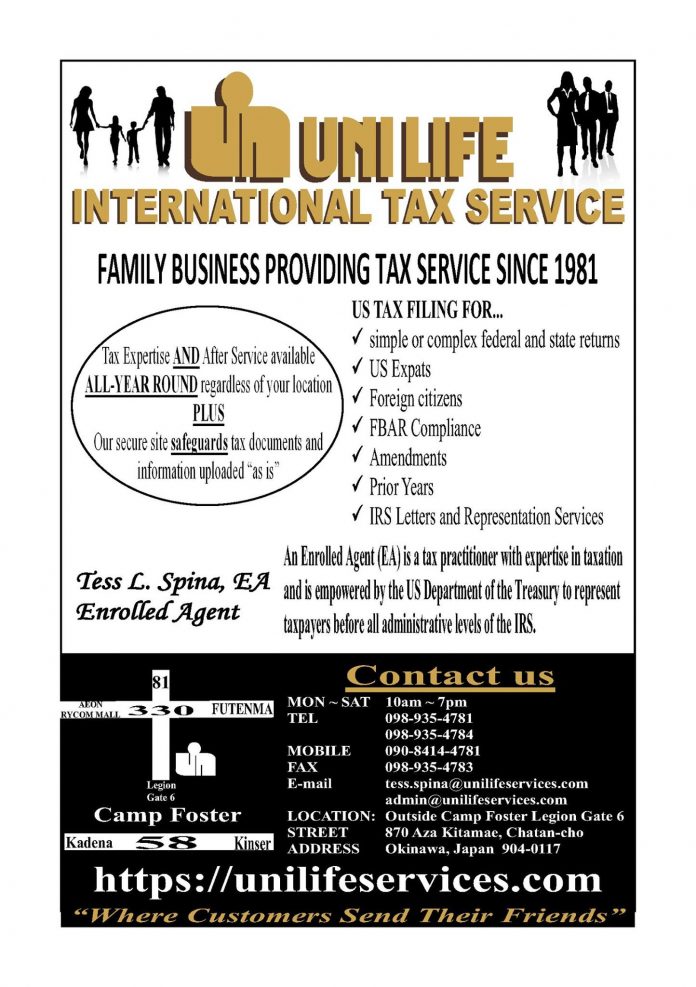 It's tax season! If you still need help getting the most out of your tax return please see our affiliates Unilife Services. They have 20 years expertise in dealing with servicemembers overseas and can help take the guesswork out of your tax filing.
2018 March Events Calendar
March 1st – 17th
Okinawa Children's World Zoo & Museum, Okinawa City – Hana Matsuri (Flower Festival)
Visit the zoo between the middle of February and the middle of March to enjoy beautiful flower displays and fun events/workshops. Visit http://hanamaturi.wixsite.com/2018 for pictures of the displays and more information.
Okinawa Prefecture Okinawa City Huya 5 – 7 No. 1
March 3rd
Japanese holiday – Hina Matsuri (Girl's Festival)
Every year on March 3rd, Japanese families celebrate their daughters on this day and wish for a happy and healthy future for them. Around this time of year you'll see fancy dolls in stores lined up on various platforms representing a mini royal family. Families collect these dolls (many of which can be very pricey) for their daughters and set them out for this festival, also known as "Doll's Day" for this reason. Why not enjoy this local custom with your own child(ren) and make special festival foods, do something special, or (if you're so inclined) collect hina dolls of your own?
March 2nd – 25th
Higashi Village – 36th Annual Higashi Village Azalea Festival
For just 300 yen for adults and high school students (free for children younger than high school age), visit scenic Higashi Village between the hours of 9 a.m. and 6 p.m. to enjoy a stroll through a beautifully landscaped park full of colorful azaleas. The park is beautiful, set atop a hill overlooking the ocean, and a lovely place to visit on its own, but the azaleas of all different colors lining the paths around the park make it even better! On the 10th and 17th there are also planned nighttime light-up events between the hours of 6 and 9 p.m. Please visit http://www.vill.higashi.okinawa.jp/index.jsp for more information or call TEL: 0980-43-2265.
Directions: From the 9 Expressway exit follow 329 past Camp Schwab until you see the 331 intersection, which is hard to miss as it goes directly into a series of downhill tunnels. Follow the 331 until you get to Higashi Village. You will know you are there because you will see lots of cartoon pineapple characters. Once in Higashi look for the large white point-of-interest road signs over the main road. One of these will specifically point to the Azalea Park. There will be traffic attendants on the 331 to guide you to the best available parking area.
March 3rd – April 8th
Southeast Botanical Garden – Okinawa Bougainvillea Fair 2018
Visit the beautiful Southeast Botanical Garden during these dates (event times vary throughout the month so please visit www.southeast-botanical.jp/events/detail.php?id=30 to see the schedules) to see beautiful bougainvillea displays throughout the park. There will also be special nighttime light-up events on some of the dates! Admission is 1500 yen or less (adults are 1500 yen and the prices go down from there depending on age) and there will be "experience" events throughout the event dates where you can participate in various crafts and/or tours. Visit the aforementioned website for more information or call TEL: 098-939-2555
2146 Chibana, Okinawa, Okinawa Prefecture 904-2143, Japan
March 10th – 11th
Onoyama Park, Naha – Naha Food Grand Prix
Want to try various foods from competing local eateries and vote on your favorites? If so, you might enjoy participating in the Naha Food Grand Prix at Onoyama Park. The event is free to enter but you will need to purchase food vouchers to buy foods from the various vendors (the website, linked below, mentions that participating Family Mart stores and the Naha Chamber of Commerce is selling the vouchers but that some people may wish to purchase vouchers the day of so they can see which places they want to try – the site does warn, however, that lines will be long for purchasing vouchers on the days of the event). Visit the following site (or their Facebook page) for more information, including links to various ways to get to the location by rail, participating parking locations, etc.: http://nahameshi.uchina.jp/ or call TEL: 098-868-3758
The location of the park can be found by pasting 奥武山公園 補助競技場 into Google Maps (but I recommend you visit the website above to find where to park rather than going directly to the location).
March 21st
Nakagusuku Castle Ruins – Ancient Ryukyu History: Legend of Gosamaru
Starting at 2 p.m. (with entry to the event starting at 1 p.m.), there will be a live performance at the Nakagusuku Castle Ruins! See legendary stories reenacted with music and dance in a historic setting. Tickets for reserved seats are 1800 yen each and can be purchased at Family Mart stores. Visit here for more information: https://www.sap-co.jp/events/ryukyukoden_gosamaru/
503 Ogusuku, Kitanakagusuku, Nakagami-gun, Okinawa-ken 901-2314, Japan
TEL: 098-935-5719
March 21st
Japanese holiday – Vernal Equinox Day (Shunbun no Hi)
This public holiday celebrating the Spring Equinox is a day when many locals will visit their ancestors' graves and pay respects, have family get-togethers, etc. You might find that traffic is especially busy on this day since many people will be off work. Since this day is also auspicious for local farmers to pray for good luck with their harvests, you might also find that the local shrines are busier than usual and smaller, agricultural communities might be having events to celebrate. If you don't mind the crowds, get out and explore (but, of course, be respectful of the locations where people are visiting their family tombs).
March 23rd – 25th
Hotel Moon Beach, Onna Village – 25th Annual All-Okinawa Yachimun Fair
Between the hours of 10 a.m. and 10 p.m., visit Hotel Moon Beach in Onna Village to enjoy a large collection of pottery from dozens of workshops around the island. Those looking to purchase pottery should bring yen to the event, as vendors will be selling local pottery there. Shuttle buses will be available from Maeganeku Fishing Port to shuttle visitors to the event location. You can call TEL: 098-965-1020 or visit the hotel's website at www.moonbeach.co.jp for more information.