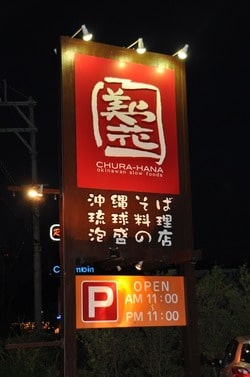 Chura Hana Sign
CONTRIBUTED BY CALYN PAQUIN
Have you ever wished you could just stop and pop in any business establishments that caught your eyes while driving in Okinawa? I do all the time but usually I'm on my way to somewhere or I tell myself I'll be back one day. This past 4th of July weekend, my hubby and I had a getaway at the Okinawa Marriot Resort and Spa. We decided to take Hwy 58 even though the Resort is very close to Expressway Kyoda IC exit. It was so nice to drive up the beautiful coast and I lost count how many beaches there are! While there, we also drove to Nago castle ruins and on the way, I noticed Chura-Hana restaurant. That night, we went there for dinner because who knows when we'll be driving there again! This restaurant sits right in front of Okinawa Suncoast hotel on Hwy 58.
The restaurant was bustling with dinner guests. They have outdoor and indoor tables. We were directed to the bar counter that I assumed is also the smoking section because the couple next to us started smoking after they were done eating. They are several tables and tatami seating on the other side of the restaurant where I saw families with children on my way out.

Chura Hana Outside
The sign on the restaurant says Okinawan slow food but to me, it means "soul food" because most of the items in their menu are the usual dishes you get in a typical Okinawan restaurant namely rice, noodles, pork and stir-fry that I love. Their menu is in Japanese but there are pictures. I asked for an English menu and was given a list in English with the price of each item but no pictures. Oddly enough, we were able to match the prices to the pictures and figure out what we wanted. We ordered fried rice, spam and egg stir-fry, potato croquette and deep fried ribs that melt in our mouths. Yum!

Chura Hana Food
Overall, the atmosphere is nice although I would rather not be in the smoking section, the food is delicious and the service is good even though the server we had did not speak English.

Chura Hana Inside
Directions: From 58, head north. Continue north through Onna Village and toward Nago City. After you pass the Busena Misaki traffic light, look out for the signs for Okinawa Suncoast Hotel (blue and red) or Chura-Hana on your right. Parking is right outside the restaurant.
Hours: 11:00 am – 11:00 pm.
Phone:  980-53-0331
Website:  www.chura-hana.com/
Payment: We paid in yen but I'm pretty sure they accept credit cards, too.