Eating Horumon Yakiniku at Kemuri in Chatan Okinawa, Japan (internal organs BBQ)
Eating Horumon Yakiniku at Kemuri  (internal organs BBQ)  contributed by Jam Kirby Rimando
If you're looking for something different to eat, you better try Kemuri. What do they serve? Fresh beef internal organs. Yes, you read that right. Internal organs. This isn't just different, it's adventurous! Definitely not for the fainthearted.
When we were driving around Chatan looking for a place to eat, we spotted Kemuri. It's not actually difficult to miss because the façade screams Japanese – I mean red lanterns everywhere. Since we wanted something we haven't tried before, we decided to give Kemuri a try. And boy it's really something. We were in for a big surprise.
After we asked for their English menu, we realized that they mostly serve fresh beef internal organs. But since I've seen Beijing's interesting street foods (deep fried snake meat, starfish, scorpions and bugs), I think internal organs should be easy peasy for me.
We ordered their Kemuri Special Mixed Horumon. It's a plateful of small intestines, large intestines, heart, liver and abomasum. In your table, you'll have your own charcoal griller where you'll smoke your orders. They actually tasted like ordinary meat when grilled. Except that they're chewier and with just a tiny little bit of a kick.  If you're worried about your safety, don't be. You can read from their menu that the internal organs are fresh and of high quality because they come from non-dairy cows raised in a stress-free environment in Kujo Farm. The farm raises nearly 1,000 cows and is located in Tokachi of Obihiro, the south-east region on Hokkaido, Japan. Kemuri gets their supplies directly from Kujo Farm.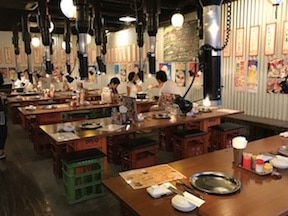 With their late business operating hours and their selection of alcoholic drinks, I think it's safe to say that this place is best for couples looking for some casual date night or for friends who just want to get a different taste of Japan with a glass or two (or even more) of beer.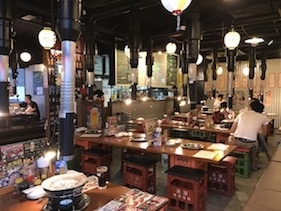 Not only is their food reasonably priced, the experience of eating beef's internal organs is one for the books. Something you can tell your family and friends back home in the US.
Location Name: Kemuri
Address: 1-12-10 Chatan-cho, Nakagami-gun, Okinawa, 904-0116
Phone number: 098-989-8998
Payments accepted: Credit cards and yen
Hours: Opens daily from 6:00pm to 2:00am except for Sundays when they open at 5:00pm to 12:00am