Pizzeria Bar Ariccia
By: David Carrera
I love Pizza. I grew up in Connecticut, (which has some of the best pizza in the US, don't believe me? Google Pepe's Pizza in New Haven and read all the reviews). I may be biased but my nose for pizza is good, and my latest discovery Pizzeria Bar Ariccia is a welcome addition to my Okinawa dining list.  I had my 5-year-old in tow with me for a walk around American Village, and It was almost 6 pm, when I spotted the giant Italian flag seemingly out of place on the Japanese island of Okinawa. It had 6 great tables outside on the patio with views overlooking the water, and prime seating for the amazing sunset that was soon to follow.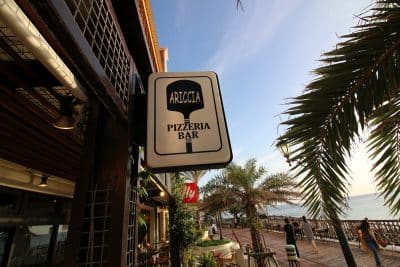 There was a menu on an old wine barrel outside the entrance, which I thought was a nice touch. As my son and I entered we were instantly greeted by the staff (most of which spoke great English) and escorted to a table with a view facing the water. The table was inside, and although there was seating available outside on the patio, I thought it best with a child in tow to stay inside, less wrangling on my part.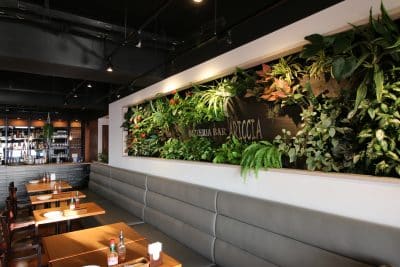 The atmosphere here is really modern and clean, but not pretentious at all. Tables line the dining area, with a padded seat running the length of one wall. Almost every table has a view of the window front and eventually of the sunset, which makes Pizzeria Bar Ariccia all that much more inviting.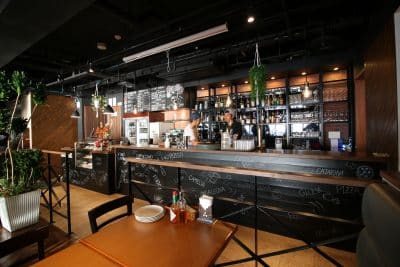 We were hungry, and ordered some bread, a soft drink and a Mango juice for my son. Looking around I saw some other small children, so note that this place is great for a family night out. There was so much to take in. From our vantage point we could see; the giant red brick oven glowing from the wood being placed carefully inside. We could also see the bar, bottles of wine, and a glass case next to the register that held many delicious looking Italian desserts.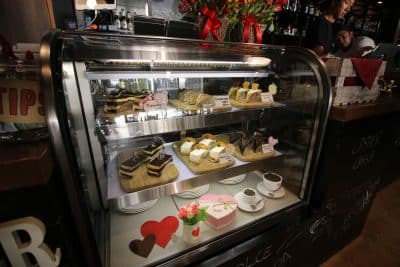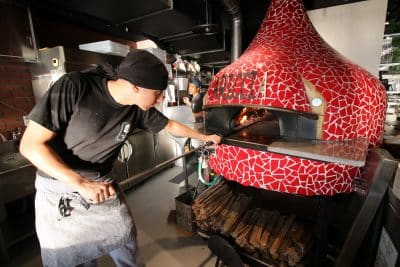 The bread and drinks had arrived, and we both tore into the three styles of bread offered to us. Still warm, and very flavorful, it came with olive oil for dipping, and we took full advantage. My soda was served in a tall thin glass, and my sons mango juice towered over him, both were cold and refreshing.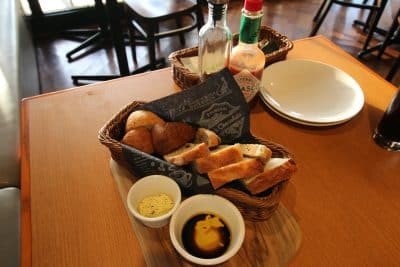 The menu is extensive, and I wanted to try some traditional pizzas as well as a house specialty. Our first order as an appetizer was the homemade Gnocchi Alla Bolognese (1280yen) It's Italian meat sauce, and homemade Gnocchi. We then moved on to our main entrees and chose the Margherita Pizza (880yen) described on the menu as: tomato sauce, basil, mozzarella, and Parmesan. The second pizza we ordered (see I told you we were hungry) was the Macellaio (1480yen) this was Mozzarella, bacon, ham, pepperoni, and Parmesan. This concluded our order, and it didn't take long for the appetizer to show up.
I am no expert in Gnocchi nor do I pretend to be, nor did I even know what it was, but the picture in the menu looked appetizing so I ordered it. Wow! It came out from the kitchen quickly, piping hot and looking as good as the picture in the menu. The meat sauce had a slight kick to it but nothing overwhelming, and the Gnocchi was amazing. My son and I fought over spoonfuls of this delectable dish until there was no more. As if on cue the pizzas arrived.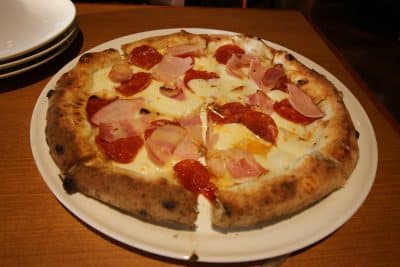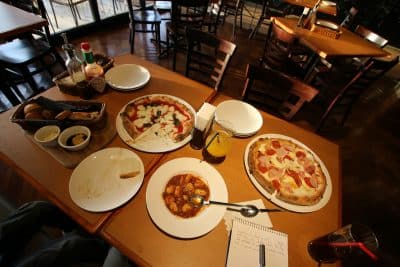 The Margherita Pizza looked very fresh, like every other one I have ordered in the states. The cheese melted in my mouth and the dough had a delicious chewiness to it, it made me want to keep eating. The sauce and the cheese just hit the right spot, and it was glorious. Next up came the was the Macellaio, or as my son called it, the pizza with all the bacon, which he started to pull off of it almost instantly. I think you can see where this is going; he managed to put down half of the Macellaio, while I finished up the Margherita.
After we had finished our meal I was offered coffee and dessert, and if I had any room in my belly I would have taken them up on it. We were both so full, and happy.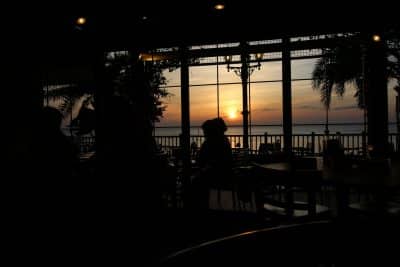 The sun was going down, my son and I enjoyed watching it disappear into the ocean from our table. Just a wonderful dinner, at a wonderful place. Pizzeria Bar Ariccia is a great place to take friends, a family or even a date for a wonderful evening out. It's priced reasonable and offers plenty of free parking nearby. I am pretty sure I just nailed the Mothers Day date night for my wife because she is going to love it here. If you are looking for a slice of Italy in Okinawa, this is a destination not to be missed.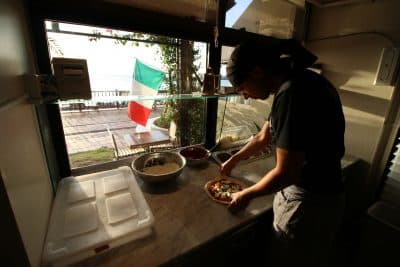 Pizzeria Bar Ariccia Hours:
Thursday 11AM–4:30PM, 5:30–9:30PM
Friday 11AM–4:30PM, 5:30–11:30PM
Saturday 11AM–4:30PM, 5:30–11:30PM
Sunday 11AM–4:30PM, 5:30–9:30PM
Monday 11AM–4:30PM, 5:30–9:30PM
Tuesday 11AM–4:30PM, 5:30–9:30PM
Wednesday 11AM–4:30PM, 5:30–9:30PM
Phone: 098-923-3304