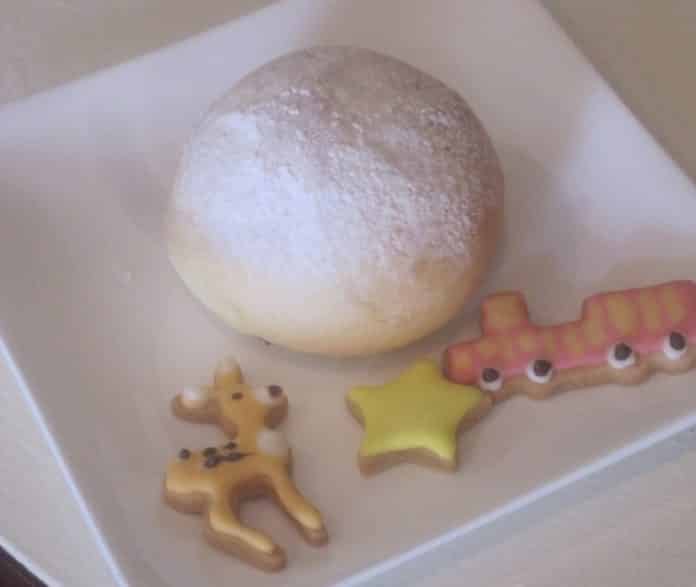 CONTRIBUTED BY MONETTE EAMES

1756 Exterior
This is one of those cute little cafés where the owner makes a lot out of such a little space. This place isn't big at all. In fact, it's probably the size of the living rooms in base housing—that's including the café's kitchen. When we walked in, my kids had nowhere to run. They were curious about the long table full of baked goods displayed beautifully with polka dot napkins resting in wicker baskets.

1756 Table
There were four seats in front of the kitchen and a little bench that would sit four more people a few feet across on the wall. We dined on scones, cookies and cheese bread which were all packaged so nicely, but when I told the owner that we would be eating them there, she heated everything up which made it all taste so much better than what it probably would have tasted at home.

1756 Treats
1756 Café Sweets Factory also had bagel sandwiches, different types of scones—blueberry caramel, green tea, cream cheese, and plain. Then there were biscotti, cookies, gingerbread houses, macaroons of different flavors—honey, chocolate, green tea, muffins, vanilla snowballs, teas, coffees, Italian sodas, lattes, cappuccinos. This was a lot for such a little place.

1756 Interior
We enjoyed everything we ordered and I'm sure we'll be visiting this place often when we're in the mood for a little something sweet.

1756 Cookies
Hours: 12:00 pm to 7:30 Daily, Closed Sundays
Phone: 098-939-1756

Payment Accepted: Yen
Directions: From Kadena Gate 2, go straight on the 20 for approximately 15 minutes. When you reach the 85 intersection turn LEFT. You will see the fire station on your right and the entrance to the Awase fish market is immediately after this. Instead of taking a right to go to the fish market, turn left. You will pass a light blue building with pink trimming called Ocean Crest Inn. Right after you cross the bridge, you will see 1756's Café on the right.