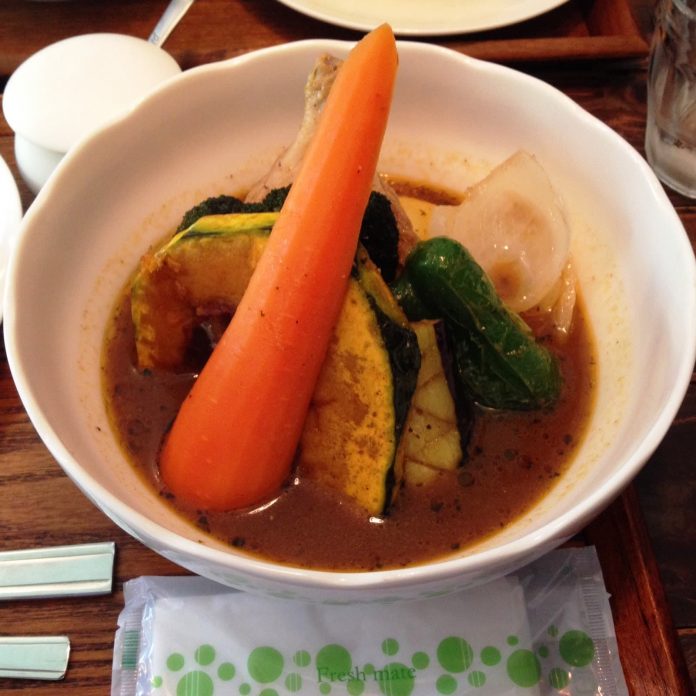 CONTRIBUTED BY KASSIE O'DRISCOLL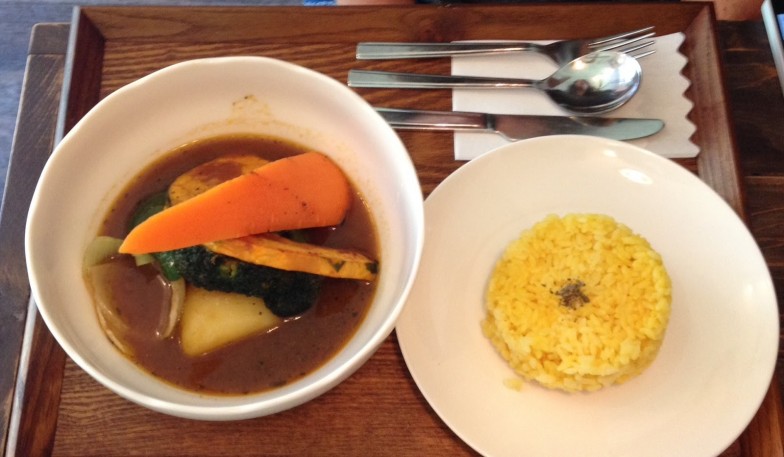 You guys, I have to tell you about this love affair of mine. It's with soup curry and, recently, I found a new restaurant that I really enjoy! I first heard about soup curry from my sister, who lived in Japan for a while, and encouraged me to learn how to make it upon finding out we were moving to Oki. It was her favorite while she was here and originated from Hokkaido, Japan's second-largest island. That's all she could tell me (besides all of the amazing details about how delicious it was)… so the search for the experts on the matter began.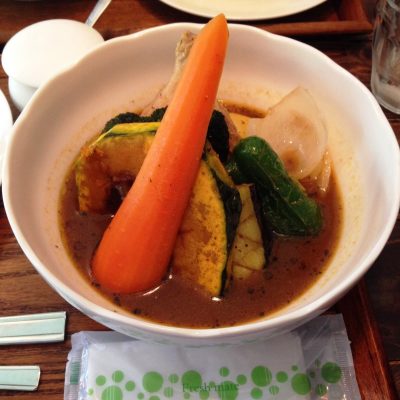 Danian offers Sapporo soup curry and they have three options – veggie, chicken, or pork. I've tried the chicken twice and my sister had the veggie. I love the large pieces of veggies that they put into all of the broth and I appreciated that it doesn't come spicy. Instead, they give you red pepper paste to add to it yourself.
I should mention that they also sell pancakes, but I haven't tried them so I can't speak on how good they are. I will say that if they compare at all to the soup, they'll be oishii!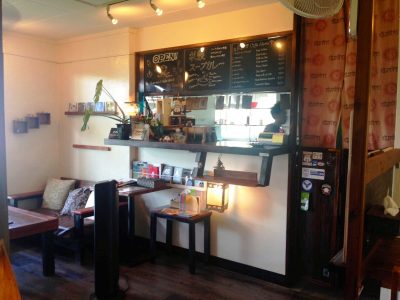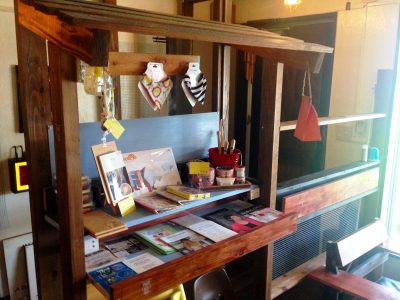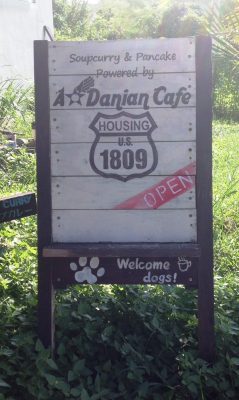 My love for soup curry first started with Ajitoya, a small soup restaurant near our house. We still frequent Ajitoya often, but I have to admit that it's nice to have another option to give me my "fix" when I need it! Danian's building, like many of my favorite restaurants, is old US military base housing. However, they've found a way to make it their own and it's got a unique, relaxed vibe.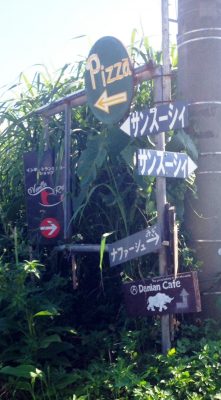 The restaurant is pet-friendly (there's a small patio where, I assume, all pets and their owners can sit), they offer take out, and are close to a plethora of other restaurants. I've mentioned Monoca numerous times and Danian is right down the street. The view is nice, too, overlooking Ginowan!
To the left and right are the signs at the entrance to the restaurant.
Below, the sign you'll see at the parking area for Cafe Monoca.
Directions: From Foster Legion Gate, go straight through the intersection. Go under the expressway and turn right at the first light (the CoCo intersection). Take that road up the hill. When you come to a funky curve at the Onishi Terrace Golf Course, curve to the right. Cross over 146 and, at the fork just after the intersection, stay to the right. You will pass Monoca and Cupcakes and Scones on the right. At a weird, forking intersection stay to the left. Follow the pizza signs (it actually looks like a pizza) and A Danian Cafe is next door. It will be on the right.
Address: 638-1 Adaniya, Kitanakagusuku-son, Nakagami-gun, Okinawa-ken, Japan
Map Coordinates: 26.2920162, 127.7929828
Hours: 11:00 a.m. – 7:00 p.m.; limited hours on Wednesday, closed Thursday
Payment: Yen Only