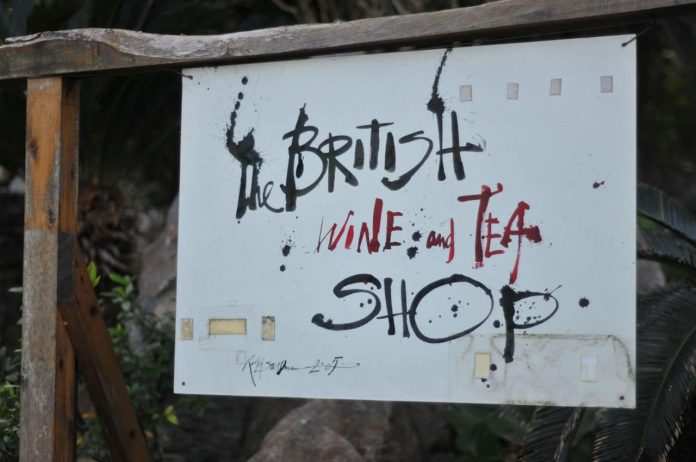 Editor's Note: A commenter has let us know that as of May 2015 the menu at the British Wine and Tea Shop has changed; no meals are being served, though tea service and light snack food items are still available. Always call ahead before making the trek to this establishment to confirm their hours of operation (English spoken).
CONTRIBUTED BY HEATHER GELORMINE
PHOTOS BY Pamela Oliveras

CONTRIBUTED BY HEATHER GELORMINE

My husband and I are
geocachers
, which basically means that we pull out the GPS, plug in given sets of coordinates, and go treasure hunting all over the island of Okinawa. We're still pretty new to the sport, but in the spirit of wanting to explore our still-new-to-us home, we're venturing further and further away with each day that passes. Today our travels took us right to the doorstep of The British Tea and Wine Shop, a fantastically cute and still virtually unknown restaurant a little north of Nago.
As we pulled into the driveway of the not-quite-well-marked-enough house-slash-restaurant, we were immediately greeted by two tiny and vocal poodles, Ollie and Cromwell. As I stepped out of my car I saw a little head peek around the corner of the wooden porch, and excitedly exclaim, "More treasure hunters, Chef!" The owner/proprietor, John, met us in the empty parking lot, asking if we were there to find lost treasure (there's a cache right there on his property). "We sure are," we told him, "But we're hungry. Can we eat first?"
That was all John needed to welcome us into his home. As my husband later said, eating here was like eating at an old friend's house. John was not just hospitable and helpful, he was chatty, bright, and genuinely grateful to have English-speaking customers with whom to converse. As we learned throughout the course of our hour and a half stay, John and his wife, Maki, moved to Okinawa two and a half years ago to open a restaurant. John was originally from London, and Maki from mainland Japan, but they met in Hong Kong and decided to return to Maki's homeland, where he could put his PR skills to use while she could ensue her passion for cooking. They ultimately found that Okinawa was a much more feasible venture for them, and opened their restaurant upon moving here.
I've been told that The British Tea and Wine House has a menu, but I never saw one. Instead, John informed us that they had two types of fresh pasta in the making, and would we like them? "Of course, that sounds delicious," we answered, and with that our meal was prepared and brought to us based upon John's whims and Maki's cooking. We were not disappointed.
Between my husband and me, we ate full plates of rigatoni with bolognese sauce, and penne with a creamy mint and cheese sauce, each with a pressed salad and local greens on the side. Our children ate off of our plates, but I understand that there's a child-friendly menu available. It's not surprising, as John welcomed our five-year-old daughter and year-and-a-half-old son into his restaurant with open arms, guiding us to a wrap-around couch, encouraging them to stand up on the leather seats, and bringing toys for them to play with while we waited for our meal.
You should note, if visiting here with young children you may want to bring your own booster seat, as they did not have a high chair available. But John was happy to see that midway through our meal, our children had decided to explore the restaurant. You see, we were the only ones there, and had John's attention to ourselves for the duration of our stay. It was a bit unnerving at first, given that there was seating for nearly forty people on the main floor, and probably ten or more in the upstairs loft, which I didn't have the chance to explore, but we rather enjoyed it once John pulled out his atlas to help me figure out where my ancestors came from in relation to where he hails from.
Our daughter was given the choice of canned pineapple juice or fresh papaya juice from his garden, and my husband and I decided that for our beverage, when in a British Tea Shop… (You should also note that ordering coffee here would be a faux-pas, as they don't serve it. It's a British tea shop, after all.) Our meals were served on Wedgwood china ("These were the plates the Emperor used!" John told us), and our tea was brought to us in a steaming silver tea service, complete with strainer as "Tea bags do not make real tea", and he even allowed us milk, though the proper way to drink British tea is with sugar and lemon.
After our meal, we were presented with a huge, moist, steaming raisin scone fresh from the oven and lightly dusted with powdered sugar, served with clotted cream and papaya preserves freshly made that morning from the organic fruits grown in his garden. Our daughter was given a hearty portion of some of the most decadent flourless chocolate cake I've ever eaten, with a hearty portion of homemade ice cream on the side. Fortunately for me, she liked the ice cream better than the cake, and I was able to eat more than my fair share of that treat. John also brought a much smaller portion of the chocolate cake for my son, who very unceremoniously shoved it all into his mouth and signed, "More! More!"
To my understanding, this tea and wine shop also has a small winery attached to it. We didn't sample any of that fare, but from what I've read on our geocaching site, the wine was quite tasty. I also learned that the menu has quite a few choices, and the prices are reasonable. I didn't ask the price of anything; I had been enjoying the experience so thoroughly that I happily paid our bill, which for all our fresh, homemade food came to just over 4100 Yen. We left with full bellies and full hearts, and promises to return again. And again. And again. And we will.
---
British Wine and Tea Shop
Hours:  Hours and days of operation vary. Please call ahead to be check and/or make a reservation.
Phone: 098-047-7133 (John and Maki both speak excellent English.)
Address: Izumi Motobu-cho, Okinawa, Japan 905-0221
GPS Coordinates: 26.645182, 127.952614
Directions:
Leaving from Kadena Gate 1, go north on 58, or get on the Expressway to Nago. Pass through Nago proper, following the signs for the Ocean Expo Park and Churaumi Aquarium. Take a left onto 84, and follow past the Nago Pineapple Park. About 2 km past the Pineapple Park are signs for a shrimp shop and a cafe on your left. You'll have two chances to make this left turn; if you miss the first you can turn about 100 feet later. You'll see a small sign for the British Tea and Wine Shop here. (If you see the first of the fish topiary on the side of the road, you've gone too far.)
Once on this small auxiliary street, turn onto the downward sloping paved road, and follow for another km. At the bottom of the hill will be a small cafe. Continue driving on the road to your left, and follow until you see a sign for a cafe and the Tea Shop. Take a right onto this driveway, but bear left. Up the very steep hill, the restaurant will be on your right. There's parking in front of the house, enough spaces for probably five or six cars total. This house is located in the middle of seemingly nowhere, surrounded by woods and orange groves. Don't worry if it looks like you're in someone's driveway; you're in the right place.