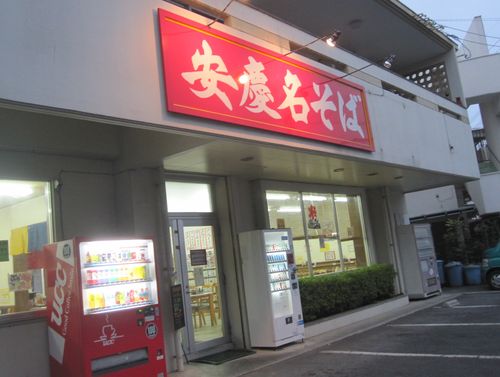 CONTRIBUTED BY MONETTE EAMES
Ever have one of days when you don't want to cook, but don't really want to go out either?  Well, I have those days once a week.  With work, kids, and a husband travelling the world, there are days when I want to be served in a homey atmosphere where I can just eat, lounge and just veg.  Sort of like days when we decide to eat dinner in front of the TV instead of at the dinner table.
Agena Soba Restaurant is just the place where I can do just that, but someone else is cooking and someone else is cleaning up.  The kids already know the drill.  We walk in, they remove their shoes, get their kiddie chairs and go to the tatami area of the restaurant (they also have American style seating).  I follow them and rest my back on the wall and after placing our orders, just watch Japanese TV, look at pictures in those Japanese comic books, or just sit and watch the kids do their thing.  Usually, there are other Japanese kids there and my boys play with them.
Each set, which is usually $7 or less, comes with a bowl of soba, a salad, your main dish (which is usually huge) and mochi balls with soybean powder sprinkled on.  There's a lot of different sets—chicken katsu, curry,  Japanese style roast beef, fried rice, noodles, shrimp tempura, chicken karaage… the list goes on and on.  They do have three new additions to the menu:  Chicken karaage, shrimp tempura, and a pork dish. No one speaks English here, but they do have an English menu.
The service is always great and food is always wonderful.  Nothing fancy.  Just simple Japanese homestyle cooking.  Do note, though, that at lunchtime, the restaurant is usually packed to full capacity.
Directions:  From Camp McTureous, turn right and keep driving until you see a semi-T on the road.  Agena Soba, a white building is on the left with soda machines in front of it.  If you've passed Kentucky Fried Chicken, you've gone too far.
Hours: 11:00 am to 9:30 pm
Phone:   972-2211
Payment:  Japanese Yen