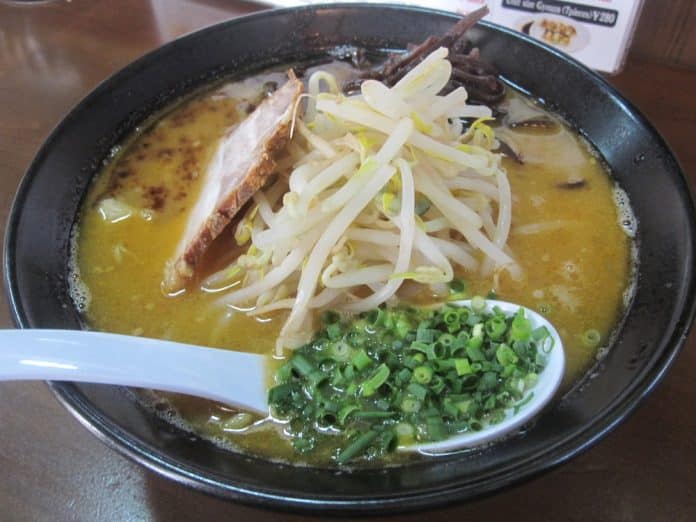 CONTRIBUTED BY MONETTE EAMES

Aji Ramen
This restaurant has only been open for a few months. The menu boasts that their ramen is the real thing and the soup is "deliberately cooked for 14 hours!"  The menu is simple.  Salt, Shoyu, Miso ramen and a few sides to choose from.   If you're cooking the soup for 14 hours, I guess there isn't much time to make other dishes!

Aji Seating
I really liked the feel of this tiny ramen shop. After walking in, you're greeted by the waitress and the owner/chef, and you take a seat right away. It reminded me of a bar, but instead of a bartender serving you drinks, there's the ramen connoisseur slaving away at the stove making your perfect ramen.
The waitress suggested I get the miso ramen with thin curled noodles. I ordered that and really enjoyed it. It had the typical ramen ingredients, but there was something that made it taste different from the rest… something I couldn't quite put my finger on.
As I tried to figure out what it was, everyone around me slurped away. I've never heard so many slurping noises in a restaurant before. I gave it a try and slurped 'till the very end.
There's also a little back room for families. When I say little, I mean it's probably for a family of 4, maybe 6. I also noticed that the restaurant even had little purses with scrunchies in them, just in case 'us' girls need to pull our hair back while devouring the ramen Japanese style.
Payment:  Yen
Hours: 11:00 AM – 12:00 AM
Directions: From Camp McTureous, turn right. Take a left on Route 75 at the Lawson's light and drive about 600 meters. You'll see McDonald's and the Hyper Media Shop on your left. Ajinokura will be on your right.

Aji Front
Menu:  

Aji Menu
This post was featured in Stripes Okinawa!