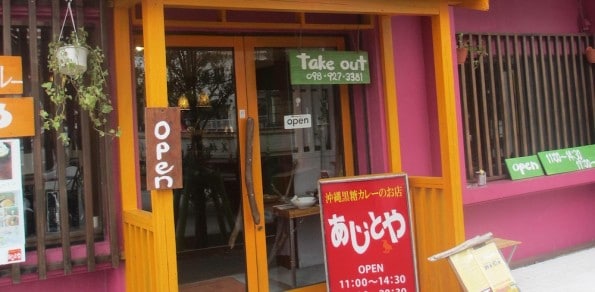 CONTRIBUTED BY MONETTE EAMES
Reggae and curry soup?  Nursing a sore throat on a cold and rainy day, I was craving my mom's oxtail soup—the soup which would take hours to cook. My mom also had another special soup that she'd make for me when I was sick.  There's just something about soups that make you feel better.  They're comforting, therapeutic, and nostalgic.
Hoping to feel better, we drove around looking for a place that possibly had some kind of healing soup.  How awesome are answered prayers?  We found a little place that served nothing but curry soup.  Our curry soup came with vegetables, rice, and various toppings and is a considered a specialty of Sapporo, Japan. The vegetables were not cubed, but sliced in big pieces, making them more tasty and appetizing.  The curry was full of fresh vegetables and yummy ingredients.  The roasted vegetables, such as squash, sweet potatoes and carrots, seemed to have flavors which were somehow deepened as they were roasted.
Having the curry soup without the extras would have filled me up.  However, the 'extras' like pork, baked chicken, and other delicious entrees brought another dimension to the meal.  At Ajitoya, the soups were definitely prepared with wholesome and fresh ingredients, and with the love and care of someone who loves cooking soup.
The décor matched the food, with a very warm and comforting atmosphere.  In the background, Reggae music was playing, adding to the unique and homely feeling this special place offers.  This may be my go-to place whenever I'm feeling sick. I hope Ajitoya brings as much delight to you as it did to our family!
---
Addendum by Kari Frazier, 9/2016
For those of you who need to eat gluten free, you're in luck! Ajitoya has several naturally gluten free options on their menu.
When looking at their menu, you'll notice that there are two different types of curry listed. One is soup curry and one is keema. The keema curry has soy sauce and other gluten-containing ingredients, so you'll want to stay on the "soup curry" side of the menu. With options ranging from vegetarian to stewed or grilled chicken to spicy sausage, there is a nice variety of foods that are safe for those with celiac or gluten sensitivity!
Ordering here is easy, and because the soup curry options are naturally gluten free, it's easy to order without having to translate your allergy needs. All you need to do is choose your soup curry, add your spice level, and voila!
*Note: they do used canned beans if you want the bean topping, so you'll want to double check the brand to ensure these are safe for you. If you want to try the tofu, you'll need to ask them the ingredients used in the tofu-making process to ensure you won't react to any of them.
---
Ajitoya
Phone: 098-927-3381
Address: 5-24-6 Awase Okinawa-city
Hours: Lunch 11:00~14:30/Dinner 17:00~20:30
Directions: From Kadena Gate 2 —  Exit the gate and continue straight down Gate 2 street.  Continue straight down the hill, continuing to the east side of Okinawa.  After crossing Route 329, turn left at the 3rd traffic light.  Pass 4 streets on the left, and Ajitoya will be on the next block on the left.  Look for a two story building with a yellow entrance.
August 2015 Update: A reader has informed us that a second location has opened near Araha Beach, right next to Glamorous.
Address: Chatan, Kitamae, 1 Chome−17−9