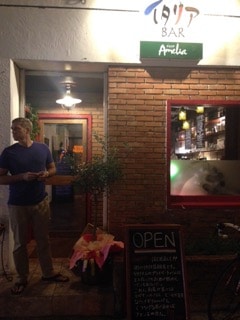 CONTRIBUTED BY JENNIFER GILES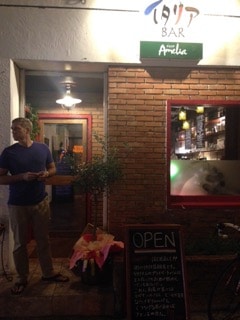 Amelia is a small restaurant on hwy 329 in downtown Ishikawa, next door to "Seasonal Foods of Okinawa," and on the same street as Ohana Hawaiian restaurant. When you walk into Amelia's you immediately feel transported to a Mediterranean style café. Bottles of wine, fresh vegetables, cured meat and an elegant espresso machine are on display at the wraparound bar, which seats about 8-10 for small plates or dinner. We found the atmosphere to be intimate, relaxing and unexpected. We were greeted by the talented and very friendly chef. The owner/operator trained in Italy for several years before opening his restaurant in Okinawa. He is an Okinawan local but speaks fluent Italian and some English.
The menu is not written in English, but the names of the entrees are written in Italian, so English speaking patrons can easily get by. The owner is also very friendly and patient and will help you make a selection if you get stuck.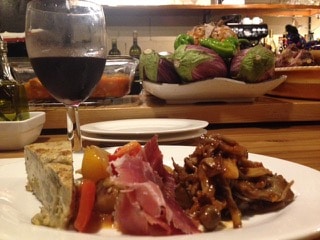 We ordered the antipasti, red wine and blood orange juice. The dish came with thin slices of Serrano ham (amazing!), ratatouille, Spanish omelet, and seasoned local mushrooms. Every element of the small plate was perfectly prepared and delicious. Amelia is among the best of Ishikawa dining and we will certainly return for dinner.
We were on a "Tour of Ishikawa" that evening, and stopped by "Seasonal Foods of Okinawa" as well as Hiro's Place for an all-Japanese cover band playing old school rock in English. We left Hiro's to find a local troupe performing a traditional sidewalk Eisa dance. Ishikawa has a very local feel, but is very welcoming and more fun than one would expect. Just poke your heads into a random place and you may find something great, like the wonderful smells, tastes and smiles at Amelia's.
Hours: Dinner Thursday – Sunday *Currently, we don't have official hours. If anyone knows them, please comment below and we will update asap!*
Payment: Cash Only
Address: 4-11, Ishikawashirahama 1-Chōme  Uruma, Okinawa, Japan 904-1105
Directions: Located on 329 in the heart of downtown Ishikawa. From Kadena, go out gate 3 and follow 26. Take a left onto 329. The restaurant will be on you left. From Courtney main gate, take 75 towards Ishikawa. Take a right onto 329. You will see the restaurant on your left after 2-3 km. If you take the Okinawa Expressway to the Ishikawa Exit, take 329 South and you will see the restaurant on your right after less than 2 km. The restaurant is next to Sakae Ryouriten "Seasonal Foods of Okinawa" and on the same road as Ohana Hawaiian Restaurant.
Coordinates: 26.428761, 127.827422