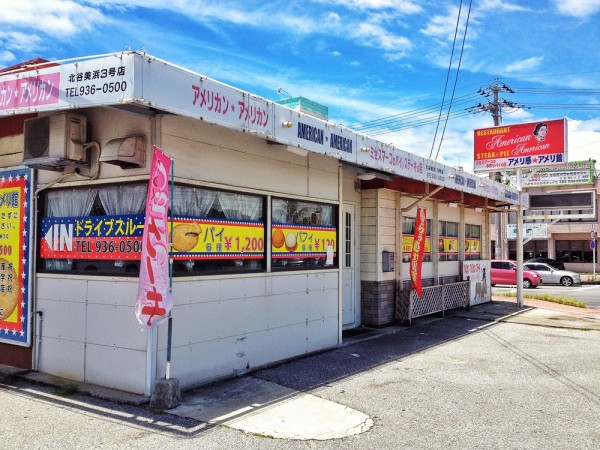 CONTRIBUTED BY SHELL BURGER
Since moving to the Chatan area, I pass by the "American American" restaurant on a daily basis and have wondered what they serve. I know a lot of people use it as a landmark for giving directions, but I had yet to meet an American who has eaten there. Some adventurous co-workers and I decided to give it a try. We knew the outside advertised steak and pie, but we were not sure if that was true or just décor. Much to our surprise, they do sell both steak and pie.
The restaurant has two seating areas that are divided when you walk in the door. We just selected a table and sat down. 
A waitress arrived within a minute or two and provided us with English menus and water. The menus offered a variety of lunch sets that included steak, chicken, pasta, and fish. We all decided to try something different. One person got the hamburger steak set, which he described as having a meatloaf texture to it.
Another person got the chicken doria set, which had a tomato sauce to it.
I ordered the chicken cheese grilled, which ended up being chicken parmesan. 
Each set was right around 1000 yen and included a drink, soup, salad, bread or rice, and desert. The soup that came with the sets was a mushroom soup, and all of us said it was one of the best part of the meal. The desert options that were given to us were blueberry pie and cheese pie. The cheese pie was more like a cream cheese sponge cake baked in a pie crust, but the blueberry pie was tasty. The desert options appear to vary based on what they have available.
If you are looking for a particular pie, according to the menu you can order an entire pie to eat or go for 1200 yen. These options are apple, cheese, blueberry, cherry, and ube pie. They also have a display case as you leave showcasing the available pies and other confectionary treats that you can take with you to enjoy at home.
The staff was friendly and our waitress spoke some English. We did get the impression that not many Americans eat there, because everyone else in the restaurant was Japanese. All in all, the place was good and offered a great deal of food for the cost. If you are looking to try a Japanese take on American food, you should stop in and give "American American" a try.
Phone: 098-936-0500
Payment: Yen only
Hours: 1100-2300
Directions: From Kadena Gate 1, turn left onto 58. Take 58 South. As soon as you pass 23 on your left, turn right at the next intersection. American Amercian will be on your left once you turn.
GPS Coordinates: 26.325124,127.754825