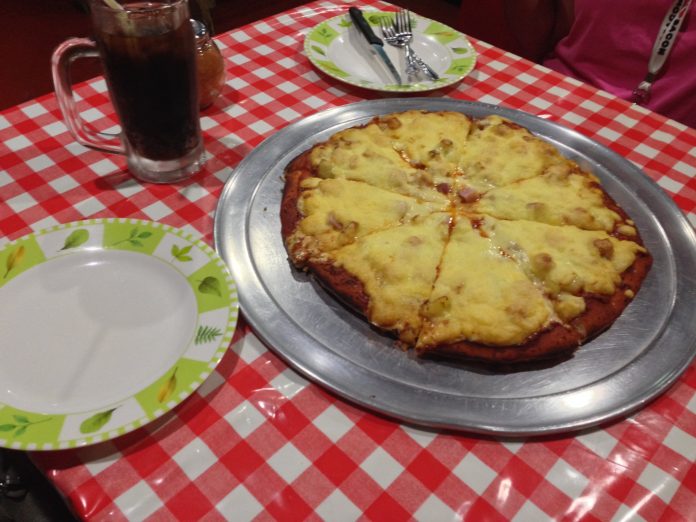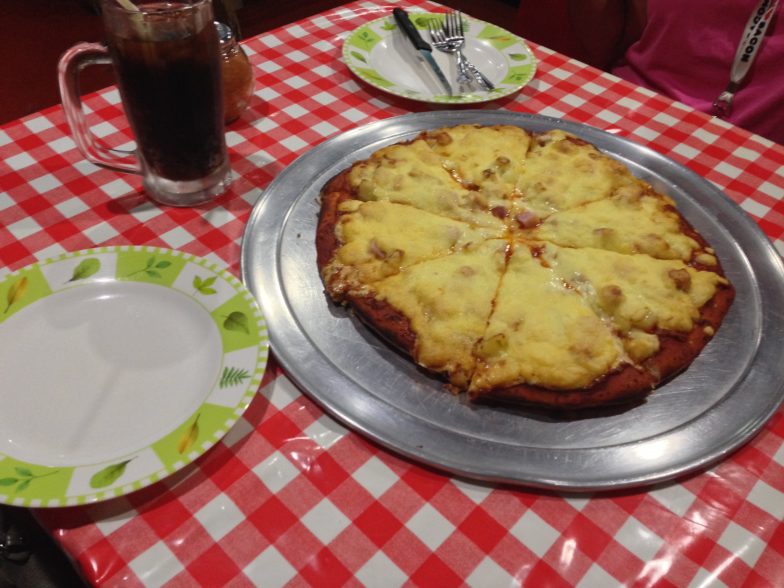 CONTRIBUTED BY EMILY BUREK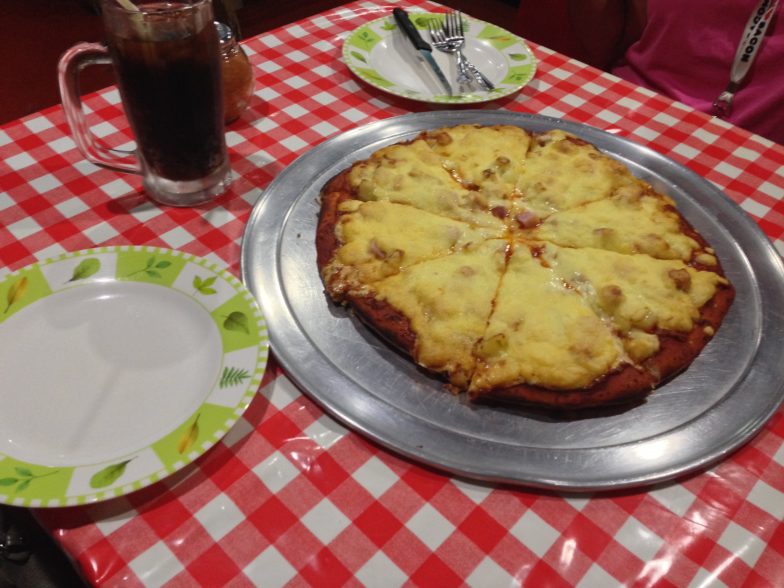 My husband and I often find ourselves tired and hungry after longs days at the beach. As we all know, hours of swimming and snorkeling can really wear a person out! Many restaurants are closed for a 2 or 3 hour period in between lunch and dinner, so finding a place that is open around 3 or 4ish can sometimes be hard. Then I thought of the American Pizzaman – which opens at 3:00 p.m. everyday but Tuesday!
I had tried this place once before with a friend on a random Saturday. She was pregnant and craving pizza, and I never say no to pizza (or a pregnant woman). She picked me up and we parked a couple of store fronts down. It was right around 3:00 p.m., so we were the first customers of the day, but they were ready for business. I was tempted to order a single slice, but being with my pregnant friend I knew better.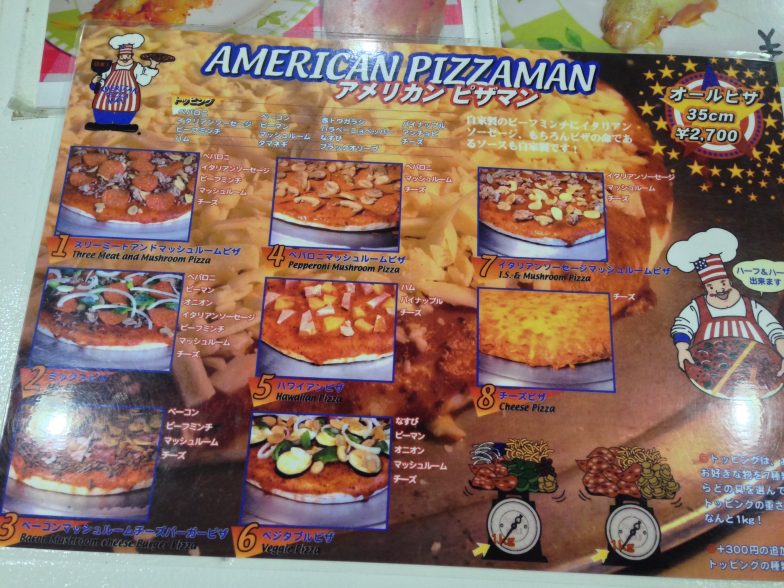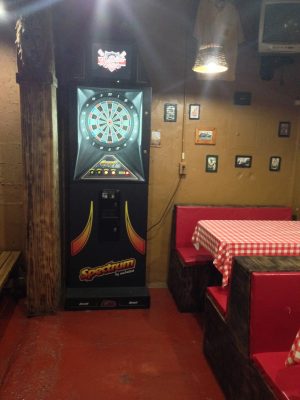 All of their pizzas are the same price – 2,700 yen for a 35 centimeter pie. You can either choose your own toppings or they have about 8 different ones on the menu. The menu also includes wings, grinders and giant cookies! When I was with my friend, we ordered the Hawaiian (pictured). On the starving Sunday I went with my husband we ordered the triple meat and mushroom. Both were delicious! The pie is crispy on the bottom but still a little chewy. The sauce to cheese ratio is just what I like. The triple meat had a little too much for my liking (they boast that they put 1 kg of toppings on!) but my husband really seemed to enjoy it.
Next time you are looking for an American style pizza (with no corn!) head over to American Pizzaman!
Toppings include- Pepperoni, Italian Sausage, Ground Beef, Ham, Bacon, Green Peppers, Mushrooms, Onions, Red Hot Peppers, Jalapenos, Eggplant, Black Olives, Pineapple, Anchovies, and Cheese

Hours: 3:00 p.m. to 12:00 a.m. everyday but closed Tuesdays
Phone: 098-937-2824
Payment: Yen and Dollars only. No credit cards.
Address: 1-20-11 Chuo, Okinawa 904-0004, Okinawa Prefecture
Coordinates: 26.3381261, 127.80090300000006
Directions:
From Kadena Gate 2, exit the gate and stay straight (on Gate 2 street) heading toward the Koza intersection.
Turn left on to 330 (Koza intersection).
Pass one light and turn left at the next light on to BC Street. This is a one way street.
The restaurant is on the left hand side on the second block down.
Parking is on the street or you can find a nearby parking lot.