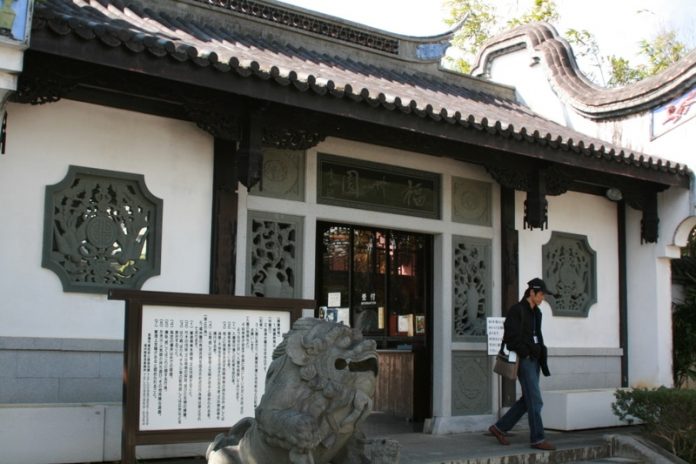 CONTRIBUTED BY KELLYERACE
Back in September, Diann asked where some good vegetarian grub could be found.  There were a bevy of responses, which can be read here.
Well, as it happens one of my ESL students, Maki, is a chef at Bio Smile, one of the restaurants recommended.  She's also vegetarian.  She also very kindly wrote up the directions to a few of her fave veggie friendly locales.  Let's hear it for Maki!
1.  Bio Smile Open Sunday thru Thursday 1130-1700 (last order 1630)
We are in Yomitan Village.  Go north on 58 until MIZUGAMA intersection.  Turn left at the light.  At the next light you'll see a fork in the road.  Bear left and keep going straight over the red bridge. At the first light after the bridge you'll see a gas station on your right (with a huge shisa in front). Turn right at the gas station.  You will see Bio Smile on your left.
(*note – Maki says that on the weekend Bio Smile offers cooking classes.  Interesting immersion into Japanese experience perhaps???)
2.  Goocuru Cafe Open Monday thru Saturday 1100-1500
This restaurant is in Chatan close to Foster.  Go down 58 and you'll see a big sign for Hamby Town and San-A.  At the next intersection, KITAMAE, after Hamby Town's sign, you make a right.  Go straight until the deadend and make a right.  Pass a Hot Spar and Zen on your left, you'll see Goocuru Cafe on the same side.  They have a parking lot in front of the restaurant.  It's at the center of three shops.  Their front roof is green.  On their left side is a sexy clothes shop called Body Talk, on the right is a red sign for a yakitori restaurant.
3.  Salon Cuttho  Open Monday thru Saturday 1130-2200 (last order 2100)
They are in Okinawa City close to Gate 2 of Kadena.  From Gate 2, go straight.  After you pass four traffic lights, you'll see MAYCO OPTICAL SHOP at the corner.  Make a left.  Go straight and you'll see a big parking lot on your left.  (You can park there for free for one hour as the restaurant's customer.)  Turn right in the alley in front of the parking lot.  You'll see Salon Cuttho on the left.
(Surfing my google translated Salon Cuttho website, I read that Salon Cuttho offers fresh baked bread every morning.  And, could it be, BAGELS???  Fresh, puffy, and tasty looking?  Any of you daredevil gourmands care to investigate?  Would LOVE to hear a field report. -K)
These three serve vegan food (no meat, no eggs, no sugar, no dairy, no chemicals), but if your friends are just normal vegetarian, I recommend another restaurant.
4.  Daikon no Hana  Open every day.  Lunch 1130-1600  Dinner 1700-2200
It is in Okinawa City.  From Kadena Gate 2, go straight until 330, which is GOYA intersection.  Make a left.  Take 330 north and go straight.  330 becomes 75.  Continue past "McDonalds" (on the right)  and "Mister Donuts" (also right) and you will see a big red "Best" sign on the corner opposite "A&W".  "Daikon no Hana" had a green sign.  You will be able to see the big food picture on the outside wall of the building.  Park underneath.  They have a buffet, not only vegetables, but they have a lot of vegetable meals that feel much healthier than other restaurants.  Lunch is 1400 yen and dinner is 1800 yen.
(I've been to this restaurant a couple of times and it's always packed.  The buffet is big, beautiful and delicious.  It reminds me a little of the salad bar area at Whole Foods.  When you are there, just load your tray up with lots of those little mini plates and go to town.  They do have meat there too, just in case you've got a hankerin'.)