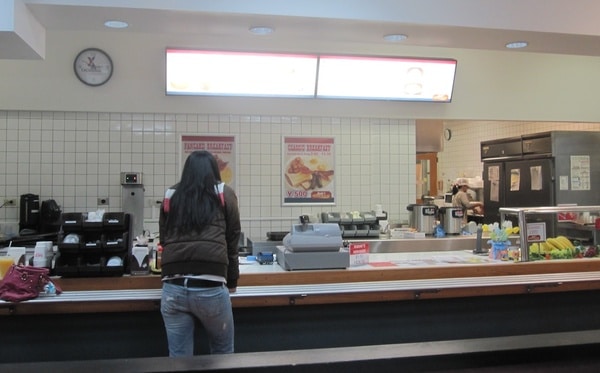 CONTRIBUTED BY MONETTE EAMES
So roll call for your Space A flight is at four in the morning. You grab snacks for the kids on your way out of the house in hopes that you'll make that one special flight and you won't need any more food until you reach your destination. You get there to the terminal extremely early only to find that you will now be waiting there the whole day.
When you have kids in tow, they'll get hungry—often. This is why I was so thankful for Andy's at Kadena Space A Terminal. They are open at seven in the morning and are there for hungry people until three in the afternoon every single day, except Sundays. With a great view of the runway from the second floor dining area, you almost forget that you've been waiting forever to get a flight.

Andys Counter
They serve the classic breakfast of toast, eggs, bacon, sausage, and potatoes and an Okinawan breakfast which included rice, eggs, and Spam. They also had pancakes, french toasts, and omelets. The lunch menu included soba, fried rice, curry, chicken teriyaki, taco rice, pork spare ribs, burgers, and sandwiches.

Andys Menu
The prices are great (better than food court prices), the service is awesome, and the food is wonderful. Although the terminal was packed, Andy's was like a haven for our family. Who would've thought there would be a budget-priced fast food Okinawan food joint on base anywhere here? We enjoyed our breakfast and lunch at Andy's. So with our full tummies, we could face the blessings of waiting for Space-A.
Hours: 7:00-3:00 p.m. Daily except Sundays
Phone: 959-0485
Payment: Yen and dollars
Directions: Andy's is located on the second floor of Kadena's Passenger Terminal