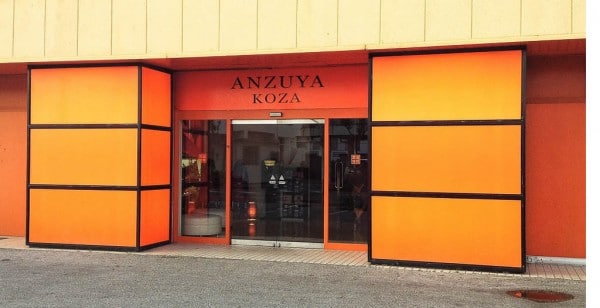 CONTRIBUTED BY SHELL BURGER
A friend of mine told me about this really neat restaurant that she went to with co-workers and suggested we all try it out. Since the staff only speaks Japanese and you need a reservation, she was able to get one of her co-workers to call for us. 
Walking into Anzuya you are hit with a very calming and soothing feeling. The restaurant is actually very large, and one of the fun things about the place is the different "themed" areas of seating.
We were able to get a table for our two families on top of the indoor pool/pond. Our daughters found this really neat and interesting since the floors were see-through, giving it a glass-bottom boat feel. The tables are sunken so you don't have to sit on the floor.
The seating areas do require you to remove your shoes, and each table in our area of the restaurant has a sliding partition closing it off to give you a sense of privacy. The menu has an Izakaya-style feel to it with each item being individually priced. The menu is pretty extensive with a lot of various options. 
They offer sushi, pizza, pastas, onigiri, gyozas, salads, cheeses, meat dishes, and rice. By the time our families were done ordering and received our food – our table was covered in a variety of very tasty dishes.
Included in our spread were two types of Yaki Udon  (wafu and kimchi), Margherita pizzas, Fried Camembert cheese, Gyozas, Onigiri, Yaki Set (including six different types of Yaki-tori), Avocado salad, assorted Nigiri, and Yakitori chahan.
There were small plates on the table so we were able to share items easily. For dessert, they have a chocolate fondue fountain to satisfy your sweet tooth; the dipping options for us were marshmallows and a sugar cake. We swung past the fountain on the way to pay and it was the perfect ending to our meal.
Anzuya also has a very extensive drink menu, and if you go with girls only in the party they have specials where you can drink whatever you want for a certain amount of time with food for a specific price. I definitely plan to go back with just girls to try this out.
Anzuya does have more of an adult feel to it, but we didn't have any problems with my two-year-old and our friends' seven-year-old. We did have someone in the booth next to us start smoking, but once they saw we had kids they stopped. There is a 200 yen charge per person regardless of what you order. I am not sure what the fee is for–maybe for the chocolate fountain. I do know they did not charge the fee for our two-year-old, but I am not sure what age the cutoff is. 
Just before leaving my friend showed me the back room where they have beautiful themed tables. One of the tables is surrounded by a lotus leaf, one is enclosed in a weaved globe, and another is like a rattan cage.  We might have to give one a try when we go for ladies night.
Overall we had a great time and were able to eat some really good food. Personally, my family left paying only around 4,000 yen for three people to eat six different dishes–not too bad when you think about all we got and the experience. 
Hours: Sunday-Thursday 6:00 p.m. – 3:00 a.m., Friday-Saturday 6:00 p.m. – 5:00 a.m.
Phone: 098- 938-5997
Payment: Yen or Credit
Directions: From Kadena Gate 2 go straight on route 20, you will go through the 330 intersection. Once you get to 329, turn left onto 329. Follow 329 down a couple blocks and you will see the orange Anzuya sign on the right side of the road. It is located next to a large 100-yen store. There is a parking lot.
Address: 3-3, Miyazato 3-Chome Takahara, Okinawa
GPS Coordinates: 26.334562, 127.818656
Website: Anzuya