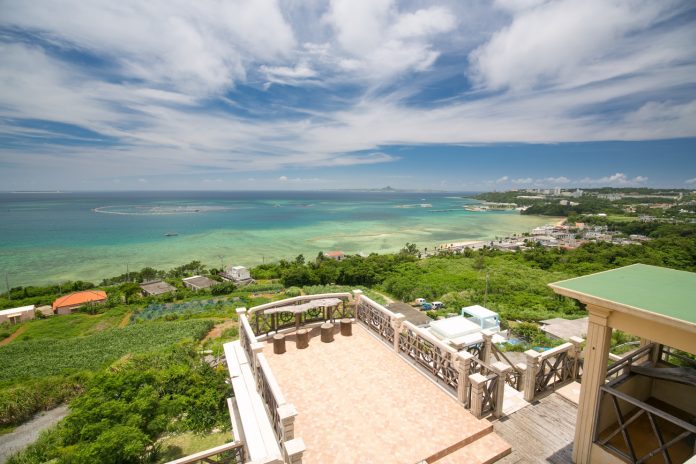 CONTRIBUTED BY CAPTAIN IAN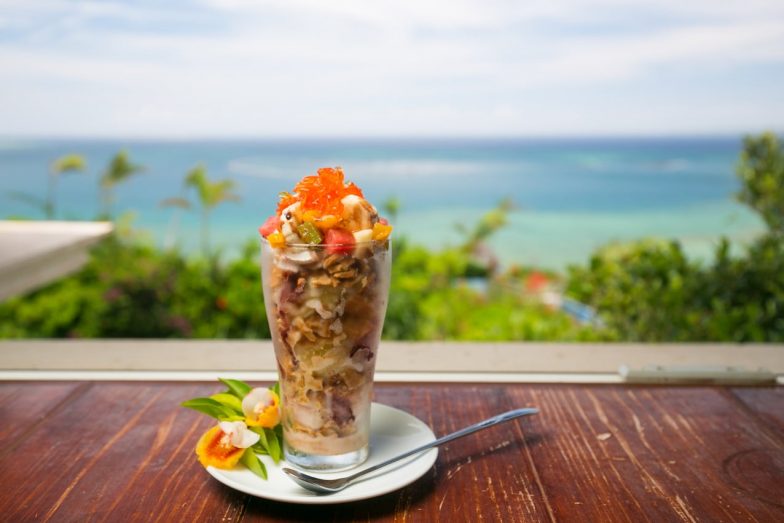 Eureka! I have found the source of all Ice Cream! It's called Ark Café and is located in the most beautiful location in Okinawa; overlooking Ocean Expo park and a few islands on the Motobu Peninsula. They have over 15 delicious flavors in their unique style of ice cream. My personal favorites are the fruity flavors. The nailed the exact taste of Mango, Passion Fruit and Guava. In my opinion, all Ice Cream everywhere in the world, comes here first to see the standard by which they will be judged!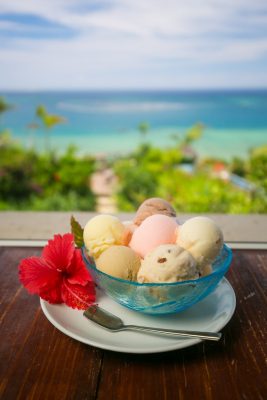 There are a few things that were completely unexpected when I discovered this place:
They only have 3 menu items of food. And that's all they need! I have never tasted taco rice so unique, or coconut curry so flavorful and spicy! The sea food pasta is… Well… Seafoodie?
The house was built by the owner and founder of BIC ICE CREAN (side of the road ice cream, and no, the "N" in Crean is not a typo. That's how they spell it in most of their signs.) He apparently continued to build upon the original small house. Now the structure is a towering 4 story mansion perched high on the side of a mountain. He and his brother built everything. I encourage you to pay attention to every small and large detail. You will be impressed!
The owner is also the landscaper. He takes care of the beautiful gardens and fountains around the place. You are allowed to go all the way to the 4th balcony and take pictures of the incredible view, sit anywhere you want to eat, and walk through the impressive gardens.
The sun sets directly in front of Ark Café. I highly recommend, at some point in your life, you experience a sunset from here. I can say honestly, in all my traveling throughout Okinawa and surrounding islands, this is head and shoulders above any other eatery, establishment or café in all the land. Just check out the photos and imagine they don't capture even a fraction of the taste and beauty Ark Café truly possess.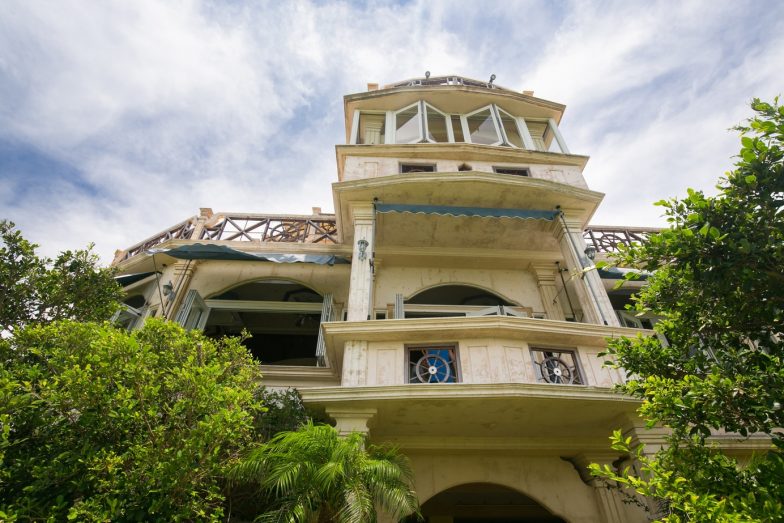 Hours: 11:30 a.m. to Sunset. Closed on the first Sunday of every month.
Phone: 098-051-6565
Address: 950-1 Hamamoto, Motobu Town, Kunigami County, Okinawa
Directions: Act like you are driving to the aquarium and Follow the colorful Ice Cream signs once you pass over the big blue bridge. The signs are in the shape of a two scoop cone, painted bright green and orange.
From Kadena Gate 1:  1 go right on 58. Stay on 58 until Nago (about an hour). Go left on 449. Follow the coast for 20 minutes until you go over a tall bridge and meet a T intersection, go left at the T. Quickly turn right at the first traffic signal across from a small hotel. Now it gets tricky, so follow the Ice Cream Cones. Cones will lead you to your second left. Go left. You will pass a construction quarry on your left. The road will be kind of bumpy. About 200 Meters after the quarry you will arrive at Ark Café on your left.
Website: https://bicice.com/71074/