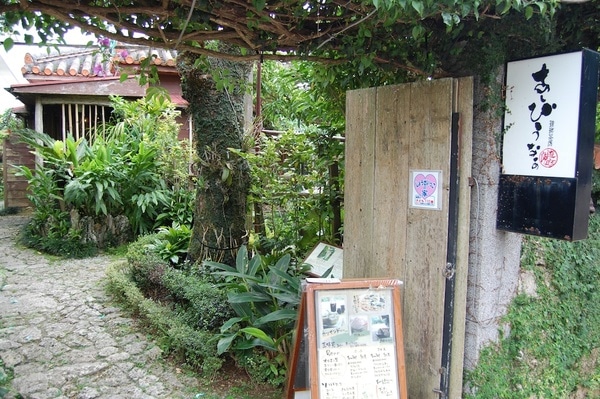 CONTRIBUTED BY KATHRYNANNE WRIGHT

Ashi Entrance
Deep in the green and concrete jungle of Okinawa, a small restaurant lies in it's vast and busy city of Naha. Between a castle and it's surrounding modern businesses, Ashibiuna Restaurant settles modestly between them, nestled in a rich garden of sand and flowers.

Ashi Walkway
During a rough visit to Shurijo Castle Park, my husband, son and I found ourselves a little distracted by this modest and perfectly hidden restaurant. It wasn't until after our trip through Shurijo Castle and subsequent pitstop at their small and barely satisfying cafe, that we felt the need to investigate this garden.
The restaurant lies behind a vine-covered stone wall and is well devoured by most of its greenery. A pergola sits in it's entry into the garden with a petite sign explaining it's hours and menu. By the sign you get the idea it's a very organic menu, though I wouldn't say it is very vegetarian friendly (pity).
On the sign, you'll see a few pictures of their meals and beneath the Kanji is it's English counterpart. When we finally stopped gawking at the lovely layout, we continued into the actual restaurant. I might overdo it in my description, but the place is awfully small and quiet. It's very serene and probably the perfect place to land after visiting a very tourist-heavy site.
When you enter, to your left are wooden cubbies for your shoes and a bell at the step. If you're not accustom to how most of the Okinawan restaurants work, the bell is there to alarm them you are there or need service. Usually when we visit Primo Kitchen we can get away with not touching the bell but in this case, the place is so peaceful, you may forget what you came for, much less anyone notice you've been standing there waiting for direction.

Ashi Garden
Once you've medalled with the cubbies and the bell, a young server will come and depending on the level of occupancy, you may get to choose your own seating while they find you an English menu (what a relief). The space is very open and when you first walk through the hallway you will see a step and the large zen garden. There is seating looking over it that sits shoulder to shoulder, and was quite alluring. At the time of our visit we had hoped to sit on that side but unfortunately had to view the lovely lawn from farther in. However, the restaurant is well decorated for it's location. It is modest, traditional, and keeps with the natural tone. We saw a few pieces but did not investigate too much to see if they too were historically related to Shurijo.

Ashi Indoor Seating
When it came to ordering, the waiters had fair English although the menu at dinner is small (Warning: Their menu is different for breakfast, lunch, and dinner. Dinner seems to be extremely limited in options). The price range can vary from 12$ – 37$ and they have a list of drinks and ice cream. The food was decent but we are a family of vegetarians so we had to play the guessing game for the most part. We did not get a full edible experience but our eyes were fairly sated. We did ask our server a few things and she seemed to comprehend and help to the best of her ability. We were very thankful, and hungry.
Overall, it was enjoyable visually and conveniently located near Shurijo Castle. We parked near the Art University and walked to Shruijo. Right across from the parking lot was the restaurant.

Ashi Info Sign
Phone for reservations:  098-884-0035
Hours:  Lunch: 11:30 to 15:00, "Three": 15:00-16-30, Dinner: 17:30 – 2400
Payment:  They accept Yen only.
Address: 2-13 Shuritonokura-cho, Naha, Okinawa Prefecture 903-0812, Japan
Menu:  Click to enlarge
Website:  They even have a website though completely Japanese (you may get Google to translate, if you're lucky). Still most of the place is represented visually on the site which you can easily navigate —  http://www.ryoji-family.co.jp/ryukyusabo.html
Directions:  Using directions from the Shurijo Park site, you can see that the Art University on Ryutan St. (29). Taking the same route to Shurijo Castle, Ashibiuna is located across from the Prefectural University of Arts on Ryutan St. This Street is closed off and no traffic other then by feet is allowed.