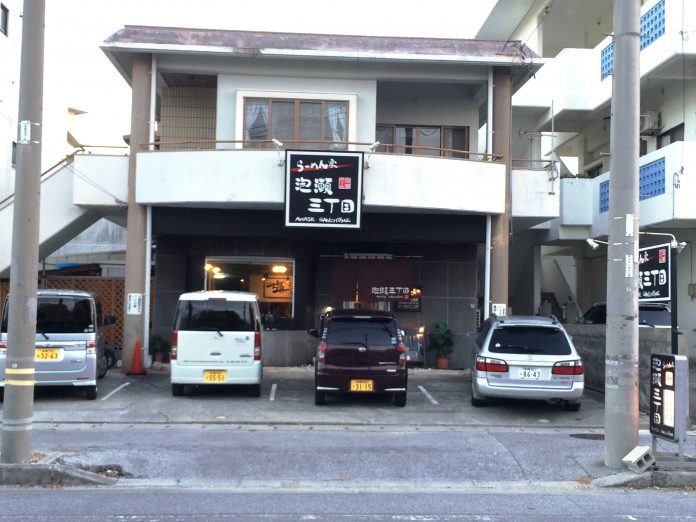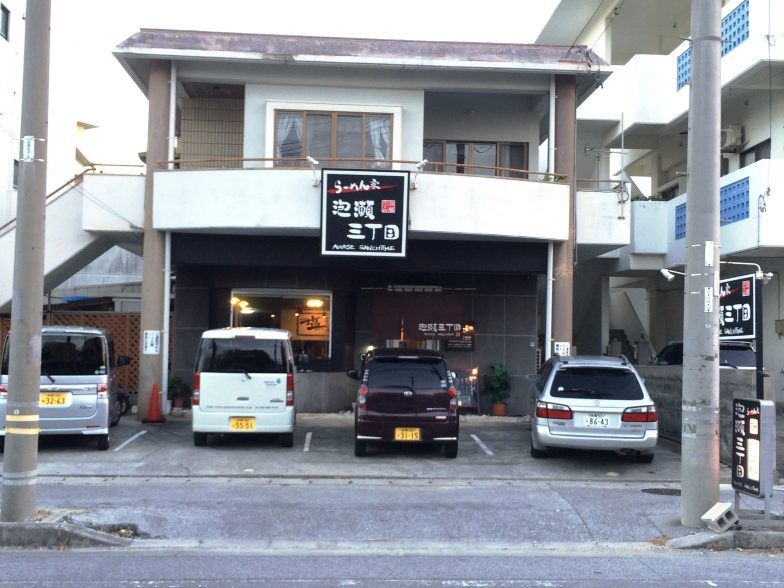 CONTRIBUTED BY MEGAN WATERS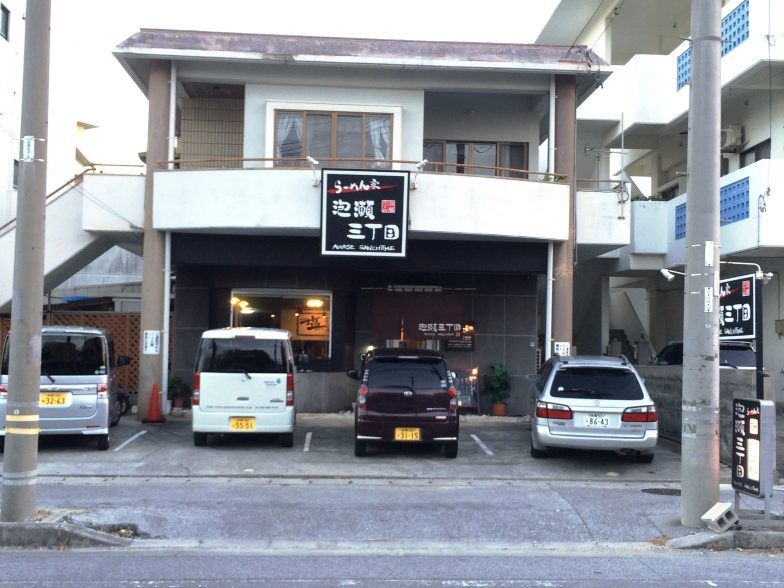 Awase Sanchome is my favorite ramen spot on Okinawa. A bold statement, I know. But having sampled about a half dozen ramen spots around the island, I can say with some confidence that this place is the best. Sanchome is set up as a typical ramen shop: a bar that seats 6 or so, and a few tables that in total can accommodate about 20.
It's a true locals place; my husband and I go at least once a week, and we've only ever seen two non-Japanese people there besides us. The owner is a very sweet woman who is a big fan of jazz music, which always plays over the speakers, and American paraphernalia, as seen by the various decorations of U.S. license plates, old signs for Route 66, and toy locomotives. Although the staff does not speak much English at all, there is an English menu available and so we've never had any difficulties with communication.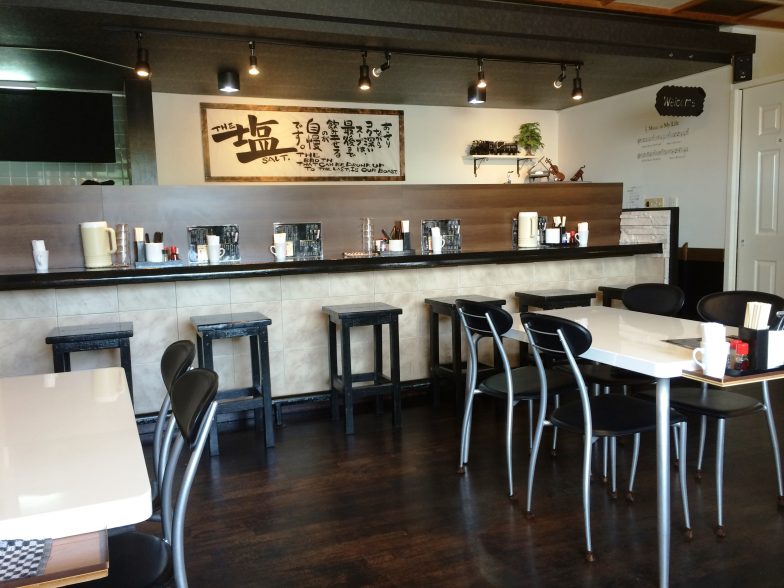 Now, on to the food. On the menu are three choices of absolutely delicious, piping hot ramen—salt, soy, or miso broth, with the usual fixin's—which range from 600-700 yen. Toppings can be added to any soup for about 100 yen—hard-boiled egg, extra pork, extra niri (dry seaweed), corn, extra noodles, spicy miso, etc.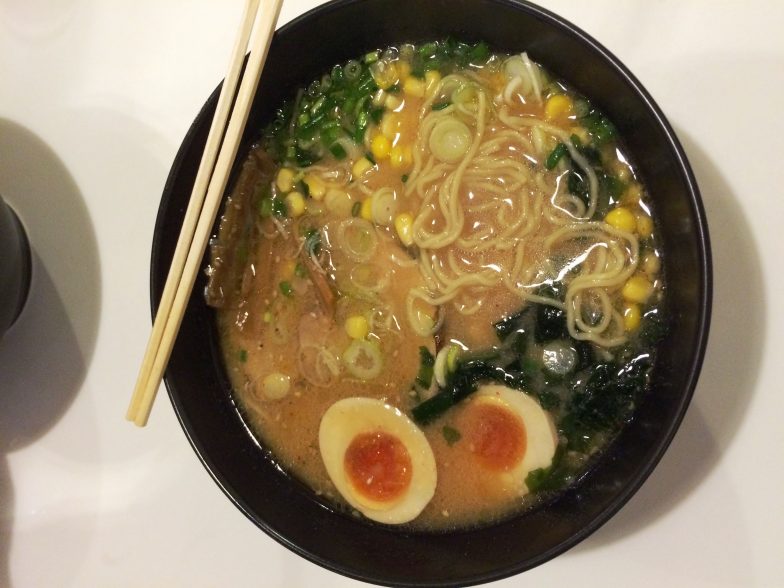 In addition to the ramen, Sanchome serves excellent gyoza made with local pork and a superb green dipping sauce that I believe is made from shikwasa (citrus similar to a lime). You can also order kimchi, which has a really nice kick to it but isn't overly spicy, either a small dish for 100 yen or rice topped with kimchi for around 450 yen. There is a limited selection of drinks, including beer. My favorite meal is the miso ramen with an egg, and a side of gyoza or kimchi depending on how hungry I am.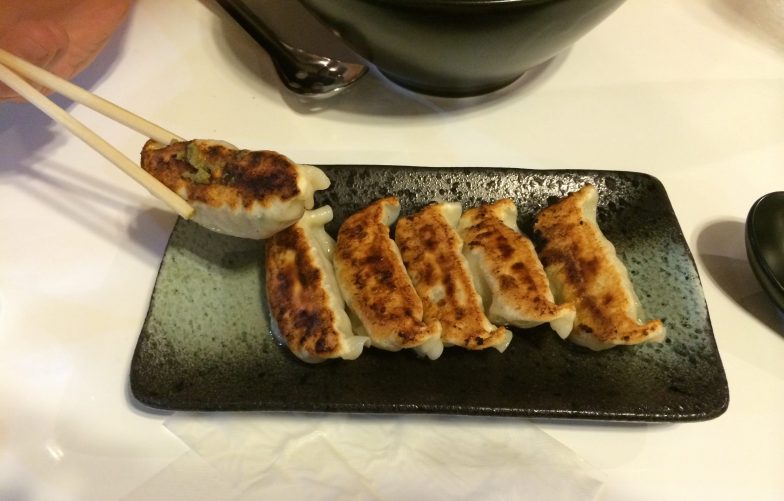 If I have a craving for ramen (which is often), no other shop can satisfy. I think it's all in the broth. I have such an obsession with this place that I recently googled ramen recipes to see if I should just start making it at home. Turns out that good ramen takes 15 hours to make. Now I know why it's so delicious, and I'm just going to leave this one to the experts.
Finally, Sanchome offers reward cards, which is really useful for me: purchase 5 meals and your 6th bowl of ramen is half off.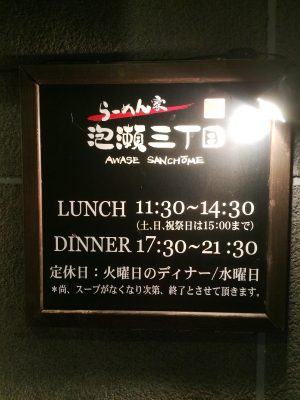 Hours: Lunch 11:30 a.m. – 2:30 p.m., Dinner 5:30 p.m. – 9:30 p.m. Closed Tuesday dinner and all day Wednesday
Payment: Yen only
Phone: 098-934-0155
Address: 〒904-2172 沖縄県沖縄市泡瀬3-39-15
Directions: From Foster Legion Gate, once out the gate, turn left onto Route 330. Follow 330 for 3km until you come to the intersection with Route 85. Turn right on 85 and stay on this for 4.3 km (down the hill, through the tunnel, and into Awase). At the 4km mark is the intersection with Route 20/85. Don't turn; keep straight through the light. Awase Sanchome is 0.3km further down on your right. You'll see a black/white/red sign with both kanji and "Awase Sanchome" and a little parking lot with four spots. If the lot is full, just park on the street.
Map Coordinates: 26.3147174, 127.8344194