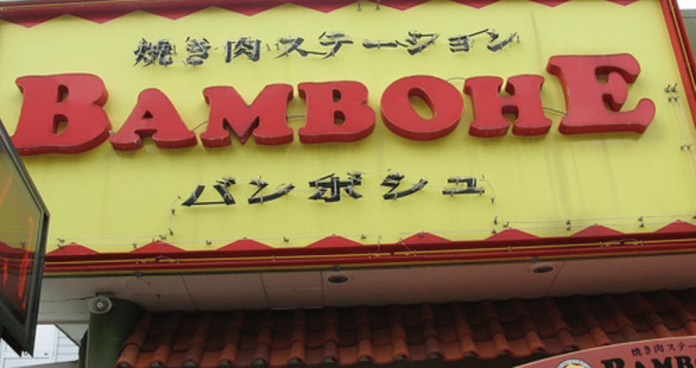 CONTRIBUTED BY AVIVA
My family of three went to Bambohe for lunch today on Kokusai. (Apparently there's a Bambohe over near Futenma too.) Their deal is that they have a buffet – it's all you can eat for 1 1/2 hours from when you arrive. Lunch is 1300 yen per adult, 370 yen for the little one (ours is 6). Dinner is 1860 yen per adult and 550 for the little one. I read on that Japan Update site that they have specials on certain days, but we just walked by and tried it before doing any research.
You're given a booth, and told to go for it. There's a big round grill in the middle of the table. Maybe I'm a novice, but I haven't been to any restaurants like that yet and it was super cool. Then you walk to the buffet line and get a set of tongs to cook with, a tray and some plates, there are smaller plastic ones for the kids too.
The array of raw marinated beef, pork and chicken was fantastic (and the meat was all so tender and tasty), and they also had some squid to cook. There were onions, mushrooms, cabbage, squash, hot dogs, some kind of small burger patties (I think they might've been veggie burgers) and at the end of that line some soy, horseradish and hot sauce. There were a few kinds of soup (Okinawa soba, miso and squid ink something-or-other), fried rice, some kind of fried chicken, kim chi, tempura, steamed rice, mixed veggies, and a full salad bar with 3 kinds of dressing. Also there was jell-o, nice cold fruit, and azuki beans with those little white rice cake ball thingies. There was soft serve ice cream, plain yogurt, and a soda/juice bar with which to fill your cups as often as you liked.
On the table there was a delicious miso-based dipping sauce, so after you grilled your meat you could dip it in there and eat it over your rice to make it all so tasty. We ate like royalty, very very reasonably. Great find.
See the PICTURES for food shots, menu prices (if you can read them) and the outside. Enjoy!
Kokusai Street Location
Phone: 098-861-4129
Address: 1 Chome-3-47 Makishi, Naha
Google Maps Coordinates: 26.2165427, 127.68763920000004
Directions:
The one off Kokusai is across the side street from the Starbucks (Southbound Kokusai Street, make a left at Starbucks and Bambohe will be on your left side).
If you're going to the one near Futenma: It is NOT on the 330 — but take the 330 south until the Nagata intersection which is also the 32. Turn left there and it will be up a block or 2 on your left – you'll see the big yellow sign. . Plenty of parking out front.