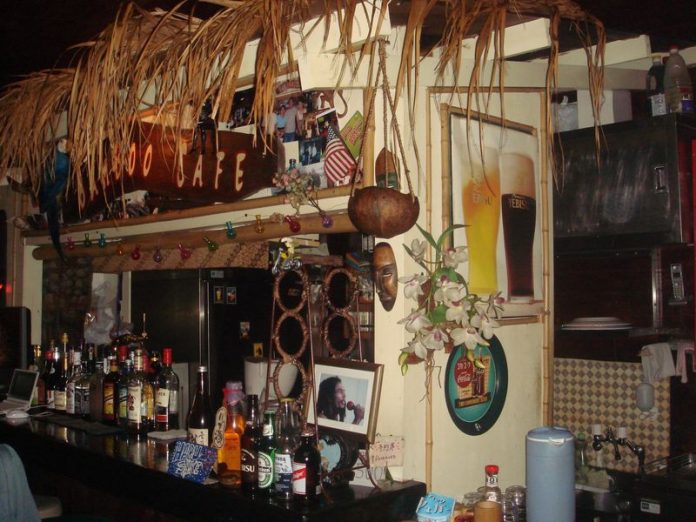 CONTRIBUTED BY JESSICA ZENTENO
Sounds of reggae music, the smell of jerk chicken and a bright red awning make Bamboo Café hard to miss as you go down BC Street.  My husband and I go there all the time because it is delicious and the prices are great!
The restaurant has a relaxing atmosphere and serves Caribbean/Jamaican food, along with many other items.  I highly recommend the jerk chicken sandwich (comes with french fries) which I usually get.  My husband gets the jerk chicken dinner (comes with rice and a salad).  But there is much else to choose from: jerk chicken wings, shrimp cocktail, spring rolls, coconut chicken soup, fried rice, sea food salad, and so much more.
Their calamari is the best I have ever had – big and juicy!! And they have a great drink selection. I get the mango juice, and friends of mine have had their alcoholic beverages and said they were great!
The prices for the food are very fair. We spend on average about 1800 yen for a jerk chicken dinner, jerk chicken sandwich and a mango juice. The calamari is about 500 yen. Mango juice is fairly priced at 350 yen – it is good and well worth the price. Nothing is really over 1000 yen and even the alcoholic beverages are reasonable, starting at about 500 yen.
---
Bamboo Cafe
Hours:  Open Tuesday-Friday 17:00 until 24:00 and Saturday and Sunday 15:00 – 24:00. Closed Mondays.
Phone: 098 934 5471
Email:  bamboocafe@space.ocn.ne.jp
Address: 3 Chome-1-9 Chuo, Okinawa
Google Maps Coordinates: 26.3380262, 127.80148350000002
Directions:  Restaurant is at the beginning of BC Street.  Coming out of Gate 2 Kadena, turn left at the big intersection where Koza Music is (330).  Take the next left (BC Street).  Bamboo Café will be on your right – look for the red awning. If one continues to drive past Bamboo Café they will see a parking lot which closes at midnight.  Bamboo Cafe will give you a parking pass so parking is free!!!