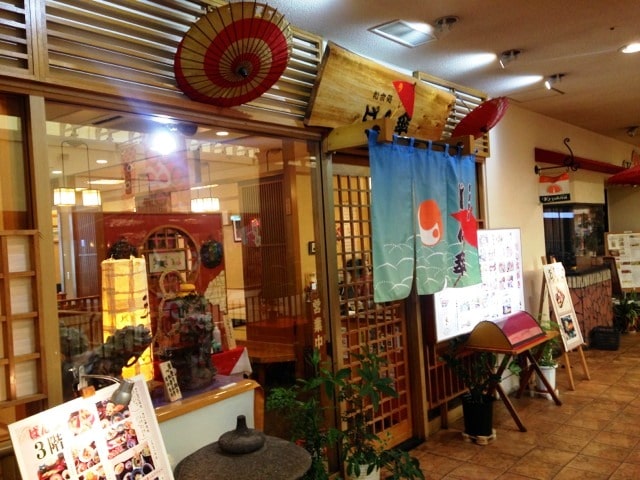 CONTRIBUTED BY ELIZA GROFF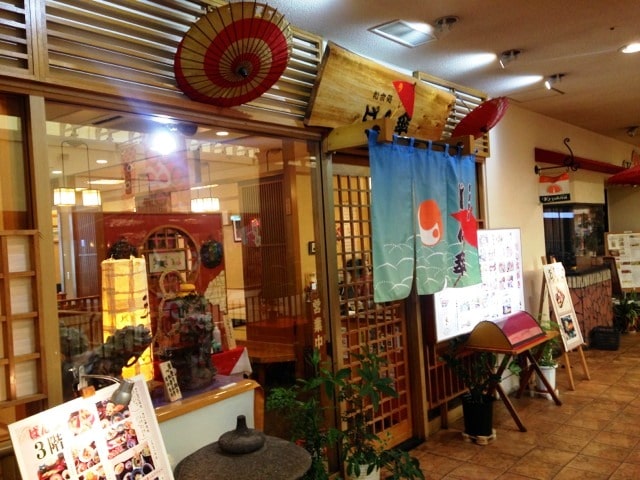 We worked up an appetite on our weekend expedition exploring the Nakagusuku Castle Ruins and Nakamura House. While those are both worthwhile cultural visits, our meal at Bangasa in the Plaza House Shopping Center was equally as impressive. Bangasa is a Japanese restaurant featuring both Western table seating and recessed tatami mat seating. We arrived just after 2:00 p.m., which is that weird time when restaurants close between serving lunch and dinner. We actually intended to go to Krishna next door, but they were closed for the 3-hour afternoon break. We got lucky, because right next door was this fantastic café.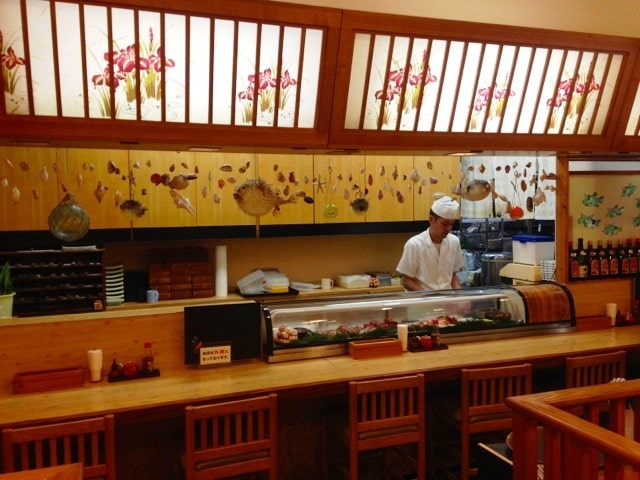 As you approach the restaurant from the outside, you see the yin and yang door curtains, meant to brush off the evil spirits as you pass through the doorway. Upon entering, you see a clay dragon pot fermenting Awamori, and a couple of other Okinawan specialty crafts displayed: a crab mural made of sea glass, hand painted Shisa tiles and Shisa statues, pottery flower vases with the openings in the shape of Okinawa, paper cranes, paper umbrellas, horse figurines out of clay, and some signs written in kanji. There is even a spikey shell like those used to ward off evil and bring good luck that are often placed on the gates to Okinawan homes. They also had art for sale on the walls – mostly water colors of traditional Okinwan homes, typhoon trees like those in Bise, and dragon boats in the beru (the Great Wave of Kanagawa) blue water roped to the coastline.
We chose to sit at a Western style table, and we picked our lunches from the kanji picture menu. There was not an English menu, so you have to be a little adventurous, or speak a little Japanese to know what you are getting. Luckily, we were pleased with our set menu orders. I got a cold green noodle soba dish with a raw quail egg, vegetable and shrimp tempura, and some various kinds of sushi. I loved the chewy sweetness of the pickled mushroom sushi roll. They were generous with lunch portion sizes, and the coconut gelée with sprinkles was a kiss of pleasure to close the dining experience.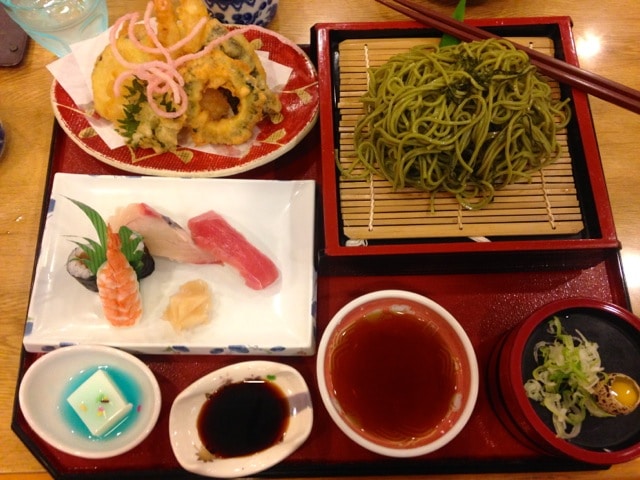 My husband was pleased with his grilled eggplant rice bowl and inari soba served with sweet egg pudding. We were impressed with the meal prices. Hot tea was included, and our lunch total was 2,100 yen. They also offer set menus for more than one person of various kinds of sushi that looked fantastic.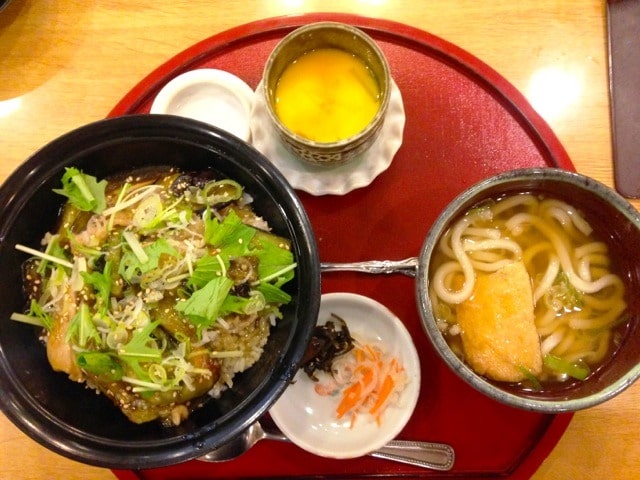 A note to the cold-blooded – Bangasa is air-conditioned in the Western way; my husband loved it, but I found it to be too cool. Bring a sweater, ladies.
The Plaza House Shopping Center is not far from Kadena Gate 2, Plaza's main gate or the Foster Legion Gate. If you find yourself in Kita-Nakagusuku exploring the village, going to Okinawa Zoo, or simply shopping at the Plaza House, I recommend swinging by this restaurant on the 3rd floor.  It was a fantastic, convenient, and casual lunch.
Directions: From Kadena Gate 2, Road 20, turn right (south onto 330). The Plaza House Shopping Center is before you get to 85 on the left-hand side.  Bangasa is on the 3rd floor.
Address: 3-1-12 Kubota Okinawa City Okinawa
Map Coordinates: 26.3197637, 127.79401529999996
Phone: 098-930-1910
Hours: 11:30 a.m. – 11:00 p.m. (Last order 10:00 p.m.)
Payment: Yen or credit card