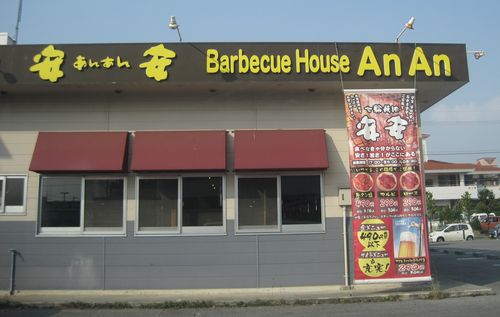 CONTRIBUTED BY MARIA JONCKHEERE
Okinawa has no shortage of BBQ restaurants allowing diners to cook at their free will, and Barbecue House An An in Hamby Town is a wonderful example. Having tried a number of barbecue restaurants, my husband and I finally ventured to the one in our neighborhood taking our 2 year old daughter to our next dining experience. We were very pleased with the atmosphere and cuisine.
We had our choice of tables particularly in the early dining hours of 6pm. One may sit at the Japanese tables or the American-style booths which provide ample opportunity to people watch as well. We chose the latter having our toddler in tow. The waiter came promptly to our table providing the barbecue and responding to any questions we had. We could select from two menus which included a "light menu", very suitable for children offering items like mini hamburgers and vegetables including corn. The larger menu allowed us to choose from numerous options including many different types of meat, chicken, seafood and vegetables for grilling.
We chose the lettuce wraps along with a few different types of meat and the mushrooms, also taking full advantage of the delicious sauce offered at our table. The food was brought promptly to our table as we took turns grilling our dinner.
Barbecue House An An is an excellent choice, particularly if you prefer a la carte dining rather than the all-you-can-eat BBQ  restaurants.
Hours: 5pm until 600am
Payment: Yen and credit cards (Visa/MasterCard).
Address: 2 Chome-13-6 Chatan, Chatan, Nakagami District
GPS Coordinates: 26.302350418235633, 127.76008653032704
Directions: From Camp Foster's Commissary Gate, take a right heading north on 58. Take a left at the light for San A. Heading down that road toward Araha Beach (with San A on your left) you will see Barbecue House An An just to your right next to Climax Coffee.