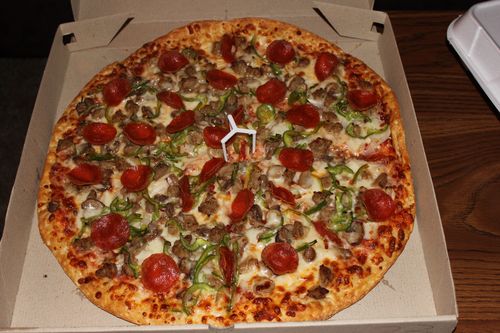 Though we spend most of our "post time" encouraging you to get up and off base to explore and enjoy Okinawa, we are currently trying to add some posts about on-base establishments for newbies or those preparing to PCS soon to Oki.  
CONTRIBUTED BY LEEANN STEVENS
Banyan Tree on Kadena Airbase is a great place to eat!  We started eating here about 3 months ago.  The menu is fairly simple.  You can choose from mouth watering pizzas, yummy stromboli , the ultimate calzone (which is very cheesy), fried rice, taco rice, burgers, sandwiches. Full meals are available where you have to choose your entrées and your sides.
Once we tried the pizzas here, it was goodbye Pizza Hut!  Their combination pizza is yummy.  The toppings are pepperoni, onions, mushrooms, green peppers which is layered with mozzarella cheese and tomato sauce! YUMM!!  And don't forget the Combination Mexican Chicken Fajita Pizza, which has salsa on it. Pizzas are priced $8.95 , $12.95 and $18.95 for small, medium and large respectively.  A small pizza is enough for one person.
And the Banyan Tree offers something better than bread sticks!  They are pepperoni bread sticks — yummy bread with cheese and pepperoni inside. The six bread sticks are 5-7 inches long and about 2 inches thick and comes comes with this AWESOME jalapeño cheese sauce! The cheese is not spicy, just super flavorful.  The breadsticks are very filling — a must try! And they are only $3.50!
Our regular order is 2 small pizzas with the pepperoni bread sticks. Delicious!
The stromboli is like a calzone and you choose five filings. We filled ours with mushrooms, sausage, Canadian bacon, pepperoni and extra cheese. It was very tasty!!! And you get a drink with it — all for only $5.95.  The Ultimate Calzone is true to it's name.  It's about 2-3 inches thick and is tightly packed.Remember to have your napkins ready, because it will get messy with the juices running off your hands!
I have tried some of their meals. I enjoyed the ½ rotisserie chicken with one side (potato salad).  I also tried the Italian meatloaf with sauce, but I didn't like it.
Banyan tree has a simple red and white diner style seating. You have the option of either eating at a table or in a booth.
My husband and I used to eat out every week. But after having my son, we started getting pizzas and other delicious meals from Banyan Tree.
Other services :  Banyan Tree also has a variety of cheese cakes by the slice or whole cake and other bakery items. The cakes are ordered at the Rocker NCO Club now with Keiko or Take in the catering department.  Their number is 959-0063 and ordering is Monday – Friday 0800-1600 and pick up, at this time, is still at the Banyan Tree anytime the snack bar is open.
Catering service is available (959-0651) and last year they had Thanksgiving dinners for sale.
Delivery Service:  There is NO DELIVERY FEE during the following hours — 4pm to 10 pm, Sunday to Thursday and till midnight on Friday and Saturday. Now you know who to call for that midnight snack! (You will need to tip the delivery person)  Delivery number – 959-2055 or 959-2863 and Menu HERE.
Daily patio lineup:   11 a.m. – 1:30 p.m. Mondays & Thursdays —  Teppanyaki , Tuesdays & Fridays — Rib eye Steak with fixings, Wednesdays  — All you can eat Pasta and Pizza.   No take-outs on Wednesday.
Hours:
Customer Service — Sun-Thu: 9 am – 10 pm , Fri & Sat: 9 am – 12 am
Snack Bar — Sun-Wed: 11 am – 10 pm , Thursday: 11 am – 11 pm, Fri & Sat: 11 am – 12 am
Bar — Sun-Wed: 4 pm – 11 pm , Thu: 4 pm – 12:30 am, Fri & Sat: 4 pm – 3 am
Airman's Access — Sun-Thu: 8 am – 12 am, Fri & Sat: 8 am – 3 am
Donut Express — Sun-Thu: 8 am – 9:30 pm, Fri-Sat: 8 am – 12 am
Directions: Building number 431. Banyan tree is opposite the BX on Kadena and behind the drive through ATM. It is hidden behind the trees. When you are coming from Douglass, don't turn at the first light (where WIC is), keep going straight and it will be on your right heading toward Gate 2.
Website:  Banyan Tree