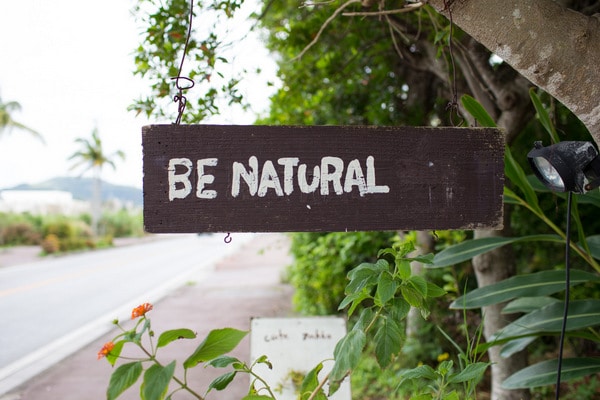 CONTRIBUTED BY HANNAH CURTIS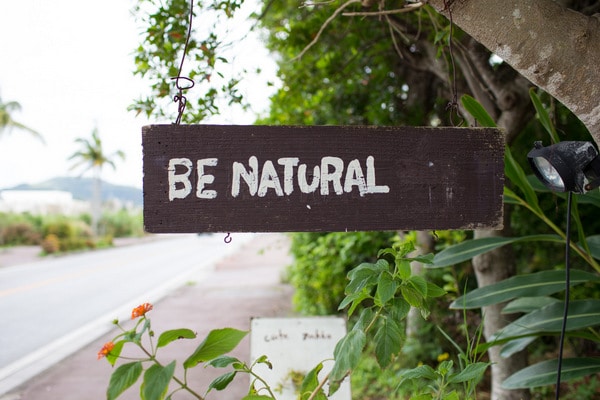 We tried to visit Be Natural one Sunday many months ago, but with a long wait to get a seat and 2 hungry children we went elsewhere vowing to return some other day. Fast forward a few months, we finally made the trip down to Nanjo area to return to this charming little cafe.
We arrived just minutes before it opened and were surprised that people were already lining up at the door; we were even more surprised when it appeared everyone, apart from us, had a reservation! We figured this was a sign that we weren't going to be disappointed with the food.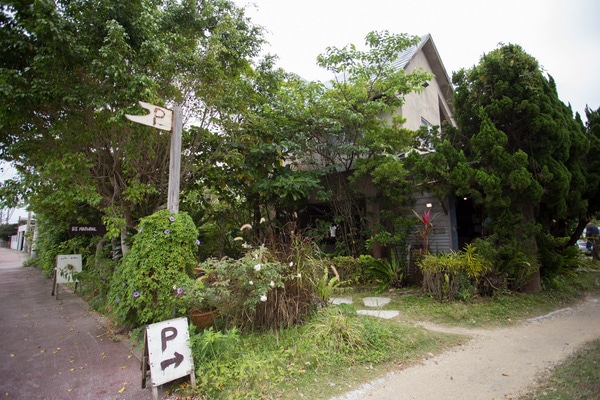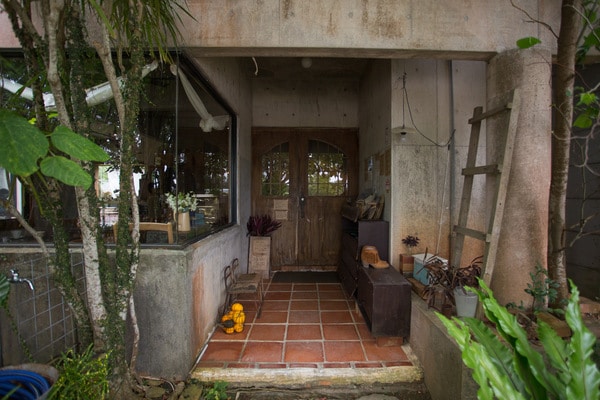 Thankfully, once they opened, we managed to get one of the few unreserved tables and before long the restaurant was completely full!
The staff immediately brought over glasses of water along with the menu, which was all in Japanese; but they were happy to take the time to explain the menu to us.
As we were there for lunch we had our pick of the lunch set (1,500 Yen) or a pasta & bread dish (800 Yen). Matt & I both ordered the lunch set while we got our 2 girls (aged 2 & 5) the pasta each.
In hindsight, we probably could have got just one pasta for the girls to share but I think it will really depend on how big of an appetite your child has.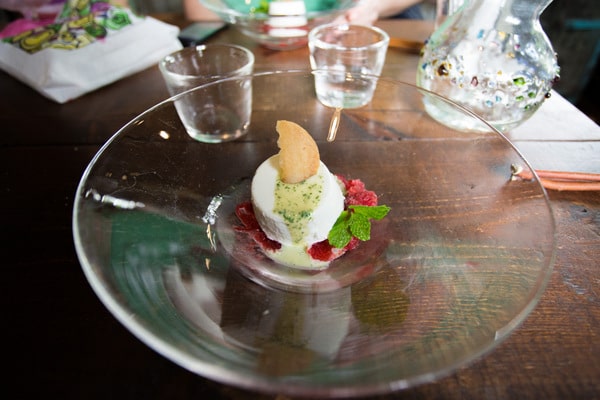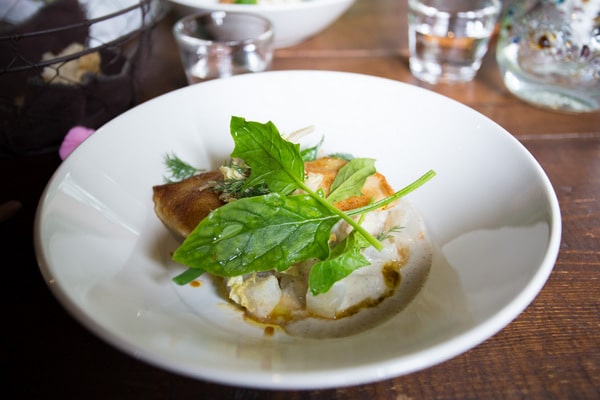 Our amazing set consisted of 4 courses plus bread… needless to say, we definitely left satisfied! The first course was an antipasti/salad type dish with squid, prosciutto & ham, which was followed up by a bread basket with 2 pieces of bread each; one raison and one red wine… both were amazing!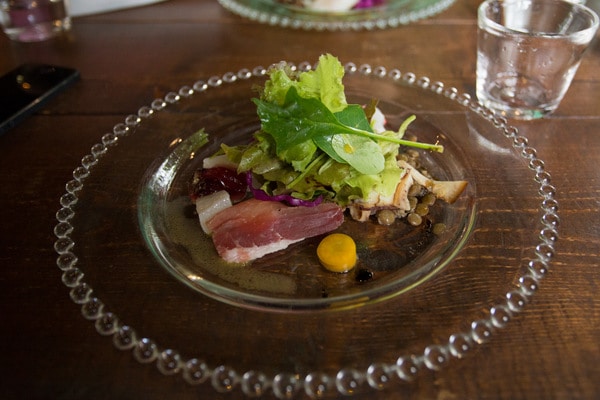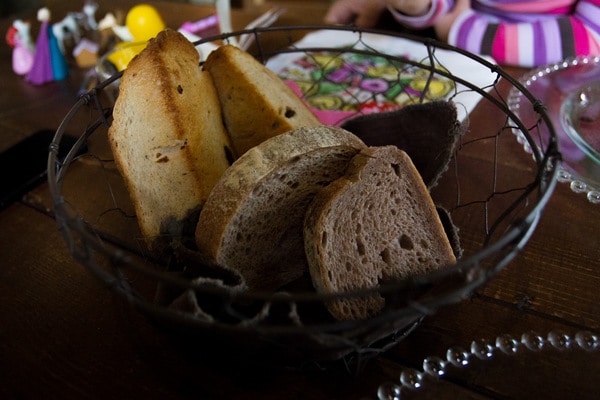 We then got a plate of tomato pasta, which was the same pasta the girls received although theirs came with a slice of bread, a small salad & a cup of soup.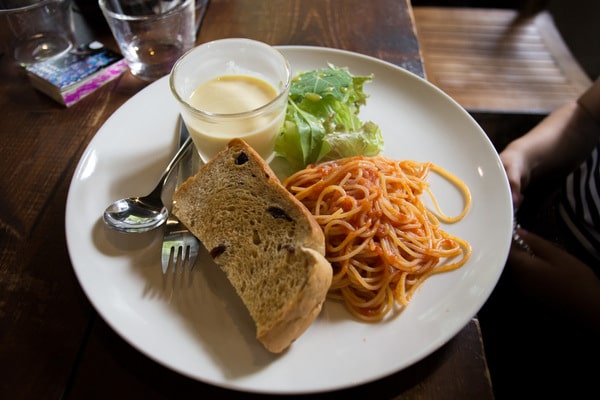 For the main, we had breaded shark on top of vegetables with a yummy sauce and lastly, we all received the same dessert; berry ice and panna cotta, with the girls receiving a smaller portion.
To complete our meal we were then served a choice of either hot/ice coffee or tea.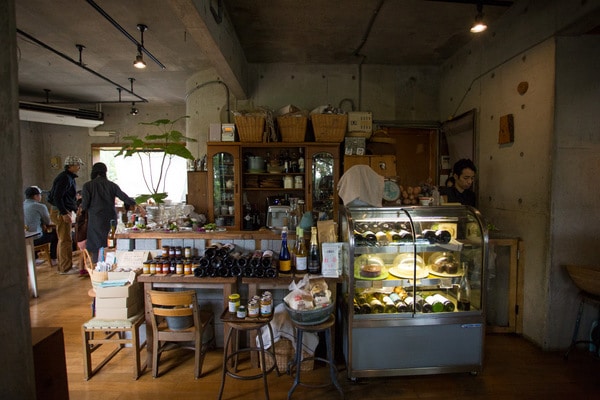 From where we were sitting we noticed the counter had a lot of wine, jams & other things which appeared to be for sale. It wasn't until we were halfway home that I realized I had forgotten to check them out but will definitely remember to do so on our next visit as from afar they looked pretty scrumptious!
While I wasn't able to get a glimpse of the evening menu, from our lunch experience and looking at the photos on their website I am positive it wouldn't disappoint.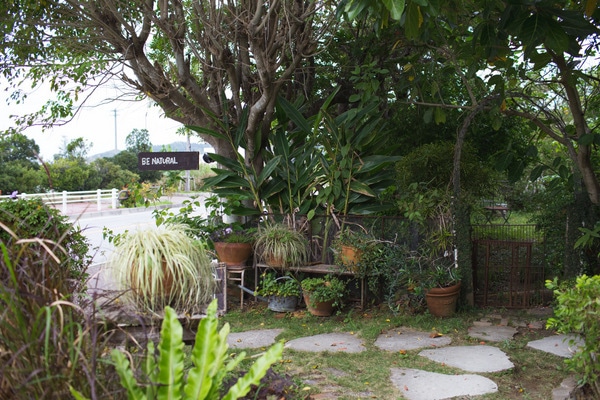 Don't be put off by the popularity of this cafe; if you make the drive down and it is full there are some other great options in the area, including Cafe Yashinamiki which is where we ended up at the first time we tried to eat at Be Natural and is just a couple minutes walk down the road!
If you don't want to risk it call ahead and make a reservation; everyone we spoke with spoke a little English!
---
Be Natural Cafe
Hours: Wednesday – Sunday (closed Mon & Tues) from 11.30 – 21.30 (L.O. 20.30)
Payment: Yen only (no credit cards)
Website: https://benatural.sunnyday.jp/p1.htm
Phone: 098-947-6203
Address: 488, Sashiki Sashiki, Nanjo, Okinawa, Japan 901-1403
GPS Coordinates: 26.1677783, 127.79268030000003
Parking: parking for approximately 6 cars
Other: Children welcome and I did notice a highchair