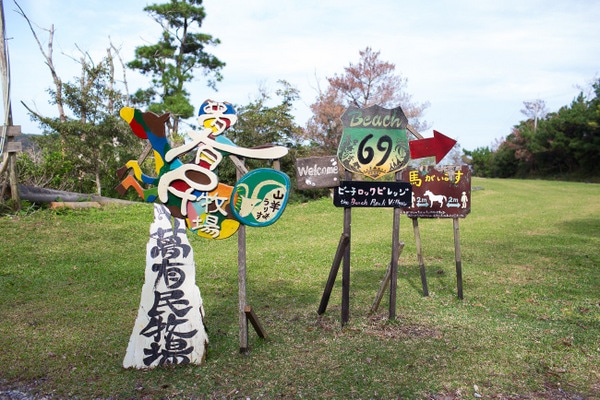 CONTRIBUTED BY HANNAH CURTIS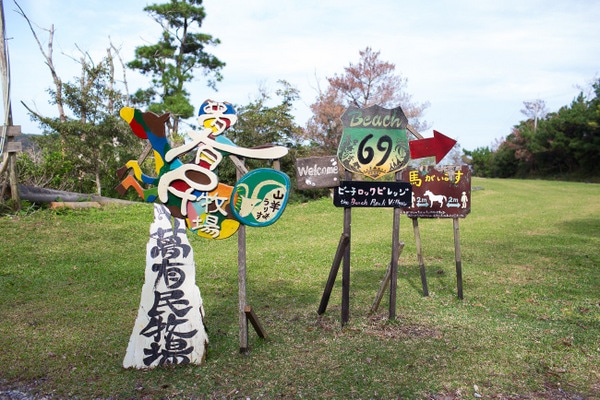 Tree terraces, delicious food and a yurt to sleep in… sounds like the perfect combination for a relaxing getaway and what's even better: you don't have to leave the island to get all of the above!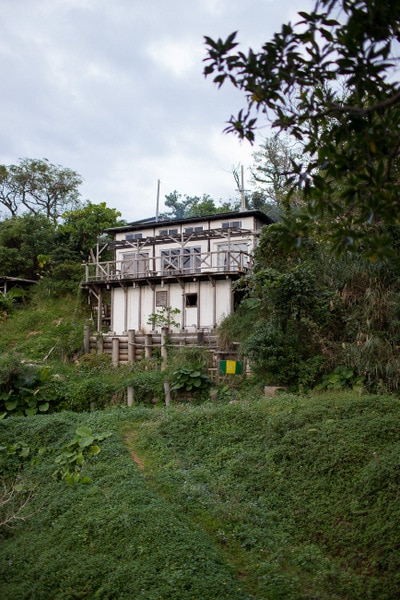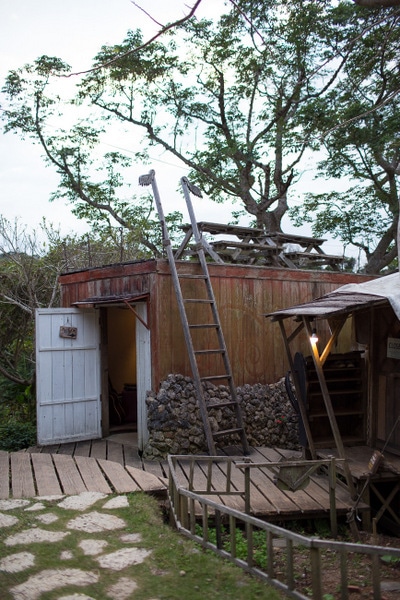 Located on the Motobu peninsula set up on a hill is Beach Rock Village: a camp, a cafe, an overnight experience… they have it all (but sadly, no elephants – more on this later)!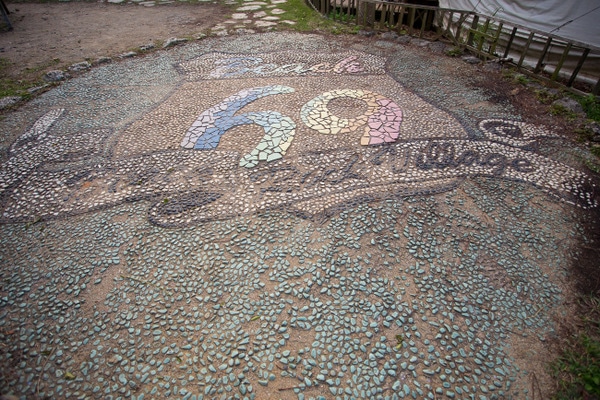 Throughout the warmer months Beach Rock Village hosts a variety of camps varying in length and experiences which you can apply to attend via their website, but if that doesn't interest you, you can still experience some of what is on offer.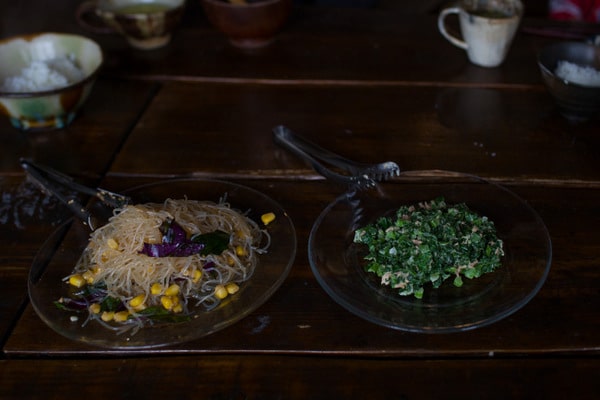 For starters, the cafe serves 3 types of pizza (including a Tandoori chicken pizza!), taco rice, and curry (which is apparently REALLY good), as well as alcoholic & non-alcoholic beverages. The fun part about eating here is picking where to eat.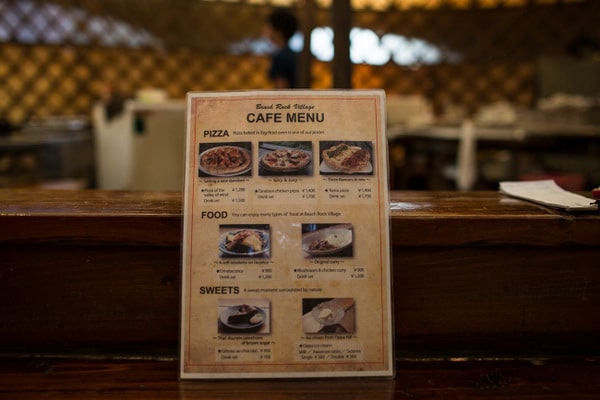 There is the Tree Terrace which is basically a treehouse that has a pulley system to deliver your food up to you! We loved being up here, however it was a little nerve wracking with our young children, as there really are no barriers. To get down you can either climb down the ladders you ascended or simply take the fireman's pole!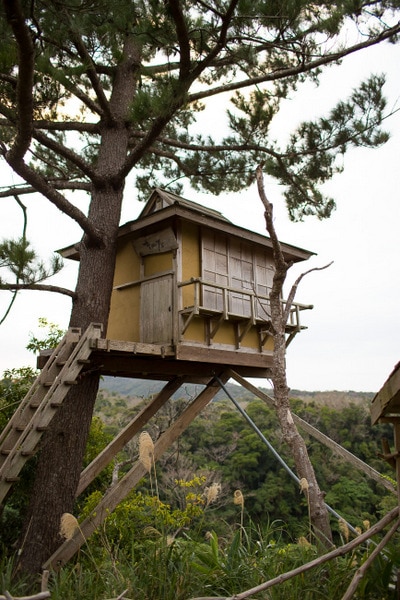 Another option is the wooden "container" looking structure, which you can either climb up a ladder and sit on top of it or sit inside of it on a couch with the front open so you still get to take advantage of the views, while sheltered from the weather.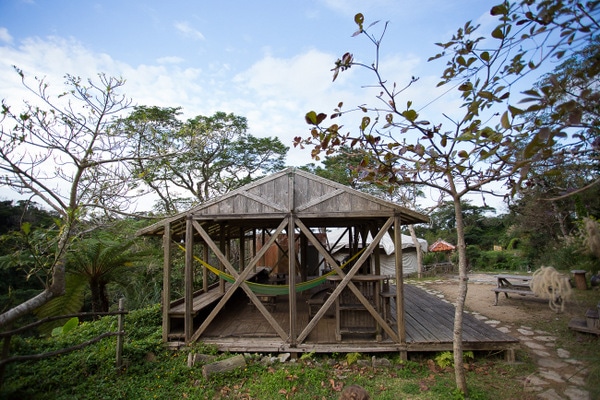 If you don't feel like climbing anything have no fear, there is also an open-sided wooden structure which has ample of room and even a hammock.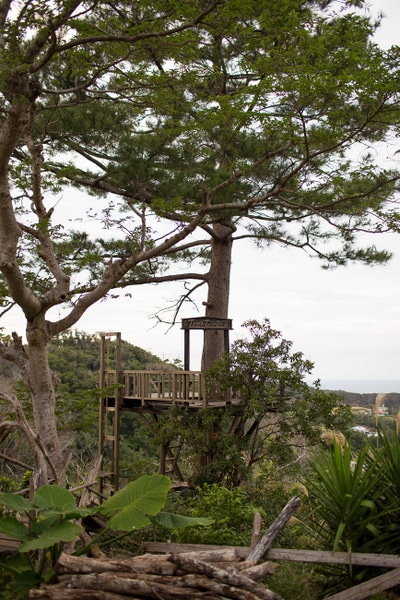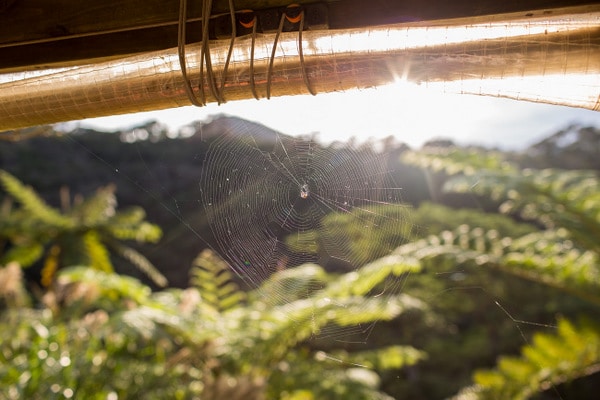 Last but definitely not least there is the "bar yurt".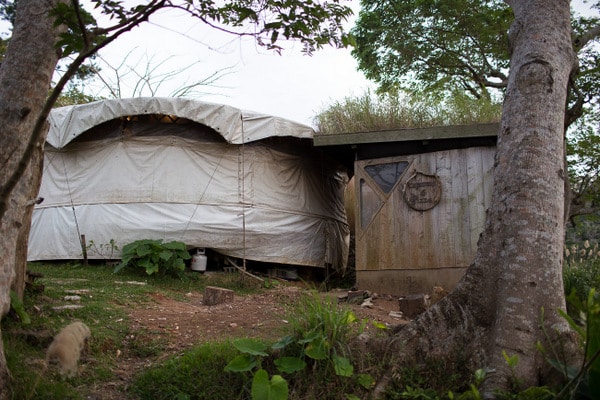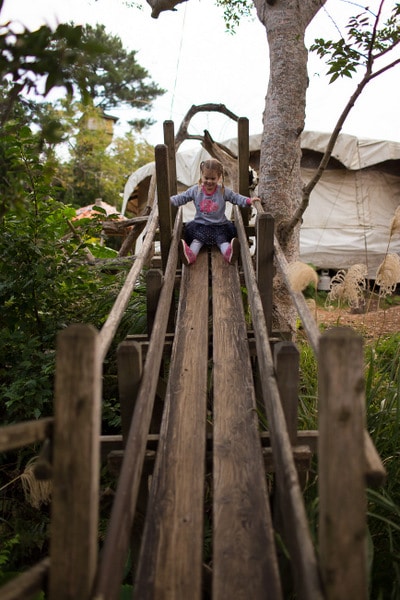 One of the reasons I wanted to check out Beach Rock Village was to swing above the treetops, unfortunately as of December 2015 this infamous swing was out of action. I am unsure if they have plans to put a new one in or not, but I sure hope they do!
I had also heard that there may even be an elephant on the premises (according to the map there is one!) sadly there wasn't! When I asked about it the lovely Japanese lady smiled and simply replied "in our dreams" that really would have been a dream come true!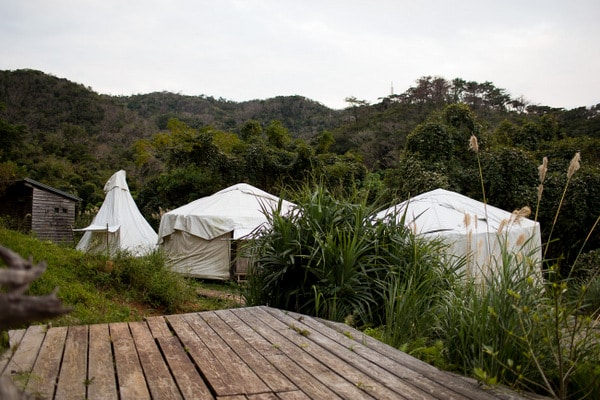 The main reason we went to check out this place was to spend a night in a yurt; after all it's not every day you get to sleep in one, and I bet there aren't too many places in Japan to do this.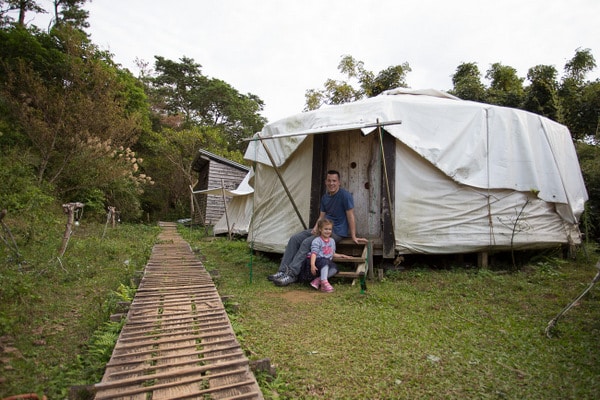 I made contact via their website to see what availability they had; once I found a date that worked for everyone I simply emailed my confirmation – no payment was made until we arrived.
The price, per person, includes dinner & breakfast both served in the Nature Cottage; which is another accommodation available for rent (I believe this sleeps up to 8 and is a "shared" house). Our young children were free of charge.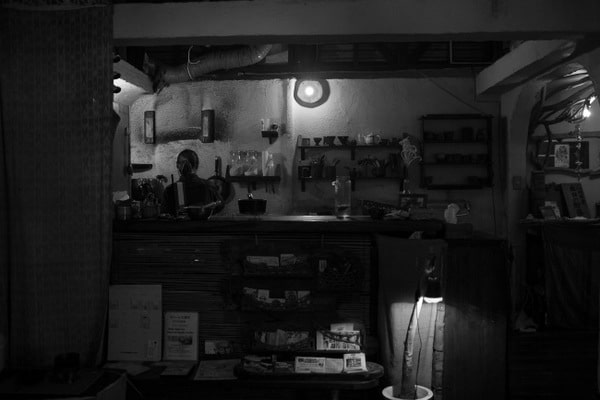 I can't actually tell you what we ate for dinner, other than rice, but it was all made fresh and I believe a lot of the vegetables were grown on the premises & our whole family enjoyed the mostly vegetarian spread.
For breakfast we were given miso soup, rice, scrambled egg, a noodle dish and another 1 or 2 side dishes; again I couldn't tell you what they were other than it was all really good & we didn't go hungry.
As for the yurt, which sleeps up to 4 people, it consists of 2 double beds (bedding and towels provided), along with 2 lamps… and that is about all there is to it and we loved it! We stayed in the middle of winter and were a little anxious that it was going to be freezing (we even brought blankets with us just in case) but surprisingly it was very warm!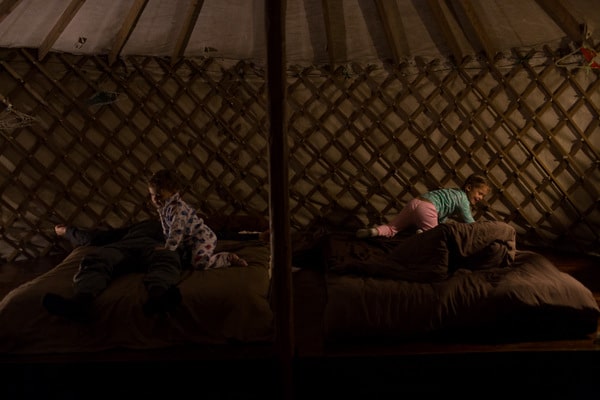 When I woke in the night to rain hitting the roof I thought we may get a little leakage but thankfully we didn't!
Another accommodation is the Tepee which sleeps 2-3, unfortunately I didn't get to see inside here, but I think I may try to stay here next time!
All the accommodation types have a shared shower/toilet which is centrally located to everything & has beautiful mosaic tiles!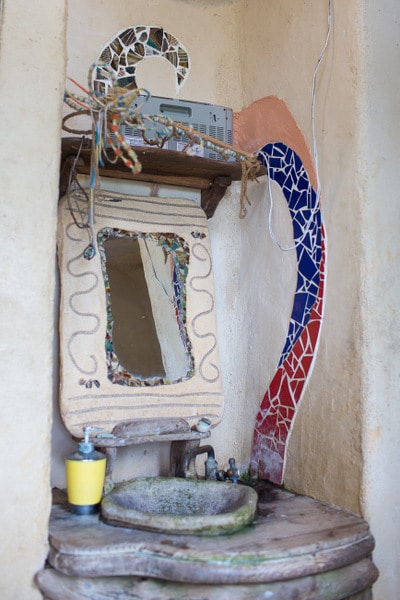 The following day before we left I asked if we could see the horses; unfortunately they were put away so we couldn't, but I am sure if you visit over summer months you will have the opportunity to do so.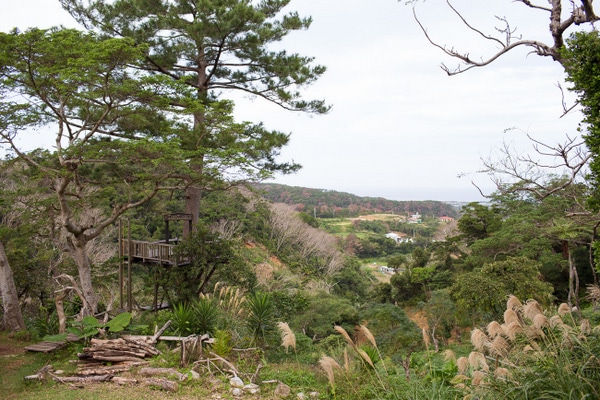 ---
Beach Rock Village
Website: https://www.shimapro.com/index.html
Facebook: https://www.facebook.com/BeachRockVillage/photos_stream
Phone: 098-056-1126 (0800 – 2000)
Cafe: open 1100 – 1700 (apparently they close every Thursday, however I would ring ahead to see if they are open because we have driven up on a Saturday before and they have been closed)
Bar tent: open 2000 – late
Accommodation: prices vary according to season & accommodation type; check their website for current information and I guess they now wish you to call for reservations as opposed to emailing
Address: 1331 Jana, Nakijin, Kunigami District
GPS: 26.6774631, 127.96138399999995
Directions: Beach Rock Village is located in Nakijin, on the Okinawa northwest side. Take the Expressway to Kyoda, then Highway 58 to Nago. Once through the city, turn onto Highway 84 headed toward Ocean Expo Park. Take a right Route 72 (toward Nakijin) passing through Kogayama Tunnel. Just before a second tunnel, Otoa Tunnel, look for the sign pointing right to Beach Rock Village.
---
Editor's Note: Beach Rock Village was originally reviewed on Okinawa Hai on May 22, 2009; you can read a PDF copy of that original review here. The post below is an updated take on this unique place, published March 4, 2016.