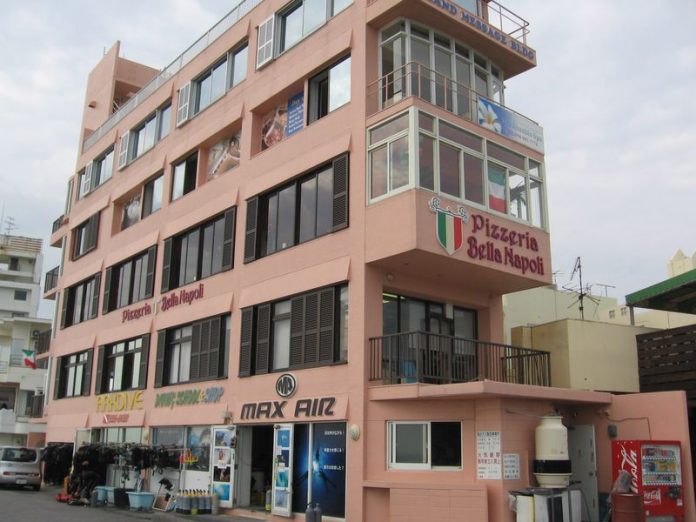 CONTRIBUTED BY SARAH FORTE
There's a new pizzeria on the island – Bella Napoli! I'm not sure which is better, the pizza or the view, but both are hard to beat!
Bella Napoli is located right on the seawall outside Kadena's Gate One. If you've been to Cocok's Ocean View or Transit Cafe, you know the area. Bella Napoli just opened its doors in the former location of Shanbio Spa (which has moved one floor up and I also recommend!). We went on a beautiful day and were treated to a great view of the ocean from their third floor location.
The menu is dominated by pizzas. There are six featured pizzas as well as a "build your own" menu. The featured pizzas were: margherita, curry, prosciutto, quattro formaggi, and pepperoni. They ranged in price from 1,200 – 1,500 yen. The build your own menu started with a plain pizza (800 yen) and had 21 different toppings (200 – 300 yen). The pizzas are about 9" and on a flaky crust. Our group of six each shared a pizza with a partner and, while not stuffed, was satisfied for lunch. They also have a nice drink menu and ice cream.
Everyone was very happy with their pizzas. I had the curry pizza, and if you like curry I definitely recommend it! It had a curry sauce with corn, dry slices of garlic, a little tuna and cheese.
The staff spoke English and were able to answer our questions. The menu was in English and had pictures of their featured pizzas.
Bella Napoli means "beautiful Naples", but it sure brought back to me how beautiful our little corner of the world is, too!
---
Bella Napoli
Pay: Yen, American Dollars, and credit cards.
Hours:  They are open from 12:00 Noon – 22:00
Telephone: 098-989-0117
Address: 2-208 Miyagi, Chatan
GPS Coordinates: 26.3293291, 127.7440761
Directions:  If you are coming out of Kadena's Gate One turn left onto 58, then immediately right at the Family Mart. If you are coming from the south on 58, turn left at the Family Mart. Continue on this road until you get to the seawall. There is a coral colored building on that corner. The first floor is ARK dive and the third floor is Bella Napoli. The elevator and stairs are on the seawall side of the building.