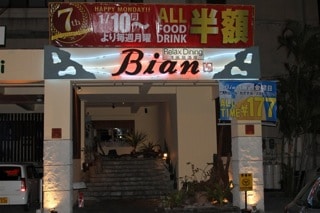 CONTRIBUTED BY JESSICA TIUSECO
Bian is an Izakaya, an establishment that serves food to accompany drinks. On a typical weekend the place is packed with wedding guests from the local NBC Building. While there is a good amount of parking and tables, reservations couldn't hurt.
We went midweek since they are closed Tuesdays and had no problem being seated.  You will be asked to remove your shoes, and they will quickly be stored in a nearby shoe cabinet. Don't be discouraged by the floor seating, it actually has space under the table for your legs.
The staff is extremely friendly and English Speaking staff is available, though we had no problem communicating with our waitress. Once seated we were offered a welcoming snack, mine was fish with pickled veggies while my husbands was fish with an almost egg salad type side.
The menu has a wide range of appetizer type items — from Japanese items, American Items and a hybrid of both. We ordered Yakitori, Beef Yakisoba, and Buta (Braised Japanese Pork Belly). While neither of our dishes disappointed, they did take some time to get there..  so just focus on the gorgeous night views of Love Valley and it will help pass the time.  As for the drink menu, there is something there for everyone including soft drinks for the DD.
Bian also offers Set Menu prices including a Ladies Day Set and an All You Can Drink Set. There is a seating capacity of 150.
Hours: Monday -Thursday:  1800-0200  (last order 01:00), Friday – Saturday:  18:00 – 03:00  (last order 02:00), Closed Tuesdays
Address: 2030-3 Hiyane, Okinawa City
Phone: 098-932-7300
Payment: We paid in Yen but they do accept all Major Credit Cards.
Link to English guide: http://r.gnavi.co.jp/f185200/lang/en/
Japanese Guide: http://r.gnavi.co.jp/f185200/
Directions: From Foster — Go out The BX Gate turn left onto the 330, make a right at the 85, at the third light make a left, turn right into the Family Mart and park in the lot in front of Bian or turn left into the lot directly across from the Family Mart.
Parking: Available directly in front of the building or directly across the street from Family Mart.