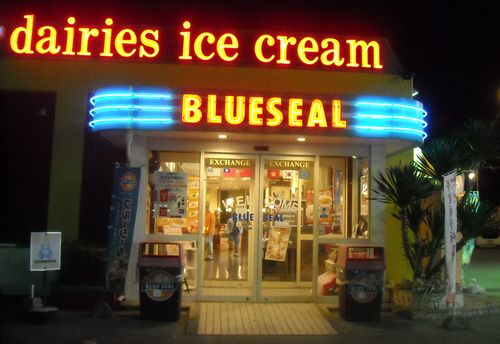 CONTRIBUTED BY LEEANN STEVENS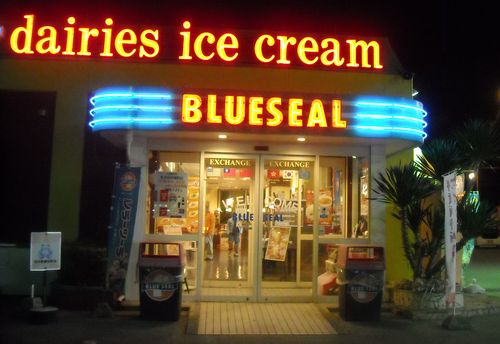 Today we decided to have dinner at Blue Seal. Blue Seal is well known for its delicious ice cream, but they also have really good dinner options!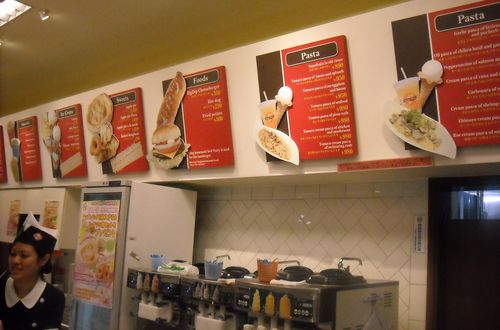 My husband and I got burger combo meals (about 550Yen a la carte, 800Yen for combo)).  You have the option of getting mild fries or spicy fries (which aren't really too spicy). And your drink is included, too.  Once you place your order, you take a seat in one of the great red booths.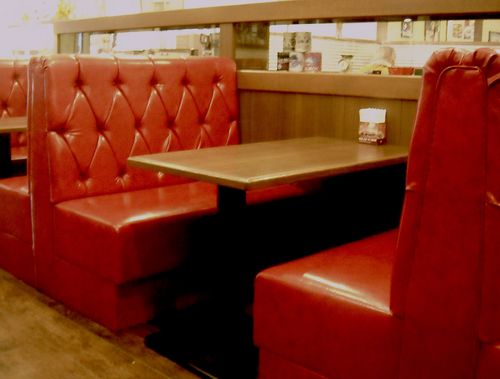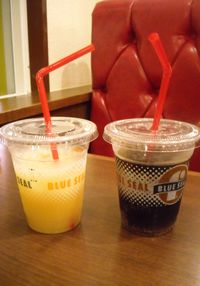 Your drinks are brought to your table along with a table order number.  And within 15 minutes your meal is in front of you!  I got the Teri-Mayo Burger. It was chicken thigh in teriyaki sauce and a good amount of mayo and was delicious. My husband got the avocado burger — also delicious! And, of course, we ended dinner with a yummy scoop of Blue Seal ice cream (270 Yen per person). What a great dinner for 2000Yen!
Here are the yummy flavors of Blue Seal ice cream offered:
• Vanilla
• Vanilla and chocolate
• Chocolate
• Mango tango
• Strawberry
• Strawberry and cheesecake
• Chocolate cookies
• San Francisco choco mint
• Ban-pa-co
• Pistachio
• Chocolate cookie swirl *NEW*
• Okinawan salt cookies
• Benimo
• Shiiquasa sherbet
You can also get most of these delicious flavors in soft serve too. Each scoop/soft serve is 270Yen, you can choose from cone, waffle cone or cup. Blue seal also offers delicious smoothies.
Hours:  10am – 1am, daily at the Chatan location
Chatan Location:  Directly across from Camp Lester (next to Starbucks) on 58. Leaving the commissary gate on Foster, turn right and you'll see it on your left across from Lester. Leaving Kadena Gate 1, turn right and it will be on your right across from Lester.
Website for other locations:  www.blueseal.co.jp