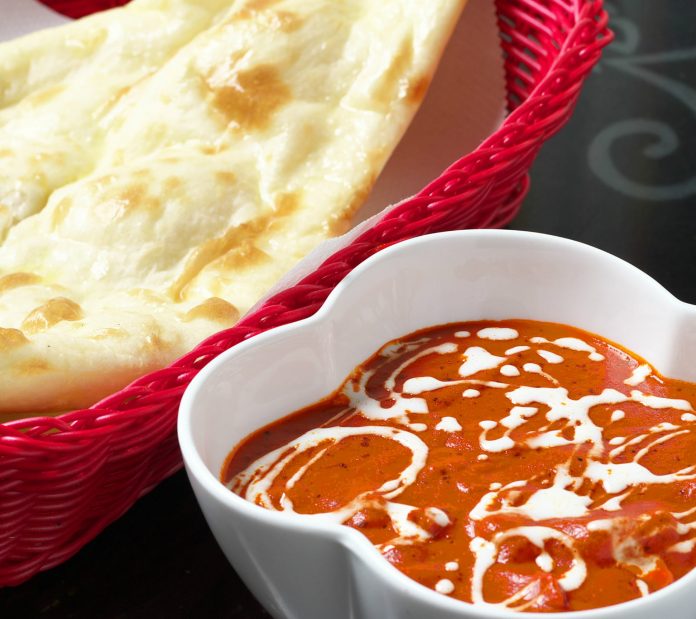 Editor's Note: Our original review of Bollywood Dreams was published in 2010. Since then, the owner has re-vamped the menu with many new dishes, drinks, and desserts. Marie took new photos of the restaurant in September 2014 and updated a few details, but we're keeping much of Kate's original review here so you can still see all the comments!
CONTRIBUTED BY KATE VIERNES/UPDATED BY MARIE LEWIS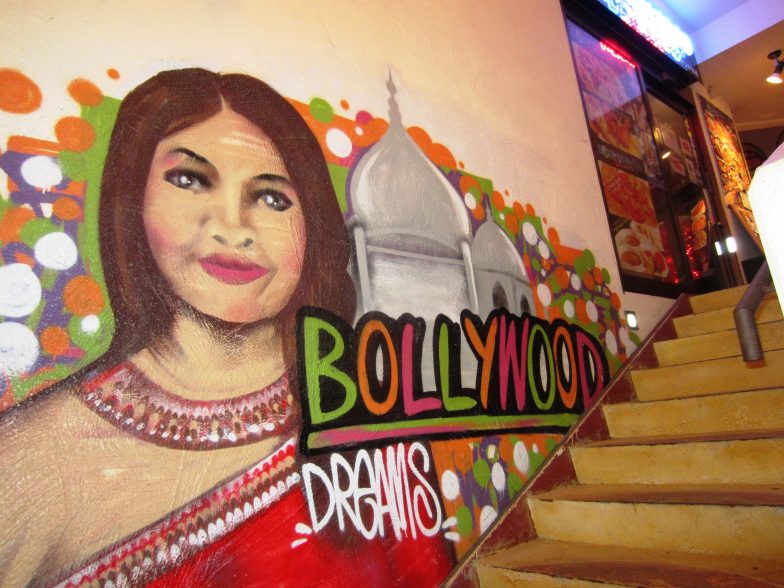 Kate: I love Indian food and consider myself decently well-versed in the wide variety of Indian restaurant-types, both in the U.S. and Japan. You've got your traditional fare (mostly North Indian) in establishments ranging from kitschy to fancy. Your all-you-can-eat Indian buffets and hole-in-the wall Indian/Pakistani food joints. Recent trends have brought about upscale, traditional South Indian cuisine in swanky urban hotspots and homestyle, organic Indian food carts for those on the go. Here in Japan you'll often spot the kare setto, which makes ordering in Japanese a cinch. I've even watched a Shahrukh Khan video medley while sweating out spices at a friendly Indian restaurant in the Hawaiian Islands.
Clearly I thought I had some kind of authority on the subject. Then I decided to check out the eatery options in the Depot Island complex in American Village, and was promptly given a run for my money. Should you come across this sign (below) in your wandering, you would be wise to follow it upstairs.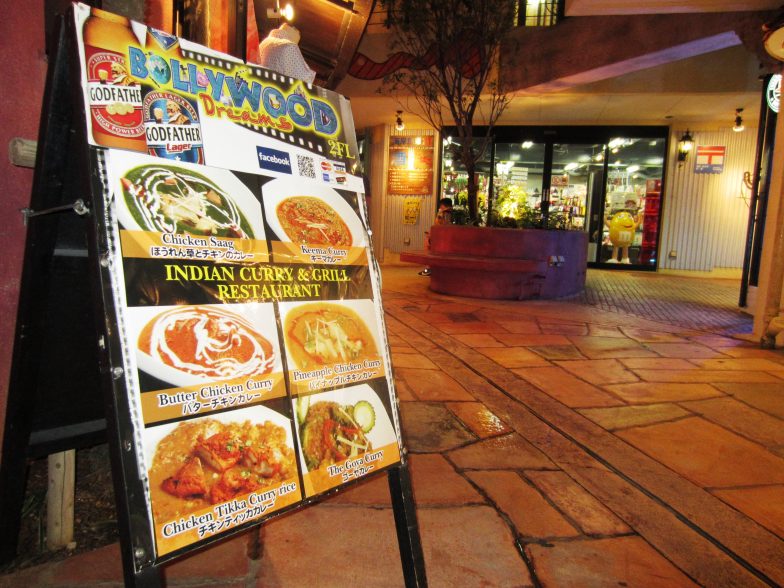 Picture a combination of just about every type of restaurant I have previously mentioned, but with a healthy added dose of Hindi cinema and a dash of Okinawan flavor to boot. What you will have as a result is Bollywood Dreams, a unique type of Indian restaurant that turns the existing definition of Indian dining on its head!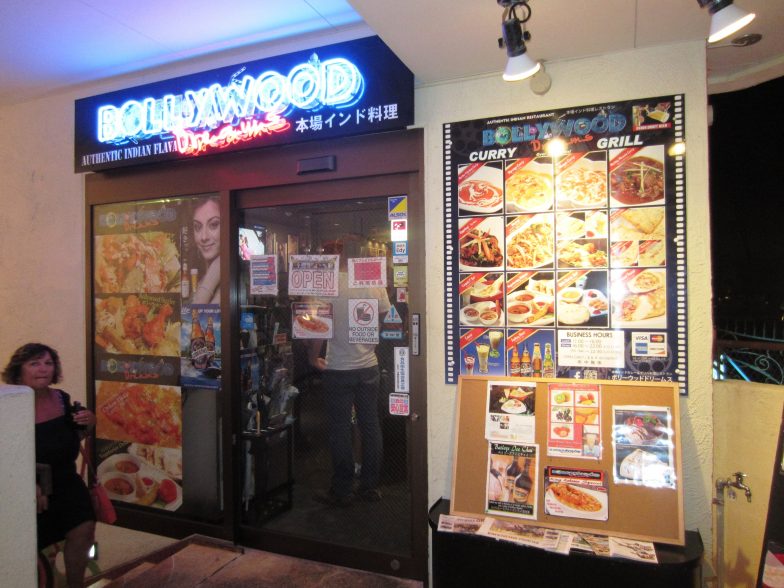 We entered the restaurant and were pleasantly surprised with what we found. The half of the decently sized perimeter that wasn't made up of windows overlooking the ocean was covered with posters upon posters of popular Bollywood stars (the main players in the largest film industry in the world—yes, India makes and sees even more movies than its U.S. equivalent!) and a large LED television appropriately screening the high-energy dance sequences that Hindi films are famous for. The interior painted with mostly dark hues was accented with seating upholstered in funky fabric and brightly-colored napkins rolled up in holders matching the chairs, giving the place a very modern aesthetic.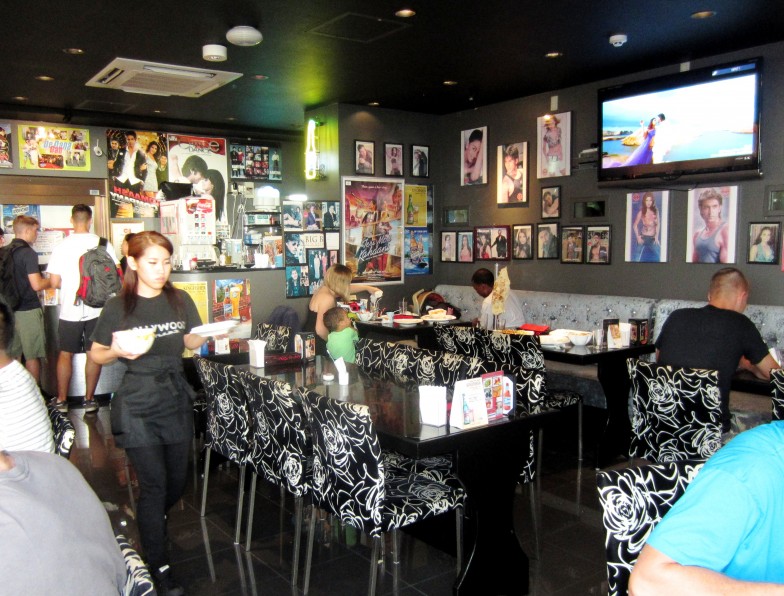 Marie: While Kate was blown away by the samosa, tandoori taco rice, mango chicken curry, mango lassi (a yogurt-based drink), and brownie dessert, the menu has been tweaked to perfection in the last four years. I recently took my parents there to show them why naan holds a special place in my heart (and tummy). Mind you, my parents were not really Indian food fans, but I knew this place would convert them. It has been a favorite restaurant of mine while in Okinawa, and it did not disappoint.
I may or may not have ripped a chunk of butter naan from my basket before I re-gained the self-control required to actually take a photo of my dinner: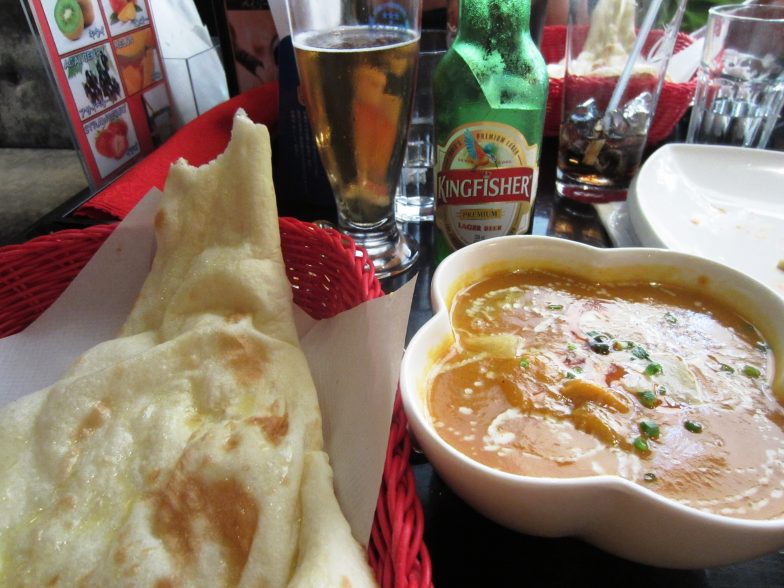 You really can't go wrong with the curry here. The pineapple chicken curry is my personal favorite, but our party of six tried a variety of curries, appetizers and sets that we loved across the board. My parents were successfully converted!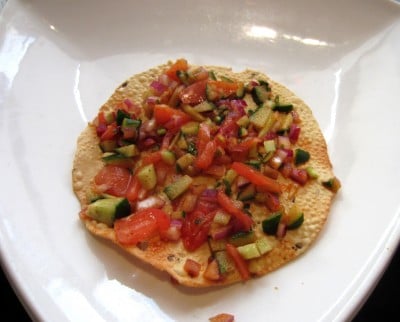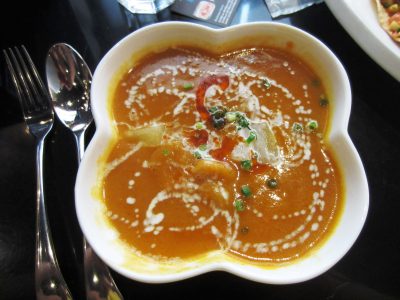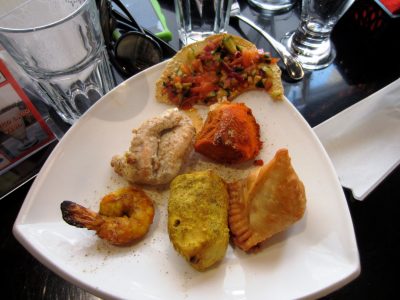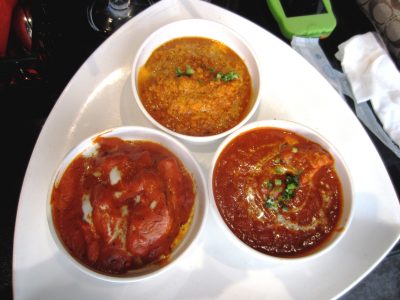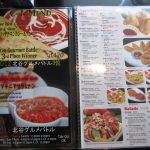 I will say that this place can get busy. When we came for dinner with my parents on a holiday weekend, they had run out of the jumbo naan (the GIANT one that is served on a rack and can be shared between several people). We were fine with having the regular-sized naan (also very large for a single person…not that I need help finishing it). We also waited longer than usual for our food. But the owner's son, who was the manager on duty, was extremely apologetic and came to our table to explain the reason for the wait. He also brought our whole table a free round of drinks to make up for the wait. It was a nice gesture, and this is what keeps me coming back to a place; if anything is not to your satisfaction, they find a way to make it right.
The menu is several pages long, but to the right is a sampling of what you can expect. Their full menu is available on their website. A typical dinner will cost you anywhere from 1000-2000 yen per person, and more if you are drinking alcohol, having an appetizer, etc.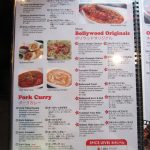 Bollywood Dreams is a pleasure to eat at if you're at Depot Island, and most certainly sets a benchmark in the Indian dining experience.
Hours: Sunday-Thursday 11:00 a.m.- 10:00 p.m. (Last order at 9:30 p.m.) Friday-Saturday 11:00 a.m. – 10:30 p.m. (Last order at 10:00 p.m.)
Telephone Number: 098-926-0977
Payment: Accepts $, ¥ and credit card
Directions: Depot Island complex of Mihama American Village, Chatan; 2nd floor, towards the back
Address: Depot Island Bldg. A 2F, 9-1, Mihama, Chatan
Google Map Coordinates: 26.3155030467, 127.754248294
Website: Bollywood Dreams