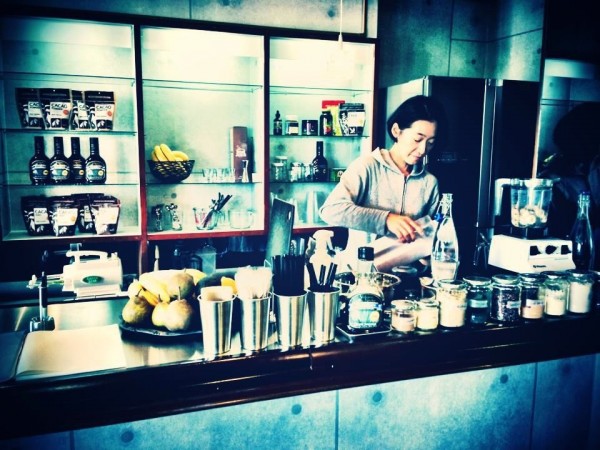 CONTRIBUTED BY CHRISTOPHER DONG
"I wish there was a…" I cannot tell you how many food-crazed expeditions these words have launched during my few years in Okinawa. Hometown cravings are not taken lightly in my household, sometimes days, weeks even before a suitable replacement is found. Today's hunt had been two weeks in the making, painstakingly researched and confirmed by trustworthy sources.
Driving on a mission can be a most precarious thing, further complicated when trying to decipher a local flyer map. In an attempt to fulfill an insufferable longing for jamba, we had come across a promising juicery and health store. BooBoo The Kitchen is a name hard to ignore, so we had set off to see just exactly what sort of booboo this kitchen proclaimed to be.
Located in Kitanakagusuku, BooBoo The Kitchen is part of Living Life Marketplace (LLMP), local purveyor of all things organic, raw, and life sustaining. The kitchen offers a myriad of blended juices, smoothies, shakes, salads, and desserts, fresh crafted to nourish and revive. With the recent cold, blistery weather, I was ready for something that would rehydrate my parched senses.  What was recommended couldn't have been more perfect. The carrot, ginger, and pear juices that went into my cup came direct from fruit and vegetables off Japanese farms, organic as much as possible. Washed, cut, then grinded in the quietest juicer I have never heard, what poured out of the spout was by our accounts, the sweetest nectar of heaven.
But wait, where were the extra sugars, the neon colored flavor syrups? "We let the fruits and veggies speak for themselves," says owner Yoshiko Ito, as she blended a protein mint chip smoothie in an alternatively noisy, yet powerfully effective mixer. Select produce are only part of the equation at BooBoo; equally important are the instruments used to draw out every last drop of nutrition and flavor. And, like the neighborhood jamba, BooBoo offers choice of nutritional boosts and add-ins. Now, I have made juices and smoothies at home before, and can tell you first hand that haphazard pitching in of fruits, vegetables, and powders can often lead to unpleasant results. Careful and obvious balance, however, was struck at BooBoo, as my refreshment was earthly sweet, lightly spicy, and downright satisfying.
I toured about the shop, drink in hand, perusing the various wares. Karma Organics, a shop extension of LLMP imports, stocks all things necessary for a more enlightened and holistic life. "We hope to contribute to people's happiness," says Yoshiko. Okinawa is well known for its keenness towards longevity, and the people at BooBoo aim to keep it that way. Probiotic chocolates and superfood supplements, books, grinders and shakers of varying degree, just knowing that this shop existed gave me immense confidence that I would finally see a resolution of health through to next year, maybe.
For the winter's chill, BooBoo features raw hot chocolate, an enticing elixir of cacao, cashew milk, and coconut butter. And note, a stroll in the park just behind serves as a perfect distraction from finishing your drink too quickly.
Hours: Sunday – Wednesday (11:00 – 17:00)
Payment: Yen
Menu: Japanese and English
Phone:  098-989-4861
Website: www.livinglifemarketplace.com
Address: Japan, Okinawa Prefecture, Nakagami District, Kitanakagusuku, Adaniya, 1468
GPS Coordinates: 26.2980877, 127.787197
Directions:
From Camp Foster Legion Gate, continue straight through the 330/81 intersection on 81. Pass 29 (road leading to expressway entrance 3) and 146 to your right, road will combine into single lane. Continue 100 meters, Karma Organics sign to your right hand side. Turn right, continue up the hill around left bend for parking. Kitchen located 2nd floor of the street corner complex.