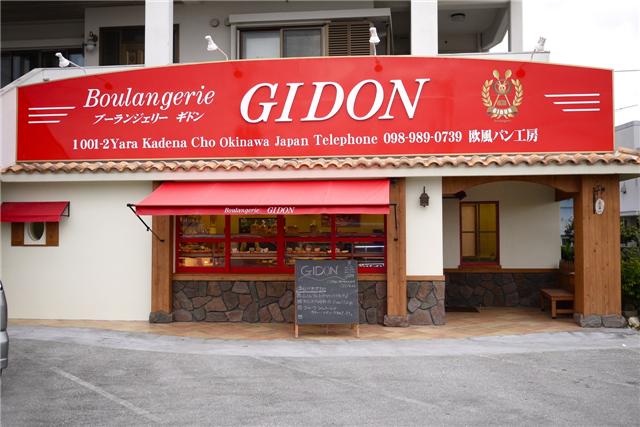 CONTRIBUTED BY AVIVA BOWMAN
I love artisan breads…and I miss them terribly. Though I love to cook and bake, bread is not on my list of abilities. It's a pain – and I don't have the patience. Living in Okinawa, I miss fresh-baked, crusty, delicious artisan breads. Well a local friend of mine told me about Gidon Boulangerie.

I'm told that the baker used to work at the Renaissance Hotel in Yomitan. Whoever it is, they work magic with not just the typical French baguette and berry pastries, but with wheat loaves, sourdough, and sun-dried tomato breads!


The smell as you enter is heavenly. And if you're smart, you'll stop by at lunch time for a soup and one of the pastas of the day, or perhaps to enjoy your warmed up pastry with a cup of coffee or a latte. 
UPDATE: As of October 2016 Guidon no longer serves lunch.

They also create bread art! If you'd like to do something different for a dinner party, you can bring a photo or logo (in advance, of course) and they'll create your loaf of bread with it!

The pastries are fantastic, the bread is fresh and when heated that evening for dinner it's still melt-in-your-mouth amazing. And it's not going to break the bank either, the prices are reasonable.

One of the women who manages & bakes there speaks very good English as well and was able to tell me the ingredients of the breads that weren't marked in English! (Oh yeah – there are bagels too!)

I didn't ask if they take USD, but perhaps someone who visits next can comment with that information.
---
Boulangerie GIDON Bakery
Hours: Daily 12:00 p.m.- 8:00 p.m., closed Tuesdays
Phone: 098-989-0739
Address:  1001 Yara, Kadena
Google Maps Coordinates: 26.3656951, 127.77059869999994
Directions: From 58 north, pass Gate 1 Kadena and make a RIGHT on route 74 at the Kadena Rotary. Gidon is on the left about ¾ of the way to the Gate 3 entrance. If you're exiting Gate 3 Kadena, make a LEFT at the first light outside the gate (74) and it will be on your right side – make a u-turn to access it. There is a small parking lot there, and bright red signage.
Photos by Aviva