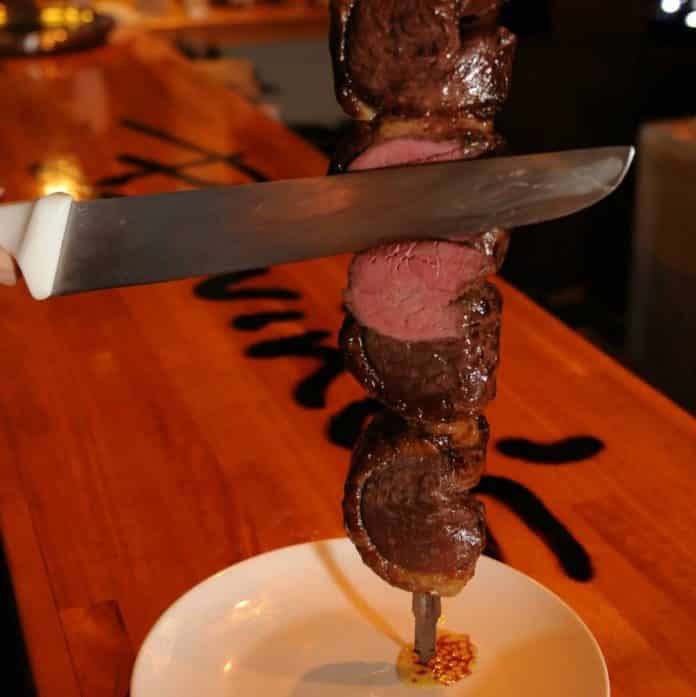 CONTRIBUTED BY AMANDA NEMETH
Out on the hunt one night, we came upon Bovino's, which recently opened in October (2010). Driving up we noticed the bright yellow billboard enticing us in. Once we realized it was a Brazilian BBQ, we became excited, as we have eaten at a few back in the states. Brazilian dishes vary throughout the world as each area tends to modify items to specifically adapt to the local conditions. The one thing all traditional Brazilian restaurants have in common is that you can expect their cooking to be fresh, simple, and in abundance (large portions!).
As we walked in, the atmosphere was very warm and the staff were more than helpful. It is very large inside so seating won't be a problem, in fact it is large-group friendly. When reviewing the menu we noticed they only do a buffet style meal – you'll want to take full advantage of and go on an empty stomach! They also have some pretty awesome cocktails and drink specials.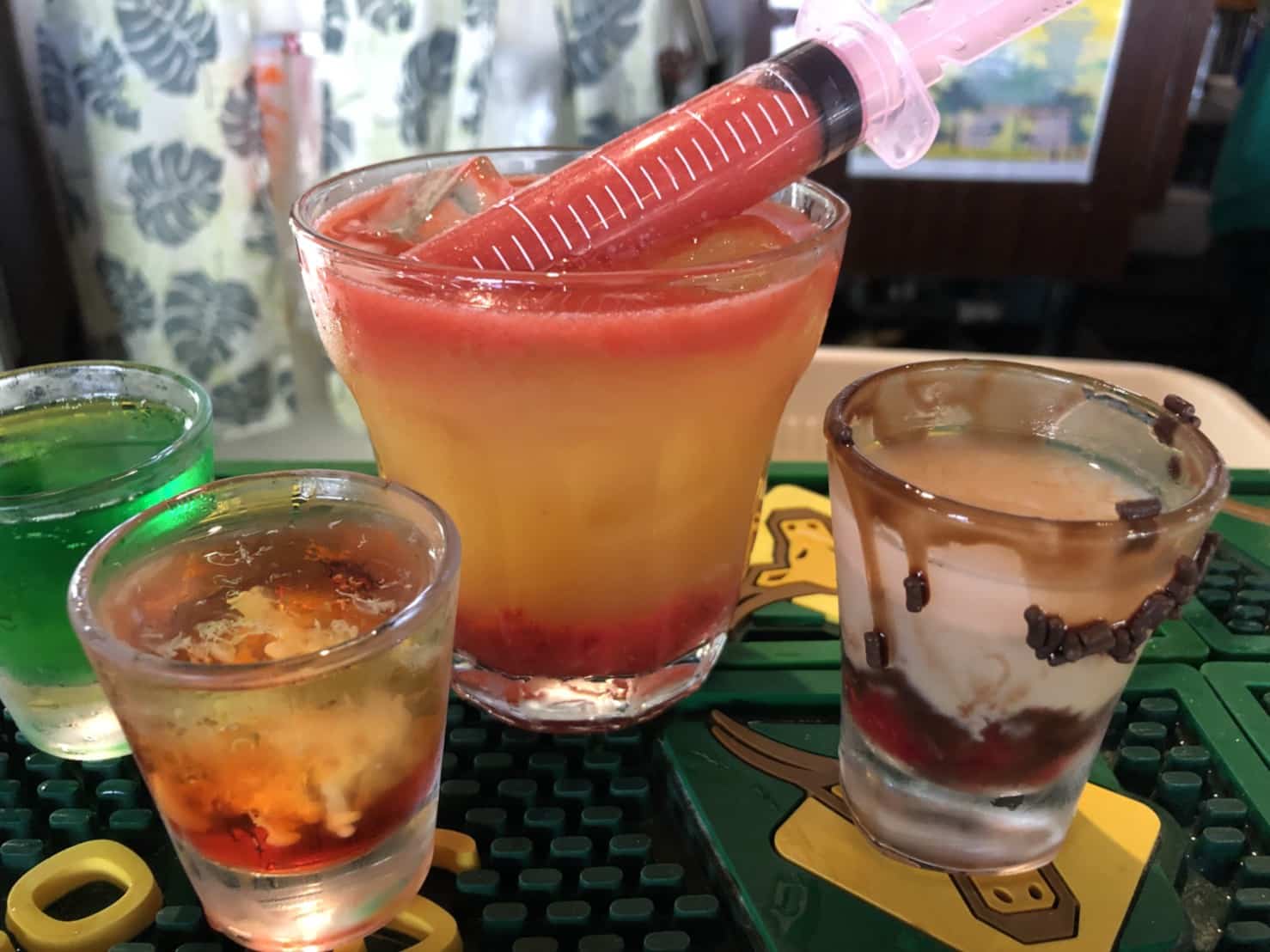 The way their buffet works is that you approach the buffet portion of your meal first. There were a variety of salads, beans, beans with marinated meat, a pasta, and a curry with rice. So it has your basic needs and a few main dish entrees to get you started. After fixing our plates and diving in, a waitress came by with potato wedges and later brought cheese bread and fried bananas. This is where the fun really began. Sticking to their traditional Brazilian roots, they came out with a large skewer of grilled meat. They slice as much as you would like and put it on your plate and then come back with more every few minutes. The variety included Chicken, Chicken wrapped in bacon, Pork Rib, Sirloin, Chicken heart, Sausage, Lamb, Garlic Steak, Beef Neck, and Pork Loin.  To say the least we didn't get very far, but next time plan to not eat so much at the buffet. To polish off the meal they bring out a pineapple on a skewer that has been rolled in apple smoked cinnamon – this sets the meal off. We had to close the deal with a traditional coconut brazilian dessert dish.
The meal was around $75 for both my husband and myself, but we tend to go overboard on our nights out. The one lesson my husband can attest to is… don't fill up on the buffet, the real stuff comes after you load your plate.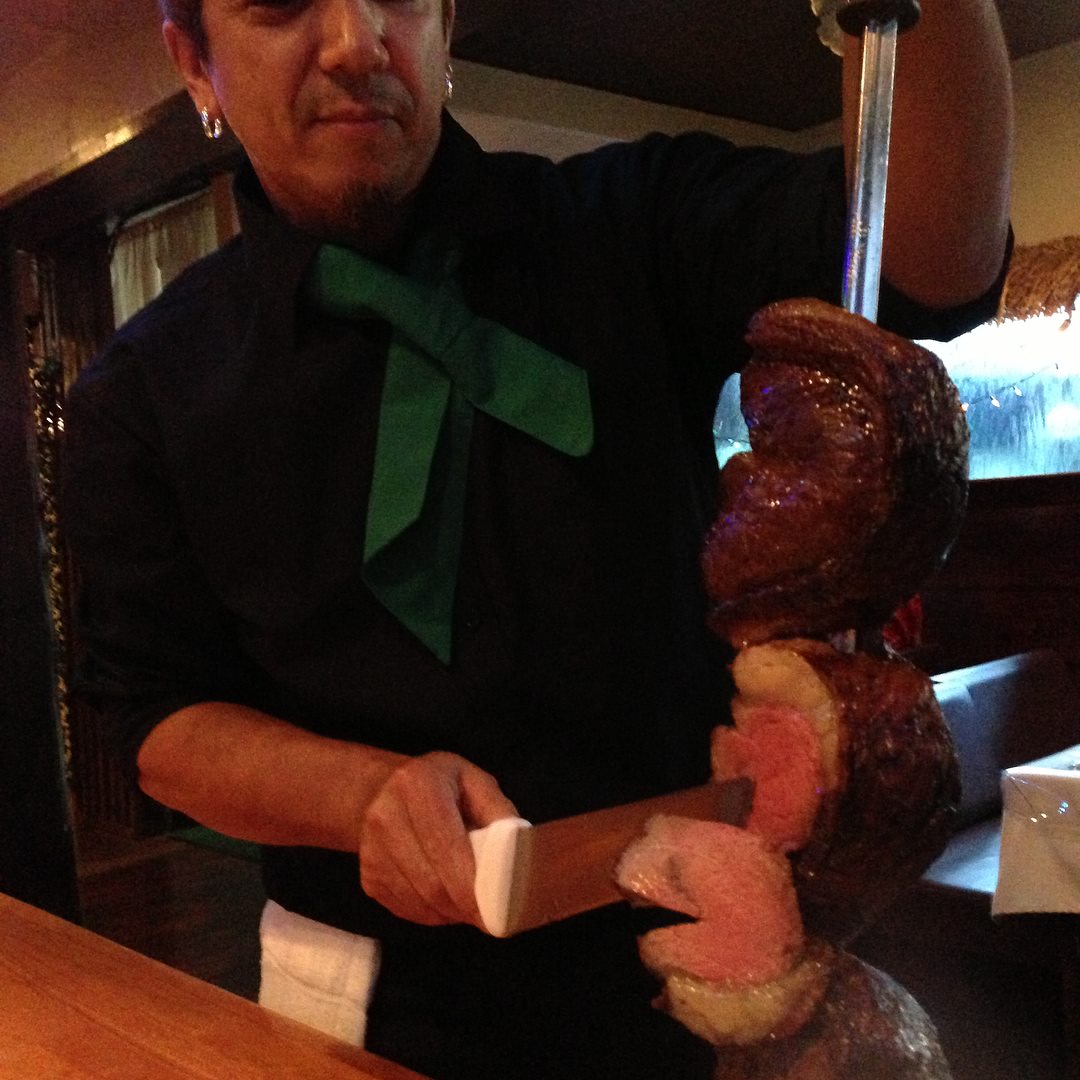 This place is a must try.  It would be great for a group of friends, with food adventurists, even with the basic food lovers. I was informed by one of the staff that they offer traditional brazilian drinks and desserts as well. They definitely take pride in what they do because there were no last minute adjustments to finish preparing, the food was amazing.
If you want to try Bovinos click the book now button below to buy buffet coupons at a discount
[adrotate banner="156″]
Hours of Operation:
 Lunch 11am-3:30pm (last order 3:00pm) – Closed Monday lunch
Dinner 6:30pm-11:00pm (last order 10:30pm) – Every day
After hours 11:00pm-5am Karaoke and Buffet Only – Every day
Payment: Yen, Dollar, and Credit Cards (As of 10/5/10 no credit card machine, waiting to arrive)
Phone: 098-989-5934
Address: 1 Chome-12-7 Chatan
Google Maps Coordinates: 26.3075452, 127.7609261
Website:  www.bovinos-okinawa.com
Directions:  From Kadena gate 1, turn left. Pass Camp Lester upon Chatan intersection (major intersection before Camp Foster) turn Right. ETWS will be directly in front of you and the road will T make a left at the light. Bovino's will be on your right hand side about 4 buildings later.
From Camp Foster main gate, turn right. Upon the end of Camp Foster will be Chatan Intersection (major intersection before Camp Lester) turn Left. ETWS will be directly in front of you and the road will T make a left at the light. Bovino's will be on your right hand side about 4 buildings late
Click photos to enlarge menu