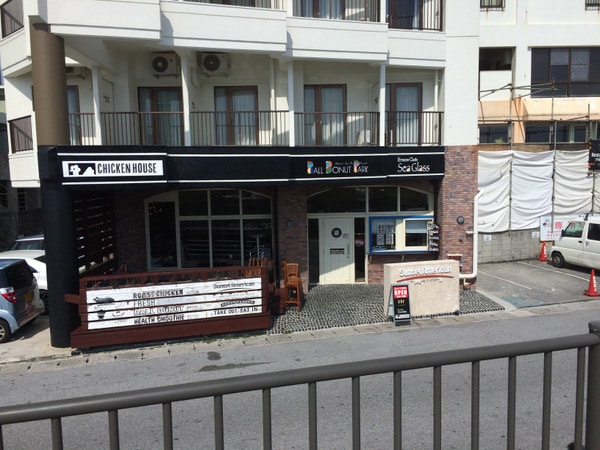 Breeze Cafe Sea Glass
CONTRIBUTED BY BRANDI JAKUBOWICZ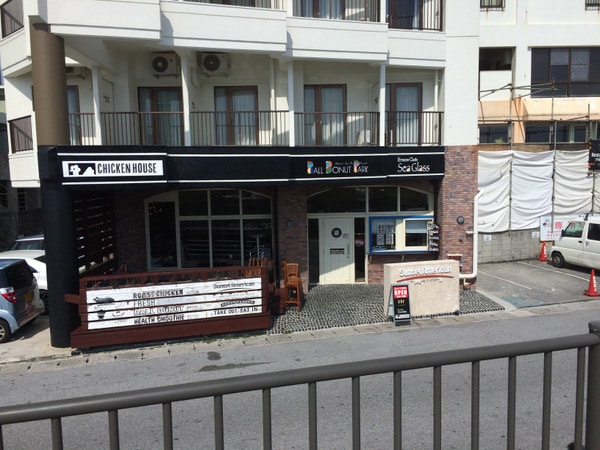 When you think of a ballpark, donuts may not be the first thing that comes to mind. However, if you find yourself walking on the seawall and want a little treat you may be just in luck. I found myself doing just that after a pedicure at the nearby Cocok's nail salon (which I also highly recommend!). You can see Breeze Café from the seawall.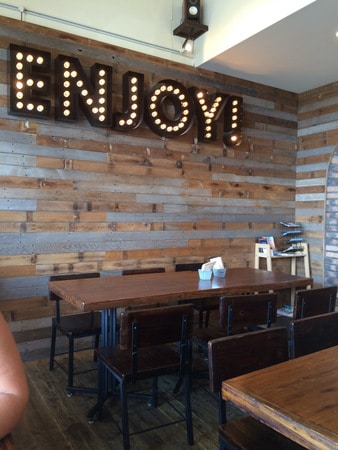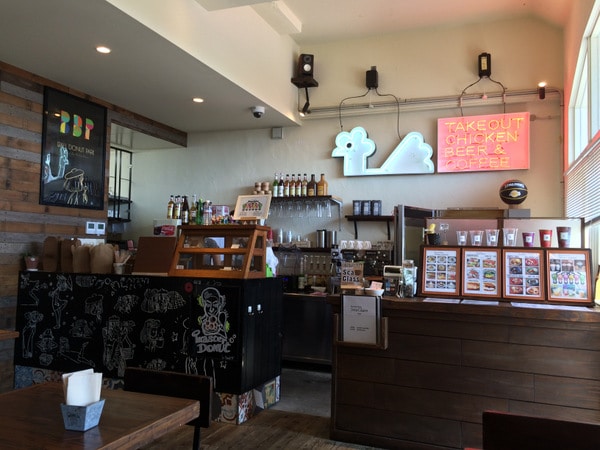 It has a few small tables outside that you can sit at on a cozy patio that is dog-friendly, and also is beautifully decorated on the inside. They have pancakes, sweet and savory sandwiches, coffees, smoothies, and tea. We tried the tea and the blueberry smoothie which was tangy and delicious. I cannot speak to the sandwiches, but the pictures made them look to be quite tasty.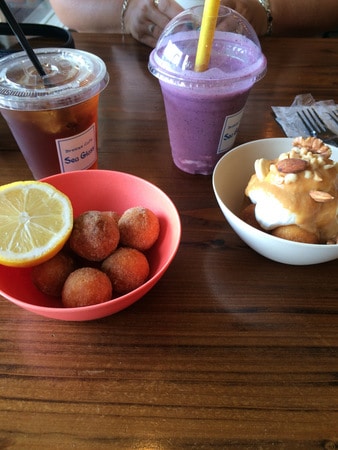 What we did try were the donuts. I had heard my friends talking about them and finally was able to try them for myself. We tried an order of the "simple ball" in the lemon flavor, and also the peanut butter "fantastic ball" which were in fact quite fantastic. The donuts came out warm and fresh and the lemon had sugar on them with wedges of fresh lemon to squeeze onto the top. I preferred the lemon donuts personally but the peanut butter ones were delicious as well with a variety of halved nuts sprinkled on top. Two of us split two small orders and it was the perfect size for an afternoon snack! I definitely recommend stopping to check out this little gem of a café!
They have an English menu that also includes pictures of most of their menu items.
(click photos to enlarge menu)
---
Breeze Cafe Sea Glass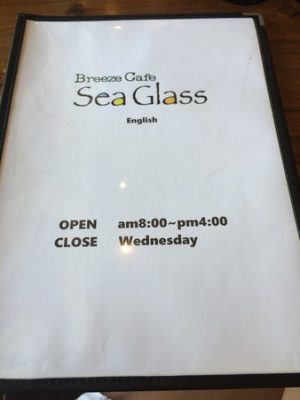 Hours: 8am-4pm every day; CLOSED Wednesdays
Payment: yen or credit card
Phone: 081 98-936-2123
Address: 2-46 Miyagi, Chatan, Nakagami District, Okinawa Prefecture, Japan
GPS Coordinates: 26.3296944°, 127.7438611
Directions: From Kadena Gate One, go south on 58. Take your first right at the light at the pizza restaurant. Go all the way down to the seawall past Sidelines and turn right at the T. The café is 2 ½ blocks down on the right.