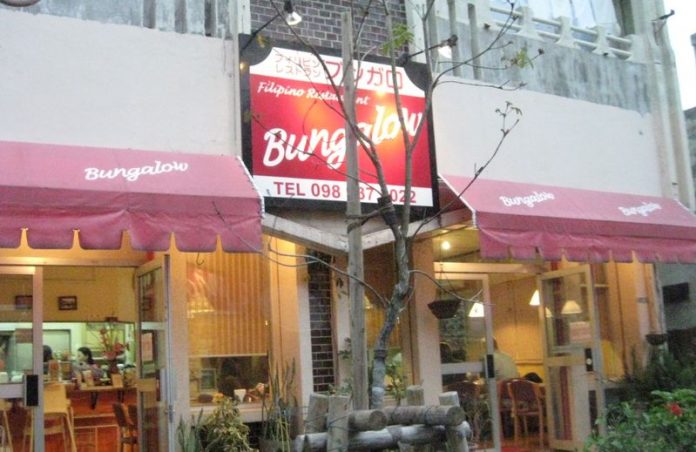 CONTRIBUTED BY KATHRYN CALAGUI
My husband and I are both Filipino-Americans and every now and then we miss the taste of a home-cooked Filipino meal. I only know a handful of recipes – but no matter what, it will never be the same as my mother's cooking.
I heard that Manila Bay on Gate 2 street cooks Filipino food, but they are only open at night for the night owls roaming around Gate 2 street. A couple of months ago, a friend had introduced us to Bungalow Filipino Restaurant. It's a cute little restaurant serving all the traditional Filipino dishes you can think of, from pancit (which I can best describe it as Filipino lo mein) to sinegang ng baboy (pork stew).

The menu is in Tagalog (the Philippine's native language), but the description of the dishes are in English. My all time favorite is kare kare (ka-re ka-re), which is oxtail w/ bokchoy and eggplant in a peanut butter sauce. My son loves the lumpia shanghai (pork egg rolls), which is one of the most common and popular Filipino appetizers.

They also have a good variety of Filipino desserts. You must try the halo halo (mix mix), which is a mixture of beans, coconut, sometimes flan, sometimes purple sweet potato (also known as ube), shaved ice, and milk. I know it may sound kind of weird, but trust me, it's amazing!
So, if you're in search for a good Filipino meal or just want to try something new, I highly recommend Bungalow. The restaurant, itself, is very warm and inviting and the service is very friendly. The prices are not expensive at all.
---
Bungalow Filipino Restaurant
Hours: 11:00AM to 9:00PM, last order at 8:30PM, closed on Mondays.
Phone: 098-937-2022
Payment: Dollars are accepted.
Address: 1 Chome-28-7 Chuo, Okinawa
Google Maps Coordinates: 26.3371595, 127.79821990000005
Directions:  From Kadena Gate 2, go straight, make a left when you see Richie Rich, and Bungalow will be on your right, across from Monster Ink.  Parking can be difficult, but if you pass the restaurant, there is a parking garage for 200 Yen on your left.