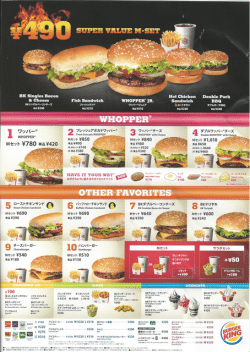 CONTRIBUTED BY SARAH PHILLIPS
My husband had heard rumors that there would be a Burger King in the Aeon Shopping Center to replace the McDonalds in the food court. We went there to go shopping and decided to see if the rumors were true. They are true and it's already open!
For most of you this may not be too exciting, but we are not military so the closest thing to American fast food we experience is McDonald's. We were glad to see that prices are reasonable and similar to McDonald's. My husband ordered the Double Bacon and Cheese set for 640 yen, I got the Whopper Jr.set for 490 yen, and we ordered our toddler a Cheeseburger set for less than 400 yen. For dessert my husband got a New York Sundae (soft serve ice cream on top of french toast sticks) and I got a BK Espresso Sundae (soft serve with some espresso coffee).
We didn't notice anything different about the taste of the burgers and they even had the distinct charbroiled taste to them. The fries with the set tasted like McDonald's fries off base and are the same size too (the small bag size). The drinks seemed to be a little bigger than the McDonald's drinks off base. The desserts were yummy as well.
It looks like they will have seasonal items as well. When we visited they were selling Pumpkin Burgers. It looked like a normal hamburger but with kabocha pumpkin slices. Even if you frequent Burger King on base often it's nice to have another option when you're hungry and in Mihama.
Directions: From 58 North or South turn at Lester main gate (Starbuck's is on the corner). Take a left at the 2nd intersection. Parking for the mall is outside or in the parking garage above. Burger King is located on the second floor in the food court right next to the arcade area.
Hours: 10:00-22:00
Phone:  098-982-7570