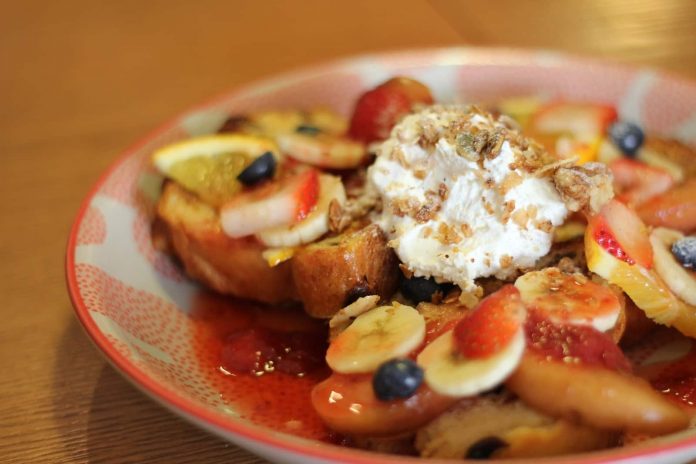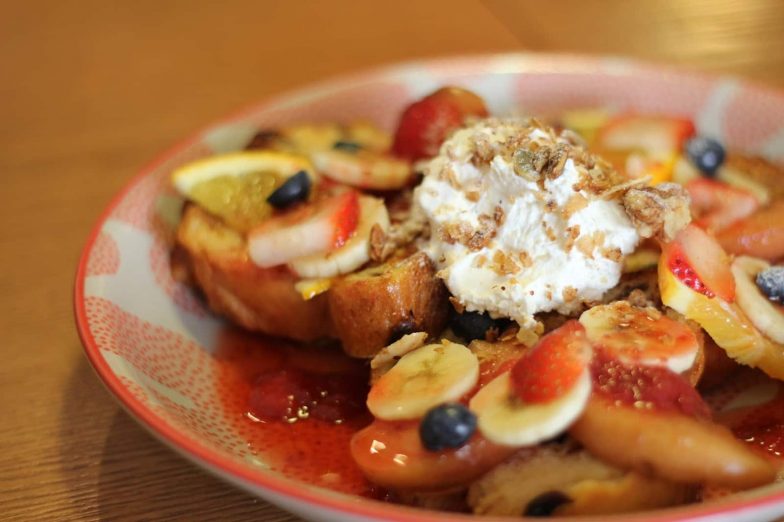 CONTRIBUTED BY KASSIE O'DRISCOLL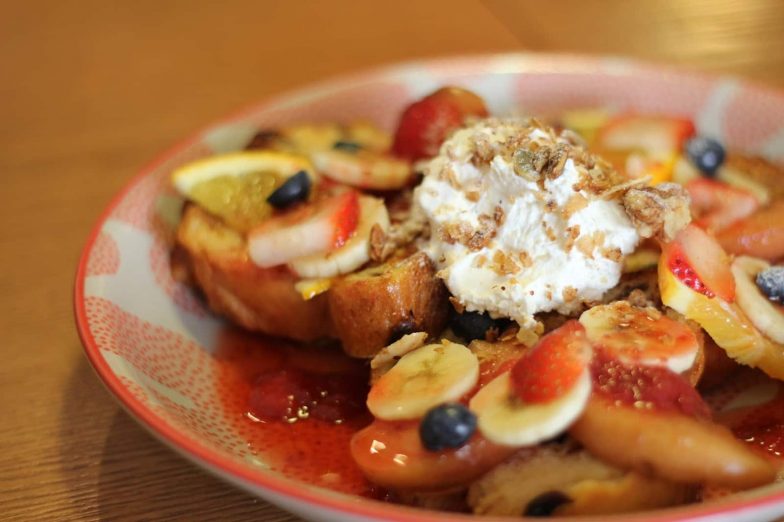 A few weekends ago, I was finally able to indulge in some delicious breakfast food at C&C Breakfast. It was my sister-in-law's birthday and we wanted to go explore. Best place to start? How about some french toast with fresh fruit, homemade whipped cream, and strawberry syrup?!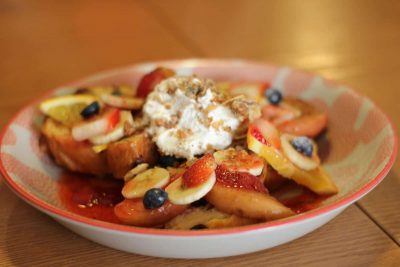 I had first heard about this place from a blogger friend, Carola, who had written about a great vegan meal she'd had from there with some friends. I put it on my "must eat" least and, weeks later, stumbled upon it one day while exploring Kokusai Street. I didn't have time to actually eat that day, but I now knew where it was and vowed to return!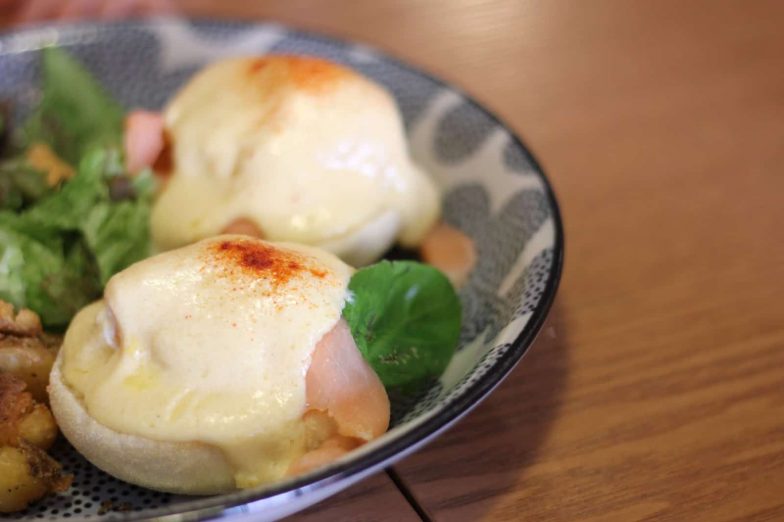 When Jenn and I made it there for brunch, I was so excited! Everything on the menu looks absolutely delicious. We had a little trouble narrowing down our favorites, but ultimately decided on the french toast and salmon eggs benedict. We definitely let our eyes speak instead of our stomachs and also got an order of pancakes and a green smoothie for each of us. I wasn't kidding when I said I was able to indulge!!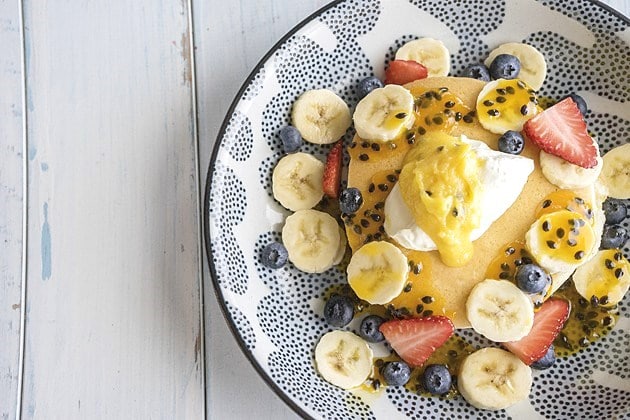 We were not disappointed! The pancakes had blueberries in the batter and the french toast had raisins (I think they were raisins – regardless… delish!). Each of these dishes came smothered in fresh fruit and had maple syrup in the tiniest little "pitcher" on the side.
The eggs benedict was just as tasty as it was beautiful, from what Jenn told me. As for the green smoothies, they were really good. I'm very picky when it comes to healthy "green stuff" and I would order this if I went back tomorrow.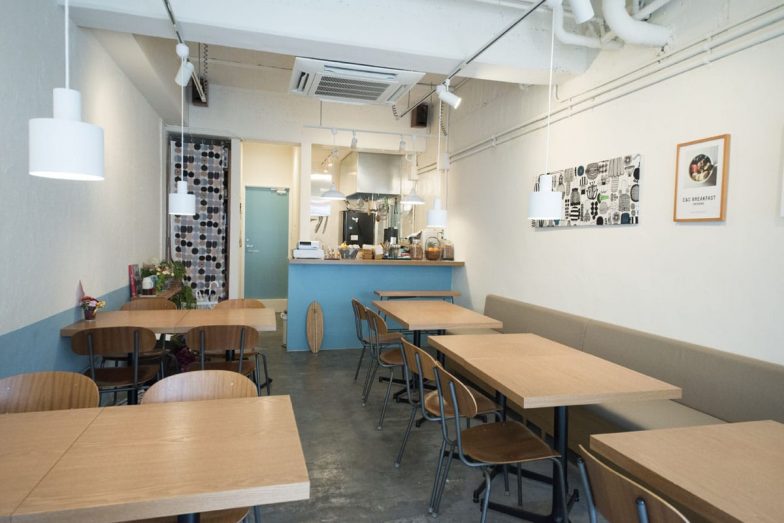 The restaurant is small, yet charming. Naturally, seating is limited. We were lucky to get a table right away (the last one available), despite the fact that we were there on a Saturday. If you do have to wait, be patient… it'll be worth it! Also, if you're not a breakfast person or looking for more lunch-ish options, they have plenty of that on their menu.
The service was spectacular and, like so many of my favorite cafes, you barely hear any noise coming from the kitchen. How do they do that?! This is such a welcomed change from the fast-paced, gimmicky restaurants that you find so often on Kokusai St. and I definitely recommend it the next time you're in the area or if you're looking for a comforting, "feels-like-home" kind of meal!
Hours: 9:00 a.m. – 5:00 p.m. Monday-Friday, Closed Tuesdays. 8:00 a.m. – 5:00 p.m. Weekends & Holidays
Payment: Yen Only
Address: Japan, Okinawa Prefecture, Naha, Matsuo, 2 Chome−9−6
Directions: Take Expressway to Exit 1. Turn right onto 82 after exiting the Expressway. Turn left on 29. Take 29 to Kokusai Street and turn left. At the 4th light, turn left. It's a small street so be careful! Drive down a small hill and you'll turn left again. You'll be right by a playground and school. You'll see a parking lot on the left. Park there. Then, walk out of the parking lot and turn left. C&C Breakfast will be just before you reach the covered road and it'll be on the right.
Map Coordinates: 26.215054, 127.68799490000004