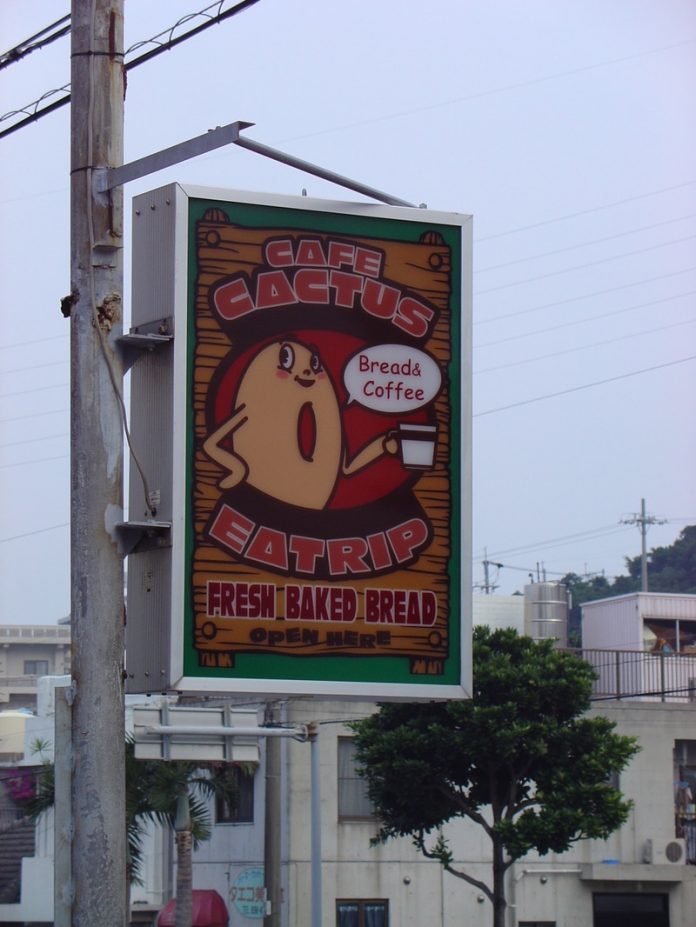 CONTRIBUTED BY KELLYERACE
Have you gone to the Cactus Eatrip bagel shop on 58?  If you haven't, you've gotta hustle on down because there is some yummy, chewy, bagel-y goodness to be had.  Actually, I should be getting down on my knees in thanks to Melissa for giving me a heads up about this joint.  It took me a while to finally make it there, but after I did, I came back like three times that very week.
My favorite item at Cactus Eatrip is the avocado-tomato-lettuce-cream cheese sandwich made on their very own fresh-baked basil bagel. It's a messy affair; always the sign of excellence in a sandwich.  And while I pretty much always order the same thing, I have sampled a few other menu items off of friends' plates and been impressed enough to consider straying from my avocado tomato loyalty.  The roasted chicken bagel sandwich was quite scrumptious.  As is the bacon one, a BLT, I think, built around a thick Canadian bacon-like slab of meat.  Good stuff.  If you are a major avocado lover like me, no worries, you can add it onto any of the sandwiches.
In addition to bagel sandwiches there's a whole mess of caffeinated beverage options, to include both coffee and tea.  I even had mate once, just to give myself a dose of South America.  But usually I stick to plain old java.
Seating tip:  The beat-up armchairs in the back are most comfy!  (Although, if you see a blond chick walk in and glare at you resentfully for actually sitting in one of them – that's probably me…Feel free to make way!)
After you order your bagel, kick up your feet and check out the hipness of your surroundings.  And be prepared to kick up your feet for quite a long time too, 'cause at Cactus Eatrip, they take their sweet 'ole time creating perfection.  Bring a snack or bring a friend, or use your wait to ponder the strange anatomy of the plastic penguin hanging from the ceiling.  Or perhaps the stained glass deer-head sculpture near the cash register.  It's worth a gander.  Or the guy who works there.  He is Japanese and has green eyes.  Which, you know, is quite hot.  Don't stare too long though, 'cause his wife works there too.  They're both from mainland Japan and just set up shop here a few months ago.  My stomach and I hope they are very very successful and never ever go out of business…
When you've had your fill of bagel, go ahead and pick up a few for the road.  Flavors include:
basil, pepper, salt, cheese-curry, blueberry, the intriguing OREO flavor, and a couple of other ones that I forget.  Oh, and plain.
Hours: 9 a.m. to 5 p.m.; closed Wednesdays
Phone: 098-890-6601
Address: 3 Chome-3-7 Oyama, Ginowan
Google Maps Coordinates: 26.2840505607, 127.753749288
Directions:
You're on 58 going South (most of you, I imagine)
You pass Camp Foster
You go through the HWY 81 intersection (that's the House of 66 Cents road)
Right after the 81 intersection keep an eye out for two things a) that bright orange Leon Eri Dance Studio on your right and b) a right hand turn arrow
At the right hand turn arrow (that's the 1st one after the intersection/Leon Eri) MAKE A U-TURN.
Keep an eye out on your left for a sign with a cartoon bagel on it.  That's Cactus Eatrip.  It's after the dance studio.
If you miss it (I did the first time), do another U-turn and try again.
Parking Note: The parking sucks.  I think there are only two spaces, so you might find that they ask for your car keys and do a little fancy valet maneuvering to accommodate other customers.  Besides being embarrassed that my car is so dirty, I've never had a problem with this.
Website: https://cactus-eatrip.jp