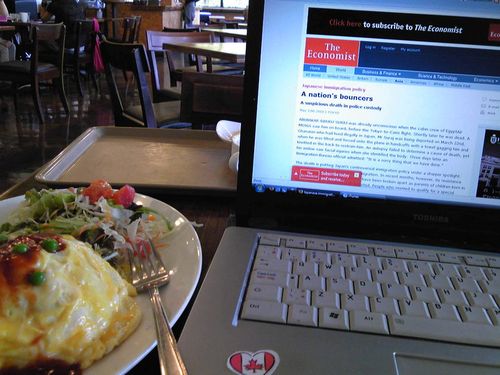 CONTRIBUTED BY SARRA MCMILLAN
Cafe 1-or-8 has been my Japanese home away from home since I arrived in Okinawa one year ago. This two-story building features a delicious menu, helpful wait-staff, and quirky, constantly-changing décor. The stairs that lead up to a quiet study area are lined with books (some English, but mostly Japanese). There is a room of desks and a photocopier and the upper floor really is a study haven.
But downstairs is where the magic happens. The walls are decorated with an ever-altering array of artwork, which are up for purchase. There are magazines to be read and conversations to be had in this trendy, yet homey, café.
The food, desserts, and drinks at Cafe 1-or-8 are incredible. In the morning, from 7-10am, there is an all-you-can-eat breakfast buffet for the steep price of 500 yen. A table of salad, soup, buns, hardboiled eggs, and other Japanese-style breakfast food awaits, along with coffee, tea, juice, and water. Eat at your leisure!
In the afternoon and evening, the servings are equally hearty, but even more delectable. My personal favourite is the Oyako-donburi (chicken and egg over fried rice)! Your meal comes with soup, salad, one of the less expensive drinks (more on this later), and a glass of water, all for 900 yen!
The drinks can be a little expensive, particularly by Western standards. My typical iced latte sets you back 600 yen – unless you're in the mood for dessert. And you should be.
The cheesecake at Cafe 1-or-8 is some of the best I have had in my life. With an assortment of flavours – which seem to change along with the seasons – everyone is bound to find something to suit their palate. The plain cheesecake set is 750 yen and comes with any of the 500 yen drinks listed on the (only Japanese) menu. However, I highly recommend an upgrade to the Rum and Raisin or Espresso or Banana Chocolate or Mango … the list goes on.
None of this really explains why Cafe 1-or-8 is my home away from home. When I arrived in Okinawa, living all alone in Naha, I didn't know a soul and, worse, I didn't have an internet connection in my house. Enter my favourite café to save the day. 1-or-8 offers free wireless internet to customers, which I believe off-sets the slightly expensive price for beverages. Especially because, if you stay for more than one drink, your second can be purchased for a discount price when you show your receipt. Being able to talk to my family and friends while devouring an unmentionable amount of dessert helped me to keep my sanity and as my Japanese has improved, I have gotten to know the amazing people who work there and some of the other regulars.
Cafe 1-or-8 is a great place to meet up with friends in one of the less-touristy areas of Naha. It's a hotspot for people studying and the food is some of the best I've eaten in Okinawa. If you are intimidated by the menu, I recommend just saying "Nani ga oishii desu ka" (what is delicious) and they will set you up! And there are pictures, so pointing works as well.
Hours:  They are open from 7AM until 11PM
Payment:  Yen only
Address: Chome-6-14 Omoromachi, Naha
Google Maps Coordinates: 26.2306829, 127.69430699999998
Directions:  Located in Shintoshin in Naha – there is a map on their website, but if you are coming down the 58 towards Naha, you will turn left at the intersection for Main Place or Omoromachi Station. Continue down that road, past the Rakuichi shopping centre, and turn left at the intersection (McDonalds on one side, Apple Town on the other). As you drive down that road, Café 1-or-8 is on your right, across from a large, white, high school! I've never had a problem with parking.
Website:  Cafe 1 or 8