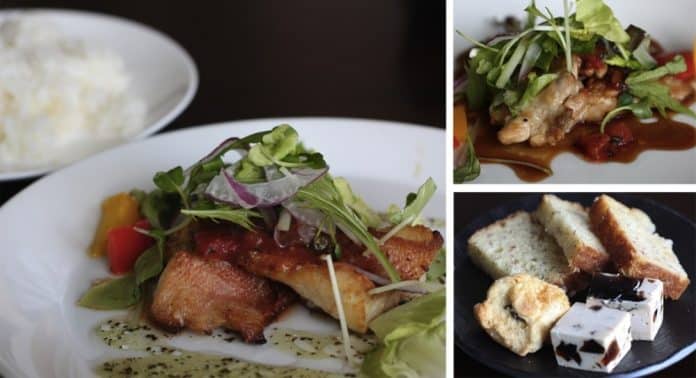 CONTRIBUTED BY LORALEE ALCANTARA

Associa front
If you're looking for a nice, feel-good kind of full, and not a heavy food coma, Café & Bar Associa is a great lunch spot to fill up on some lite, healthy dishes for only ¥980. You've probably passed by this little gem many times like we did. Its outdoor patio and banner advertisement caught my eye, not to mention driving by at night and catching glimpses of a sleek modern interior sure got me curious.

Associa entree
The lunch set allows you a choice of a main entrée (typically chicken or fish) that comes with rice and an all-you-can-eat salad buffet that includes fresh salad, pasta, a variety of Japanese vegetable dishes, the soup of the day, and a little selection of sweets. Drinks included are coffee, teas, and juice. A separate menu of other beverages and assorted bagels are posted on their wall.

Associa buffet
Their food is fresh and delicious, and I always enjoy its clean, tasteful design and relaxed atmosphere.
Hours: Lunch Buffet: 11:30-15:00 Dinner: 18:00-22:30 (Last order 22:00) Bar: 18:00-01:00
Payment: Yen, credit card.
Phone: 098-989-1821
Website: (Japanese) http://cafebar-associa.blogspot.com/
Directions: From Kadena Gate 2, take a Right at 2nd traffic light onto the 23. You'll pass Kadena Gate 5 and TAJ Okinawa Indian restaurant on your right, shortly after you'll see a car sales lot then Associa's white stucco wall on your left. Turn left on the next little street alongside Associa's building. If you reach the 100 Yen store you went too far. Parking is located at the back of the building on the left. It's a small gravel parking lot, a tight squeeze at times.