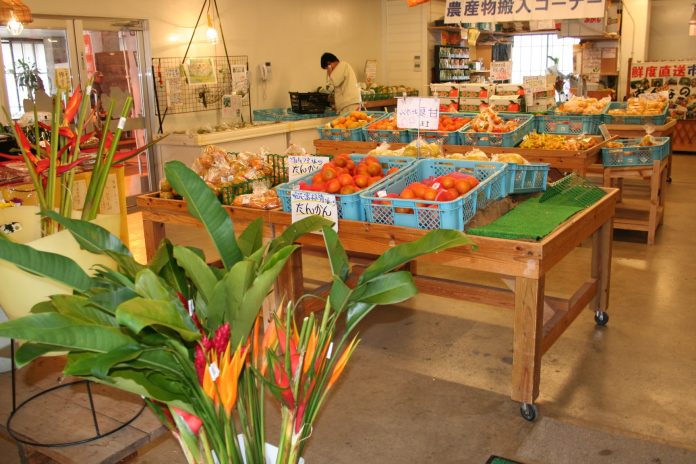 CONTRIBUTED BY KELLY GARCIA
After months of not needing to contribute to my own column, my baby and I made it on a little field trip a few weeks ago though that made me all excited and wanting to shout its praises from a mountaintop. I think I went back to the shop like twice that same week such was the deliciousness of their food and beverage.
Their food being my favorite thing (after coffee) — baked goods.
It was a gorgeous day. The north was calling. My husband was diving and I had baby duty.  Where could I go that would be new and interesting, yet not devolve into a crying fuss-filled mess? Suddenly I remembered. Ah! Rene told me about a good bakery, up near the Renaissance. Maybe I could stop there, pick up a croissant or two and take them down to Zanpa Beach, which is kinda near home. Perfect. Off we went.
The sign for the bakery can be seen right from 58 on the second floor of a concrete slab of a building –somewhat of a hotspot for mainland Japanese tourists, incidentally.  It houses several food stalls downstairs — soba, Okinawa donuts, zenzai and the like, and also quite a nice produce market.  On the weekend it is packed with tourists snapping up Okinawa grown fruits and veggies.  They also sell gorgeous flowers.  So if you are having a dinner party you can get your fresh produce, flowers and dessert right here.
This is not to say it's bad to go on a weekend.  In fact the bakery seems to offer a greater variety of treats then, but as it's upstairs away from the hubbub it manages to retain a sense of calm and tranquility.
In any event, Gabe and I braved the crowds and the lure of dragon fruit and goya and headed up the small staircase in the back.  I was hot and irked that I'd initially brought a stroller, which I had to dump back in the car when I couldn't find an elevator or ramp up.  But then I smelled it.  Ahhh…the scent of chocolate.  Then I saw it.  Row after row of items that looked like this:
and this:
and this:
all baked right here:
Wow.  A nice woman came from behind the counter and offered to help me as my hands were full with baby.  She took a tray and some tongs and asked me what I wanted.  Hmmm…Gabe lunged for the chocolate chip croissant thing I was eyeing, and lickety-spit his hand was in it.  Okay, I guess we'd start there.  I got that chocolate chip thing, a croissant, a cheesy asparagus filled something, a roll with pecans, and the best most delicious torte of caramel doused pecans.  Oh. my. gosh.  I couldn't stop.  The lady looked surprised, "for my husband,"  I said sheepishly.
We took the tray to the counter where I spotted their wood-burning oven and racks of freshly baked pies, breads and cakes. Then I saw that they also served several different coffees.  Then I got the total of my bill.  Okay, I can't remember now exactly what it was, but seriously for all that plus the coffee it was less than 1000 yen, which is really good for off-base.  This was all too good to be true.
But it wasn't.  Gabe and I sat down at the sofa where he ate his yummy cheerios and I took a sip of the Italian coffee I'd ordered.  It was FANTASTIC.  Fresh, full, delicious.  I looked up at where they had a buffet set up.  It was a pasta lunch buffet with bread, salad, pasta and beverage for 680 yen (that's it!)  I was amazed when I saw a lady take a still half full coffee carafe from the hotplate and replace it with a new carafe of fresh coffee.  That explained the taste.  They cared about their coffee.
The pastries–they were excellent.  No, I didn't eat them all.  Yes I did save some for my husband, 'cause I'm a good wife like that.  But let me tell you, that pecan torte thing.  Heaven.  The crust, or whatever it is, is like this thick shortbread.  And that asparagus thing was really good too.
A couple non-food shots:
Gabe and I eventually made it to the beach… in a fantastic mood, I might add.  And since that visit I've made it back to Cafe Paris a couple times, but never for the buffet.  On one trip I bought a fresh cheesecake there for about 1000 yen.  It was small — served about four-six slices, but light and perfect for my husband's birthday dinner.  But the best thing is that you can buy a bag of day-old pastries for 300 yen! I'd say there probably about 5 or 6 in there, depending on which bag you get.  They are all different.  And the prices might vary a bit too.
---
Cafe Boulangerie de Paris
Hours: Open 11:00 – 19:30 (Lunch buffet 11:30-14:00)  CLOSED Mondays
Address: 1656-9 Nakadomari, Onna
Google Maps Coordinates: 26.4361551, 127.79484219999995
Directions: From Kadena, Foster, Kinser — Head north on 58 toward Nago.  Pass Kadena Circle and the turn-offs for Rte. 6 and Rte 12.  After you pass the Renaissance Hotel, you'll get this gorgeous ocean vista on your left and on the right see two concrete buildings — the first with a big wooden boat in the second floor window, the second with a red roof and the sign "Cafe Boulangerie de Paris" — that's where you want to get to.  Just after you see those buildings and just before you get into Onna/Nakadomari, turn Right at the traffic signal. Then immediately on your right you'll see a big parking lot. You can turn in there to park.  Go inside the building to the stairs in the back.  The cafe will be on the second floor.