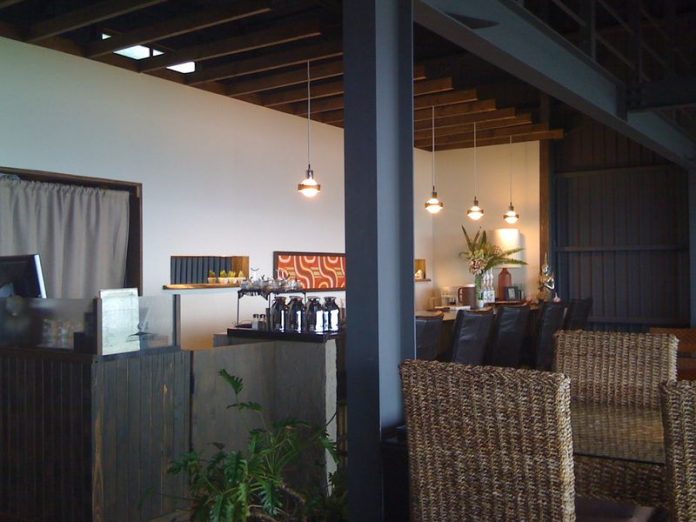 CONTRIBUTED BY MARTHA HEPLER
Our very first weekend in Okinawa, my husband, baby and I piled into the car and headed up north to Churaumi Aquarium, apparently worried that in three years on this gigantic island we would not make it to that minor tourist attraction. By the time we got there, we were starving, so we bypassed the aquarium, following signs toward restaurants just past the aquarium parking lot.  Within a couple of minutes we found ourselves treading down what felt like a secret stairway under the luscious greenery of low-hanging branches and entering a relaxing, modern cafe with a beautiful view of the ocean–waves breaking on the reef in front, Emerald Beach to the left, and Ie Island in the distance.
The one waiter brought us water and immediately retreated to behind the bar, where he seemed to be playing on his MacBook.  We puzzled over this until he came rushing back over, having translated three items of the all-Japanese menu. He was very apologetic for not speaking good English, but we were able to communicate just fine. This being our first meal out on-island,  I got the soba (having heard that this was The Thing to Try here) and my husband got the pork rice bowl.  Both items were delicious and came with interesting sides of goya, deviled egg, and things that I wrote down as "white stuff",  "green stuff" and "rice gruel".  Regardless of what they were, they were wonderfully tasty and the main dish portions were quite generous (while the "stuff" portions were just big enough for you to have a little taste adventure).  Our waiter only translated three items for us, but the printed Japanese menu appeared to be quite extensive; I think he was worried about how long it was taking to translate.   Prices were reasonable, about 500 yen per meal as I recall.
The cafe has a modern, industrial feel to it and most of the walls are actually black, but it does not seem dark because of the wall of windows overlooking the ocean and the high ceiling. Even on an overcast day like ours, it felt light and airy. Clearly a lot of care has gone into the decor, which contributed greatly to our experience.   There was  a bookshelf full of books on Okinawa and interior design, little wooden puzzle games, and even a pair of binoculars (the better to spy on Ie with).  Some porch seating is available, and there is a seawall walk a few yards away. (If you're not already sold, they have the most enthusiastically heated toilet seat I've ever laid tush upon.)  I hope to go back every time I'm up north.
Directions:  To get to Cafe Cahaya Bulan, drive just past the Ocean Expo Park on your left and take a left at this junction. (We took this picture on our way out, so coming from the Ocean Expo Park all this signage will be on the left side of the road.)
You'll now be in/on something that feels like both a parking lot and a road. Stay left at the fork, following a very small sign, and head to the end of the road/parking area and look for a sign next to stairs going down the little hill (see pix at top of post), all on the left side of the parking lot.  Here on their website is another view of the way back through the parking area.
Payment:  Yen only
Hours:  Cafe Cahaya Bulan is open daily, 11am until sunset, typhoons permitting.
Phone:  (Japanese only), 0980(51)7272
Address: 1147 Bise, Motobu, Kunigami
Google Maps Coordinates: 26.6960592, 127.88069810000002
Parking: There is plenty of parking, AND they have free wi-fi
Website: www.cahayabulan.com