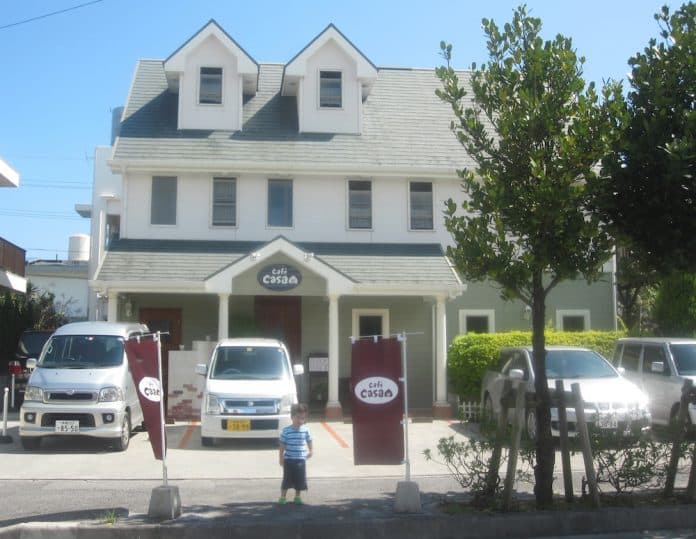 CONTRIBUTED BY MONETTE EAMES

Cafe Casa Exterior
When I saw this Café, I thought of old colonial homes, especially the ones around Williamsburg, Virginia. It seemed odd to me that this type of structure was found in Okinawa. Although you won't experience the American Revolution here, you will experience some delicious Italian lunch sets in a cozy atmosphere. When we arrived, the restaurant was full of Japanese women enjoying their lunches, with only a few seats empty right in front of the kitchen.

Cafe Casa Pasta
Café Casa offers different types of pasta with many types of sauces and several choices of gratin. Desserts are mainly cakes and mousses. For 1100 Yen, each lunch set comes with a salad, the homemade bread of the day or cornbread, coffee or tea and two desserts. TWO desserts!

Cafe Casa Cake 2
When the owner realized that I did not speak Japanese, she handed me an English menu, which I was really grateful for. They did not have an English menu for the desserts, but the nice lady explained what they all were to me.

Cafe Casa Cornbread
Although the café was very busy during lunch, service was prompt.
After finally finishing the delicious pasta, I left a very satisfied customer. And as I got up to leave, it seemed as if every time someone left, new customers would trickle in. This place seems to be a very popular café in the neighborhood.
Directions:  From Kadena Gate 2, go straight on the 20 for approximately 15 minutes. When you reach the 85 intersection turn LEFT. You will see the fire station on your right and the entrance to the Awase fish market is immediately after this. Instead of taking a right to go to the fish market, turn left and drive for about 1 km until you see Café Casa on the right.
From the Foster Legion Gate, go straight out and down the hill on 81. Drive for about 6.5 km and you'll see the Awase fish market sign on the right. You will take a left here instead of taking the right to go to the fish market. Drive for about 1 km and you will see Café Casa on your right.
Phone:   098-939-2457
Payment: Yen
Hours:  Lunch: 11:30-14:30, Tea-time 14:30- 18:00, Closed every Wednesday and First and Third Thursdays