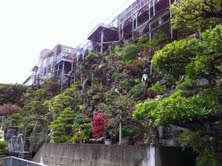 CONTRIBUTED BY KARA WALTON
On shore duty a few weeks ago, my husband spotted a restaurant we had to try. Café Gold Hall is a Cave, Bonsai Garden, and Restaurant all in one. The building offers a casual dining experience mixed with that only-one-in-the-museum adventure feel.
Upon entering, we paid an 800 Yen entry fee each and were handed a map. The server pointed to different sections. We sat down in the Cafe section and ordered some food from an English menu, unaware of the looming adventure. There were a few options including taco rice, sandwiches, and soup, all reasonably priced. The coffee and drink menu was well- stocked. At dinner, there is a more extensive food and dessert menu.
Looking at the map revealed thirteen different sections of the restaurant. It is essentially a museum with good food, can't top that! During out wait, we began the adventure through a limestone cave, garden, mirror room, and bonsai garden in accordance with the easy-to-follow map.
During our exploration session, we came across many seating areas and different types of rooms. Some were outside with terrific views of the ocean and interesting table set-ups (ie. a wagon wheel surrounded by benches) but it was raining so we opted to remain indoors. The limestone cave section is literally a part of the restaurant built into a cave with a bar surrounded by stalactites and stalagmites. The outdoor garden was beautiful with a waterfall, statues (including every American's favorite lady, the Statue of Liberty), and many paths for exploring. The best part of the tour is on the roof of the building where bonsai plants are arranged in many different greenhouses.
Upon completion of the tour, we conveniently ended up by the Café and our food was promptly delivered. I ordered the taco rice, which was served in a heaping portion that would feed at least two. My husband ordered a steak sandwich. They were about 600 Yen a piece and as we finished eating, our server brought us two slices of complimentary delicious chiffon cake. That was an unexpected surprise, leaving us excited to return with friends.
Hours: 10am- Midnight, 365 Days a Year.
Phone: 098-968-3546
Payment: We paid with Yen and I did not see any signs for a Credit Card machine, although I was not looking. The entry fee is 800 Yen for adults and 500 Yen for children.
Address: 4272-1 Kin, Kin, Kunigami District
Google Maps Coordinates: 26.4526094, 127.91542070000003
Directions: Café Gold Hall is located in Kin Town, near Camp Hansen. Take the expressway North to Exit 8. Turn left onto 329 (at the end of the exit ramp) and continue through three stop lights. Just after the third light, make a right onto a small side street. It is after the "Little Kitchen" and just before "Club AJ's". If you reach Hansen Gate 1, you have gone too far. Follow this road until you see the restaurant on the left. There is a parking lot right beside it!