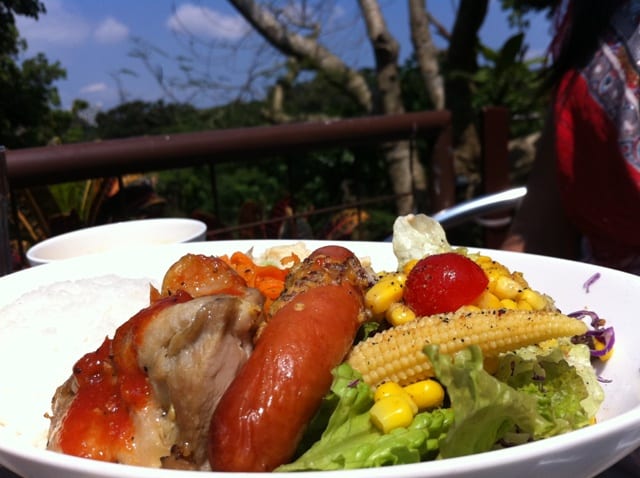 Green Green Chicken

Green Green View
CONTRIBUTED BY ANNE PARADISE
Let me just say, that as I was slowly navigating through a neighborhood via "Café Green Green" sign posts stuck along the road, I did not expect to find a Café with such a gorgeous view. Mostly unsure of where I was headed, I was happy to find parking attendants waiting outside to park my car, as there is very little space in the small area. Then, through the entrance, a beautiful home framed with bamboo and the day's menu welcomes you to Café Green Green. But who knew, that once I made it to the back deck, I would discover a porch overlooking the hills of Kitanaka. Wow! I could sit there all afternoon, every day. Which is pretty much what my friend and I did!
The menu is in Japanese but there were basic translations available from our server. I ordered the curry and my friend got an herb roasted chicken dish. It's a very fresh menu, which includes brown rice which seems so rare to find here in Oki!  Both of us felt our meals were served with generous sides of vegetables and overall we really enjoyed every bit of our dishes. I am really looking forward to going back to try more of the menu, as it was a nice change from the normal curry or chicken you'd find at most Cafés.

Green Green Curry

Green Green Apple Pie
But to complement such a satisfying and healthy meal, we simply couldn't resist the signature dessert. Apple Pie Ala Mode. But this is not Jimmy's apple pie. This is an individual, flaky, croissant crusted, apple pot pie! Served beautifully with a giant scoop of vanilla ice cream on top. And it doesn't stop there… you get to choose maple, cinnamon, caramel or chocolate sauce to be drizzled over the top with this spectacular finish of a few roasted nuts. It served two easily, but if you consider skipping dinner and going straight for dessert, you could polish it off yourself.
The lunch menu was simple but great, though I haven't been for dinner so I am not sure how much more developed it is. We did see another table with a small pizza being shared among a few other items similar to ours. I hope to make it back in the evening, as the lighting among the trees would be a great view to enjoy the cooler weather of the night. 
Lunch was about 1400 yen as we opted for the set menu to sip some iced tea. Dinner appears to be between 2000-2400 yen.
Yen is accepted as well as Visa, Mastercard and AMEX.

Green Green Entrance
Hours:  They are open 11:30a-2:30p for Lunch, Teatime from 2:30p-5:30p and Dinner from 6:00p-10:30p (last orders at 9:30p, and open at 11a Saturday & Sundays) *Every first Thursday of the month is their regular Closed holiday.
Website:  www.greengreen.jp  –  I recommend using Google Translate to view the page, but the pictures on their website is what hooked me into finding this gem in the first place!
Phone:  098-935-0039
Directions:  From Camp Foster:
From the Kitanaka Exit of the Expressway, drive East on the 81. About 3 lights down, you'll pass "Ocean Pet Store" on your right and the street will begin to curve and decline. At the next light turn left. You should see a few low "Café Green Green" signs (White with green writing) that will direct you into the neighborhood (which is a quick, veering right.)