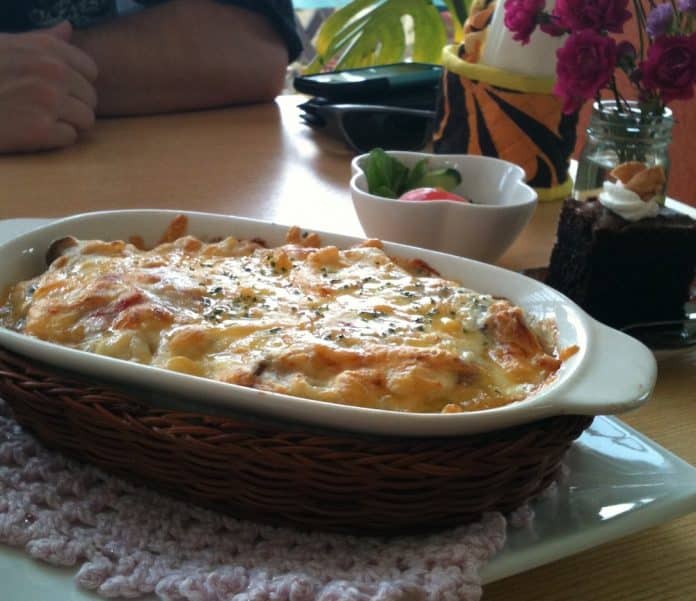 Holoholo Front
CONTRIBUTED BY KATIE CLARY 
My first encounter with Cafe Holoholo was on a girls' lunch excursion. Our first choice had been closed, and Jenny suggested we try it. I vetoed it immediately, because I thought it was a Coffee house. The next time I drove by, I noticed a banner hanging on the retaining wall that said "Lunch" in katakana letters. I just had to try it! I'm so glad I did, because it is now one of my favorites.

Holoholo Inside
The lounge-like space is roomy and filled with neat Hawaiian touches, like these cute pillows, and even hand sewn napkin holders. The patio outside has an assortment of beautiful flowers (even my favorite, amaryllis!), and overall there is a very relaxed, quiet feel to the place.
The food is absolutely amazing! There is a mix of very healthy traditional Japanese lunches, and some Italian-inspired pastas and casseroles. Prices hover around ¥1,050, and your meal includes a free drink bar with water and hot and cold coffee and tea, usually a small side salad with tasty Japanese onion dressing, and dessert.

Holoholo pasta
My husband ordered Pasta Carbonara, for ¥1,000, and his meal came with two dinner rolls. The daily pasta selections vary, and are displayed in katakana on a chalkboard that lists the day's specials. When we went, there were 3 pasta options, including a Pepperocini pasta, and another that I couldn't make out. (My Japanese was sufficient, but I couldn't interpret what it was in Italian!)
I ordered a dish called Doria, also for ¥1,000. I had never heard of it before, but it was delicious! They give you a choice of white or brown rice. (I chose white rice, but I have been back, and Jenny said she enjoyed the brown rice!) Basically, it is a casserole with rice on the bottom layer, pasta, mushrooms, and onion in a mushroom sauce in the middle, and a very delicious cheese topping. It was very filling! I barely made it through half of it before I was full!

Holoholo casserole
I have since gone back and tried the healthy lunch, and it was delicious! They offer a traditional Japanese meal with an array of traditional small dishes, including a buckwheat soba soup with seaweed and chives, a daikon radish salad, your main course, some pickled veggies, a key lime pie for dessert, and even a small portion of tempura! Regrettably, I was too hungry to think of taking pictures that day, and the food was demolished before I could capture it. But I can vouch for it being very healthy and very filling!
The staff speaks some English, and are very friendly. The food is a little grown-up for most kids' taste, but it's perfect for a girl's day out. My husband found the portions to be small for his appetite- he ended up eating half of my food (and mentioned ice cream after we were done!)- but if you're in the mood for a lighter lunch it hits the spot.
Payment:  Yen only
Hours:  1100-1500 for lunch, and for dinner until 1700.  Closed Sundays & Japanese holidays.
Phone:  098-989-1381
Directions:  Cafe Holoholo is located on Route 8, halfway between Camp McTureous and Route 75. If you are traveling from 75, it will be on the right hand side. It is the first building past the big light blue building labeled "Zukeyama Furniture," (the road that's the "shortcut to McT"). It is surrounded by a white wall, but it's still fairly easy to find.
From Courtney's Housing gate, turn left onto 224 out the gate. Continue straight through the light across 75, and take the forced left at the stop sign where the construction begins. You'll come to another T-intersection, and take a right. Continue on until you reach Route 8 (another T), and turn right at Zukeyama Furniture. Cafe Holoholo will be on the right. You will see a taller one story white building. One side of it is Cafe Holoholo, and the other is an Esthe salon which may be easier to see from this direction.
If you like sticking to main roads, take a left on 75 from either Courtney gate. Continue down for a few stoplights, then turn right on Route 8. Follow around the curve past the first 2 stoplights, and look for the Cafe on the right just past Zukeyama Furniture.
From McTureous, simply turn right out of the gate, and look for Cafe Holoholo on the right a few blocks down. You will cross through one stop light before you get there.
They have a small parking lot for about 5 cars, but it is roomy enough that you could maneuver a bigger car if you must.