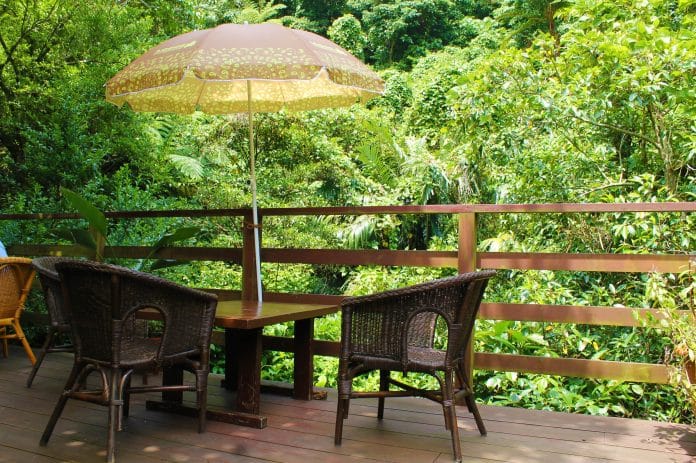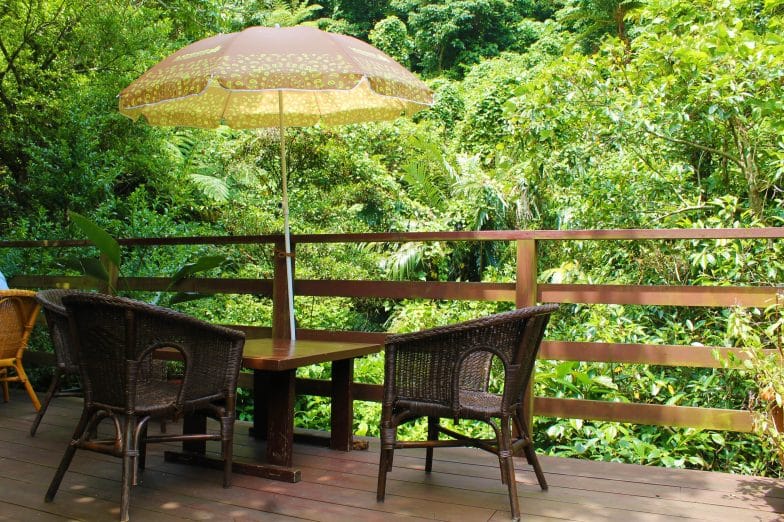 CONTRIBUTED BY THE WANDERING WAFFLE HEADS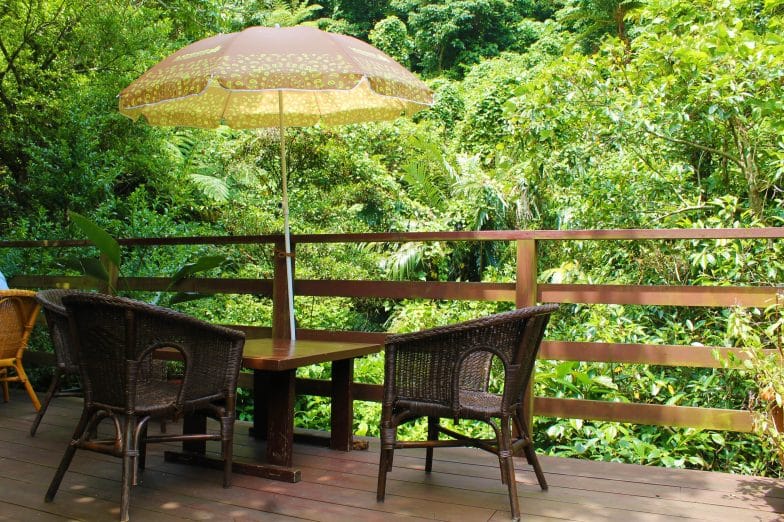 This place presented itself to us during one of our many "location trips" where we try to find a certain place and again have just managed to get ourselves lost. Driving up in the northern part of Okinawa can be very rewarding, with scenic views and sunsets while you seem to be driving down an endless road. Old villages make you feel like you're in the past and there are lush green forests where you can easily get lost (the latter was our case). After a few minutes of frustration, our curiosity peaked as we repeatedly saw the same green wooden sign on the side of the road. Hungry, we gave in to the wooden painted signs and followed them. To our surprise we found ourselves in a charming little garden home that serves the best stone oven baked pizza in the forest!
Cafe Ichara is a small home converted to a restaurant in the middle of the forest that gives off a private and quiet vibe where you can enjoy being away from the hustle and bustle of the city. You have a choice to sit on the beautiful wooden deck outside or inside at one of the cool relaxing tables or tatami mats. The outside deck is surrounded by plants with make shift wooden tables and plastic chairs that, surprisingly, work very well with the overall theme. The inside has more of a Japanese cabin feel with low light, wooden walls, and nature/animal themed art throughout.
Both inside and outside provide an enjoyable experience that the food definitely carries. The outside deck and inside sections are directly connected and you will be expected to remove your shoes and use the provided slippers. The whole place assimilates into the forest making you feel one with nature as you enjoy the relaxing atmosphere of good food and gentle music.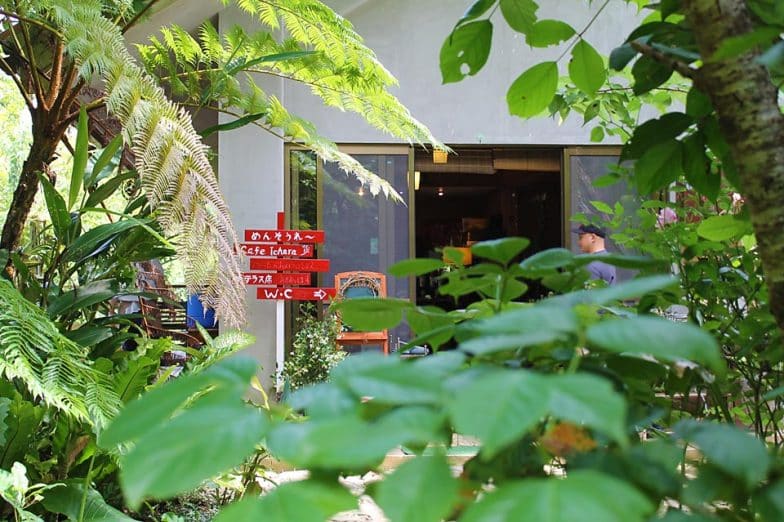 The best part of Cafe Ichara are the gorgeous and tasty pizzas they cook. Pizzas range from about ¥800 to ¥1500 depending on toppings and size. Being in Nago, where pineapple is grown and wildly popular, we chose the Hawaiian pizza. We ordered another pizza for a bit of variety which was mostly topped off with vegetables. The pizzas are served on a sort of baking paper over a banana leaf for a more natural look. All of the ingredients are so fresh and enticing and the garden backdrop all around you just makes everything better.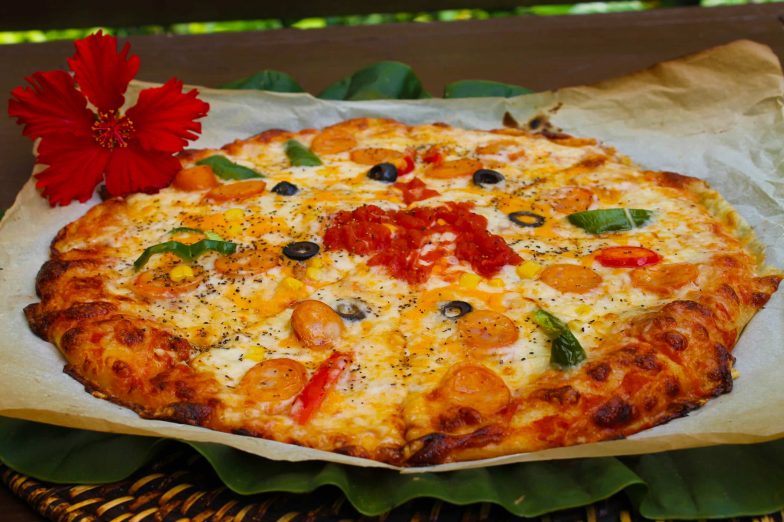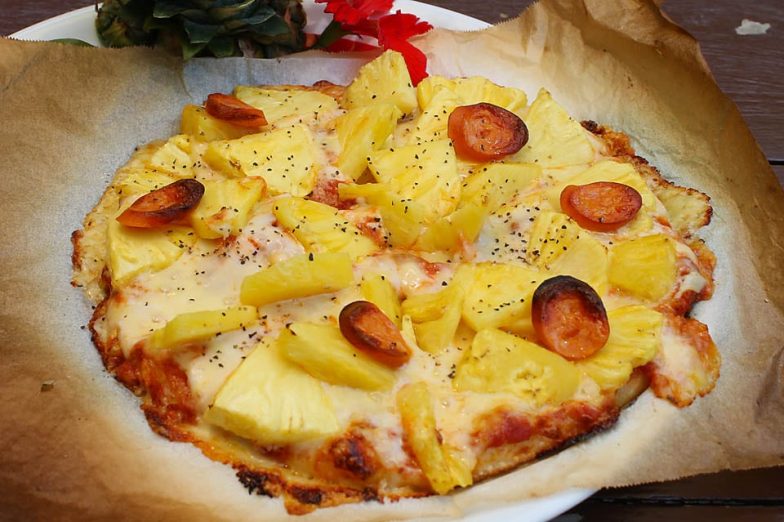 They also have a wide juice selection to choose from, and the atmosphere just begs you to enjoy a nice cool drink while you leisurely wait in a forest utopia for your delectable food. They serve other dishes, including curry with rice, but the star of the menu is clearly the pizza. If you're up in the northern part of Okinawa and want to try a new pizza joint, rather than just Pizza In The Sky, this place offers pizza at whole new level and atmosphere. I would recommend this place as your go to spot after a hike from Tadake Falls.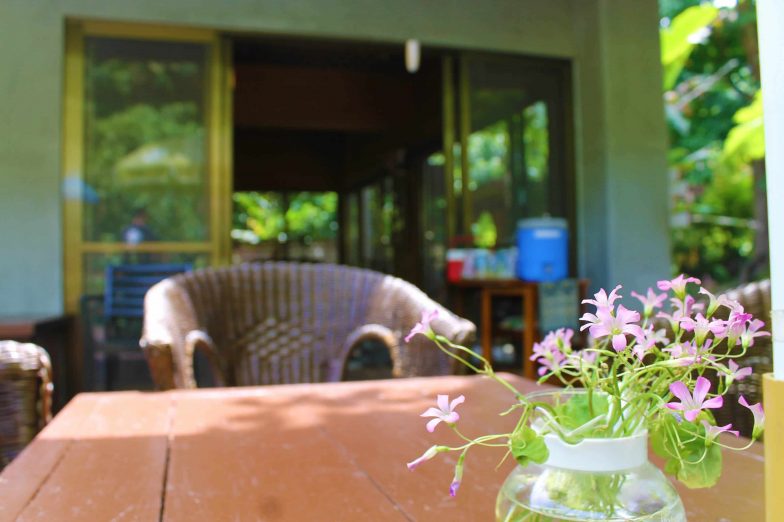 Hours: 11:30 a.m. to 5:00 p.m.
Phone: 098-047-6372
Payment: Yen
Address: 2416- Izumi Motobu Kunigami-gun Okinawa 2416-1
Directions: From the Nago expressway exit follow 58 until you hit 84 then take a left as if you were going to the pineapple park. Follow 84 straight pass the pineapple park on your right keep going for about 5 minutes until you start seeing little green wooden painted signs that say Ichara turn left and follow path towards the cafe.
Coordinates: 26.646737 127.951266