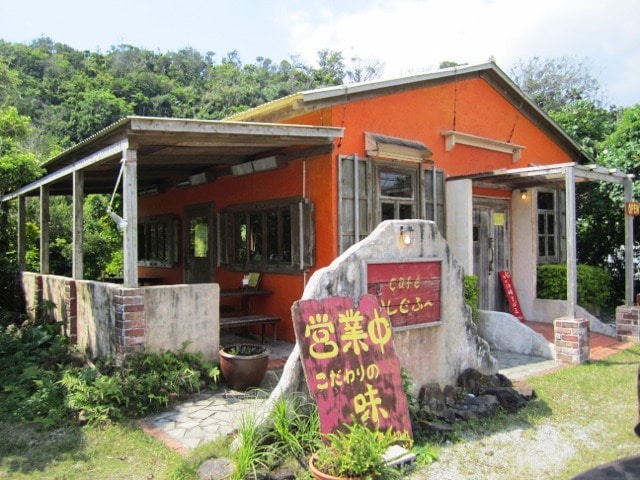 CONTRIBUTED BY ELIZA GROFF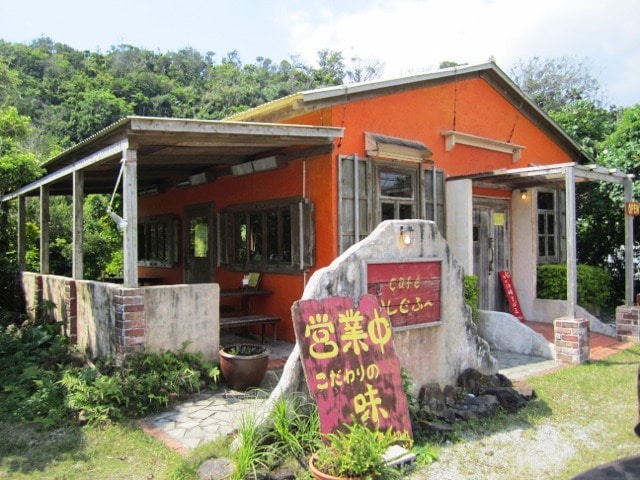 Ask around: What does the name Ishigufu mean in the Okinawan language? I can't seem to find an answer.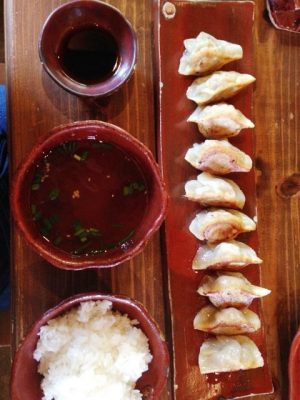 My husband and I stopped at this brightly colored café on our way home from a camping trip near Higashi. This local café prides itself on its tasty local pork and handmade Okinawan pottery. Many places on Okinawa feature a modicum of these two elements of Okinawan culture, but Ishigufu elegantly showcases both handmade dinnerware and free-range pork to the max.
As we walked into the restaurant, it smelled of Okinawan 5-spice, fresh ginger and unstained wood. Inside, the terra cotta stucco created a relaxed dining space, coupled with a French café music album similar to Carla Bruni. Service was prompt, but the waitress did not speak English and there was not an English menu. The picture menu sufficed to order a lunch, and we were pleasantly surprised by what we ordered.
I ordered ten pieces of freshly handmade gyoza featuring the local, free-range pork. A simple yet delicious butter-leaf lettuce salad with a fresh miso-ginger dressing preceded my main course. Steamed rice and green onion soup were served as sides to my succulent gyoza.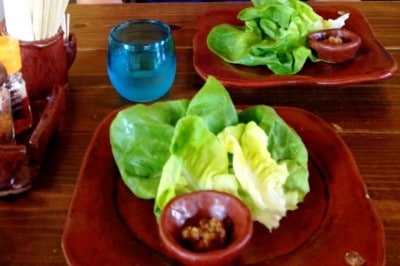 My husband ordered a soba set that he claimed was equally delicious, but it could not possibly have been true. My meal was heavenly! And to top it off, our water was served in gorgeous cups made of hand-blown Ryukyu glass. It made for a charming shabby-chic place setting. All of the pottery and glassware was handmade, to include the napkin holders, chopstick holders, and even toothpick containers! The soba bowl stood on a short tripod of clay legs to keep the heat off of the table, acting as a built in hot pad. They even featured clay pottery for sale.
If you find yourself traveling up north, I recommend a quick stop for lunch at this little, mysteriously named café. And while you are at it, pick up a smoked octopus from the local shop across the street. Don't forget to ask for the special octopus sauce!
Directions: If you are travelling north from Camp Schwab, take 329 to 331. Continue north toward Abu and you will see Café Ishigufu on the right hand side.
Address: 505, Abu, Nago, Okinawa 905-2263
Map Coordinates: 26.5396203, 128.0899007
Website: Café Ishigufu
Phone: 0120-558-290
Hours: Unknown (Editor's Note: If you find out, please let us know in the comments and we will add them!)
Payment: Yen